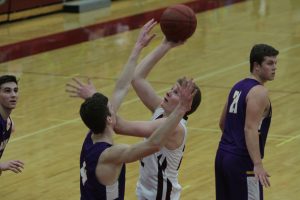 A week ago, the Ankeny boys' basketball team knocked Ankeny Centennial out of a first-place tie in the CIML Central Conference.
On Friday, the Hawks prevented Waukee from clinching at least a tie for the league title, helping their crosstown rival in the process.
Dillon Carlson scored 19 points, including four late free throws to seal the victory, as Ankeny defeated the visiting Warriors, 58-52, to avenge last month's double-overtime loss at Waukee.
"I was telling the guys how crazy this season has been and how nuts they're driving me," said Ankeny coach Brandt Carlson. "Every night it's always down to the wire, no matter what. But they have a great fight to them and a great heart, and it was just fun to see them celebrate there at the end."
Ankeny closed out the game with an 11-5 run. Freshman Jaron Crews, who scored 10 points, made a 3-point goal from the right corner to break a 47-47 tie with 2:37 left.
"I wouldn't call it revenge, but in a way it was," said Ankeny forward Deaglan Riordan, who finished with nine points on his Senior Night. "It feels good to beat them."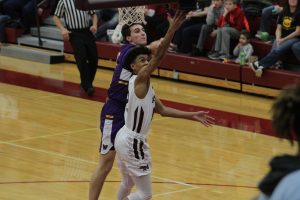 Jaxon Smith had eight points, all of them in the second half, as the Hawks improved to 3-6 in the conference and 6-11 overall. The loss snapped a six-game winning streak for the Warriors, whose records dropped to 6-3 and 15-3.
Waukee will host Centennial on Friday in a showdown for the conference title. Valley can also earn a share of the crown with a win over Ankeny, which will have another chance to play the role of the spoiler.
"Our focus is the (postseason) tournament, but what a big win for these kids," Carlson said. "Hopefully, it'll give us some momentum for next week."
Nathan Nelson led Waukee with 15 points. He had scored 31 points in the first meeting against the Hawks.
Ankeny took a 37-30 lead on a 3-pointer by Jordan Kumm with 2:15 remaining in the third quarter. The Warriors then answered with a 13-0 run that began with a six-point possession.
Nelson scored a basket while being fouled by Ben Lyon, who then headed to the bench with four fouls. But he was called for a technical foul as he left the court, resulting in his fifth foul.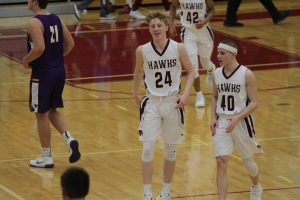 "He probably (said something)," Carlson said. "It was a situation where we've just got to let that play go and move on to the next play. I hope we're growing in that area, but we've had some issues with our kids with them not controlling themselves in big moments. I'm just hoping we can get that under control. They don't want to do it, but they're just very competitive kids."
Jaxx Rittman hit both free throws after the technical, then Dylan Jones followed with a basket on the ensuing possession. Waukee later took a 43-37 lead on a 3-pointer by Rittman, who finished with 14 points.
Ankeny went more than 4 minutes without a basket before Riordan converted a nifty spin move in the lane to stop the Warriors' run.
"I've been trying to be that senior leader," Riordan said. "I love playing with these guys, and everybody was contributing. It was awesome."
Smith later made back-to-back layups to give the Hawks a 47-44 lead. After Nelson converted a 3-point play to tie the game with 2:59 left, Crews responded with his dagger on Ankeny's next possession.
"Jaron hit a bunch of big shots," Riordan said. "You can definitely see the young guys (improving). Every single day they're getting better."