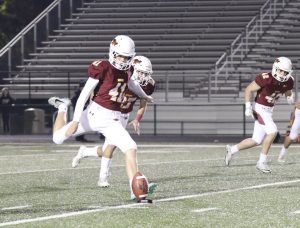 Ankeny football players Drew Hill, A.J. Jackson and Dayne Kajewski were all looking for the right fit in a college.
They each found it.
Hill, an all-state receiver as a junior, verbally committed to play for Truman State on Friday. He picked the Bulldogs after previously considering two other schools.
"It was a tough decision," Hill said. "My mind was stuck on Central and Grand View, and I was just about to make a commitment to be honest, but then Truman came in late. I went down for a visit and fell in love (with the school)."
Jackson, an offensive lineman, will play for Drake. He helped the Hawks to a 4-5 record last season.
"I was thinking about a lot of different schools," Jackson said. "But I want to major in pharmacy, and Drake has a good pharmacy school. So it seemed like a really good fit."
Kajewski, a place-kicker, has committed to play for Wartburg. He called it an easy decision.
"Wartburg has a phenomenal football program, and they had a lot to offer me both academically and athletically," Kajewski said. "They made it pretty easy for me when it came down to it at the end."
Both Kajewski and Hill considered playing multiple sports in college. Kajewski also plays soccer for the Hawks, while Hill is a shortstop on the Ankeny baseball team.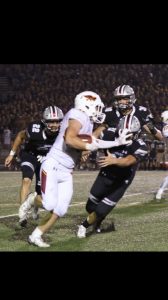 "I've talked with my family, and they always thought I should do baseball and football," Hill said. "I had my mind set on both of those, but then as I went through my senior year I did a lot of thinking and I just thought football was the one. Doing both of them would be time-consuming, and football was my first choice."
The 5-foot-10, 160-pound Hill caught 38 passes for 733 yards and 10 touchdowns as a junior, when he helped Ankeny to a 6-4 record. He also rushed for 275 yards and returned two kicks for touchdowns.
Hill then suffered a broken collarbone during the Hawks' loss to Ankeny Centennial in the second game of the 2017 season, bringing his senior campaign to an early end.
"It definitely did affect my recruiting," Hill said. "A couple of the schools after I told them about my injury, they just kind of started slowly fading away. But some of the schools just stayed right with me, and I'm really grateful for that."
Hill said he liked everything about Truman State.
"The campus is not too big and not too small," he said. "I met with the head coach (Gregg Nesbitt) and another coach, and I met with some players. I could tell the connection between the players and coaches was there. The head coach–(Nesbitt) just felt like he was the right guy."
Hill thinks he'll have an opportunity to play right away for the Bulldogs, who posted a 5-6 record last season.
"They talked to me about playing the slot receiver, which is what I'm used to," Hill said. "And then punt returner and kick returner, so that'll be exciting. They're giving me a chance right out of the gate, so I'm pretty grateful for that."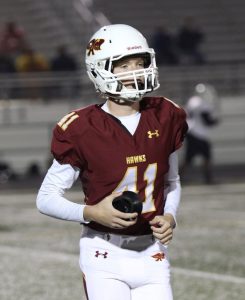 Both Kajewski and Jackson also see an opportunity to make an immediate impact at their respective schools. Kajewski picked Wartburg after thinking about joining a Division I program as a walk-on.
"I looked at Kansas, Iowa and Minnesota, but Wartburg just really opened my eyes and they had an open kicking position," Kajewski said. "Hopefully, I'll be competing for that spot."
Kajewski made 8-of-10 field goals and 64-of-67 PATs during his high school career. He also booted 20 of his 41 kickoffs last season into the end zone.
"I thought about playing soccer, too, but I think I'm just going to focus on football and academics," Kajewski said. "I'm looking to study pre-med. Wartburg has amazing numbers for getting people into med school, so it was an easy choice."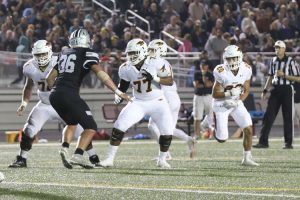 The 6-3, 265-pound Jackson gave up basketball this winter to focus on his football future. He is projected as a left or right guard by the Drake coaching staff.
"They've told everybody about the redshirting process, but they think I'm a naturally good guard and they're losing both of their fifth-year seniors who play guard," Jackson said. "So they're thinking I might be able to start right away."
Jackson said he looked at a lot of different schools last summer, including Iowa State. But the chance to play for Drake and stay close to home was too good to pass up.
"I've moved around a lot in my life," Jackson said. "Before I came to Ankeny I lived in Edmond, Okla. Before that I was in upstate New York, before that I was in Chicago, and I was born in Detroit. I've never really had that hometown feeling. I thought Drake was like a home away from home and it's right down the street, which was important to me because I like being with my mom and my brother."
The Drake program also stresses the importance of family, Jackson said.
"When I went on my official and unofficial visits, both times it was not really about football," he said. "It was more about the family and the togetherness part of (the program). The players were really nice, and they genuinely seemed to care about everyone.
"I'm really fortunate to be in the position that I'm in," he added.