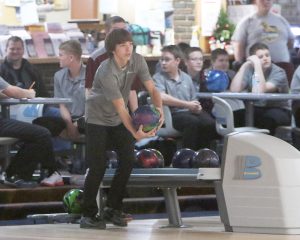 With a solid effort in the Baker games, the Ankeny boys' bowling team placed third in the CIML Central Conference meet on Thursday at Great Escape.
The Hawks were the only team to surpass 1,000 pins in the Baker round, compiling a total of 1,004. They finished with an overall score of 2,915.
Waukee won the boys' title with a total of 3,076. Defending champion Southeast Polk was the runner-up with a 3,015.
"After starting with 22 open frames in the 60 frames of Game 1, the boys gained confidence and strikes to finish the individuals with a 191.1 average, 12 pins above average," said Ankeny coach Jim Robidoux. "Then they scorched two of the five Baker games to finish a solid third behind two very good teams."
Brandon Schumacher placed seventh for the Hawks with a 403 series. He was the team's top scorer for the third time in the last four meets.
Gage Payton and Mason Thompson also earned all-conference honors. Payton took ninth with a 397, while Thompson finished 10th with a 396.
Joel Unick bowled a 359 series. Bryce Follett had a 356, and Collin Runyan added a 355.
"These boys from three different schools (Centennial, Ankeny and Southview) have really come together as new teammates and new friends," Robidoux said. "The future is bright."
Jack Henry of Waukee was the boys' individual champion with a 470, finishing 31 pins ahead of Southeast Polk's Ryan Gregory. Maddie Peterson of Waukee was the girls' champion with a 442, edging Valley's Abbie Clark by 15 pins.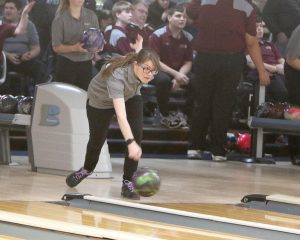 The Ankeny girls' team placed fourth with a total of 2,397. The Hawkettes finished behind Waukee (2,681), Valley (2,461) and defending champion Southeast Polk (2,440).
"The girls have been a little off the past two meets after a great three-match win streak," Robidoux said. "I know we can pick up the spares on Tuesday at Marshalltown in districts."
Sydney Sears placed fourth with a 386 series to lead the Hawkettes. Two of her teammates also earned all-conference honors–Isabel Tetmeyer was sixth with a 366, and Christina Angran finished 14th with a 314.
"Sydney finished the regular season with a 196.6 average for team high both genders, and Isabel finished with a 188.2 average for second place both genders," Robidoux said. "These girls rock the pins!"
Cynthia Angran had a 259 series. Zoe Baker rolled a 248, and Emma Harris added a 233.
Ankeny will compete against Johnston, Linn-Mar (Marion) and host Marshalltown in a Class 3A district meet on Tuesday at Wayward Social. The action gets under way at 1 p.m.
"We are confident that we will continue to bowl well at districts," Robidoux said.