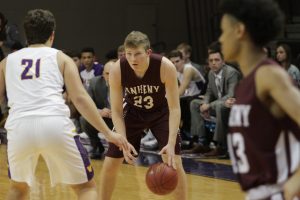 A huge second quarter lifted the Valley boys' basketball team to a 68-60 victory over visiting Ankeny on Friday, allowing the Tigers to share the CIML Central Conference title with Waukee.
Valley outscored Ankeny in the second quarter, 24-10, to build a 35-24 lead at halftime. The Hawks pulled to within six points in the second half, but could not get any closer.
"We had some shots that didn't go down, and they got really physical with us," said Ankeny coach Brandt Carlson. "They sat in that zone all night, and the second quarter was obviously the difference in the game."
Valley extended its winning streak to six games while improving its overall record to 12-7. The Tigers, who posted a 56-44 victory at Ankeny on Jan. 12, finished 7-3 in the conference.
The Hawks fell to 3-7 in the league and 6-13 overall. They played without freshman forward Jaron Crews, who injured his right knee during Tuesday's loss at Des Moines Roosevelt.
"He finds out Monday for sure what the extent of the damage is," Carlson said. "He says it doesn't hurt, so I'm crossing my fingers that with another week off he could help us in the (substate) tournament. That's our hope anyway."
Jaxon Smith led Ankeny with 14 points. Dillon Carlson had 12 points, while Ben Lyon and Deaglan Riordan each added 11.
Trayvon Williams had a game-high 24 points to lead the Tigers.