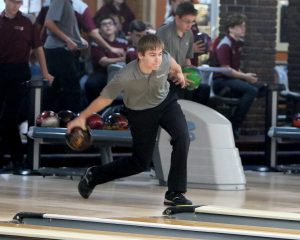 The Ankeny bowling teams picked a bad time to have an off night.
Ankeny traveled to Marshalltown on Tuesday to compete in a Class 3A district tournament at Wayward Social. The Hawks placed third among four boys' teams with a 2,758 total, while the Hawkettes finished fourth in the girls' field with a 2,315.
Neither squad qualified for next week's state tournament at Cadillac Lanes in Waterloo.
"Both the boys and girls bowled about 200 total pins under their recent performance averages," said Ankeny coach Jim Robidoux. "This was the first time this season that no boy or girl bowler earned a spot on the season top 10 list for high game or series. It was just an off night."
Marshalltown easily won the boys' title with a score of 3,372, the highest among all the district meets. Linn-Mar (Marion) was the runner-up with a 2,829.
Brandon Schumacher bowled a 385 series to lead the Hawks, including a 208 in his first game. Gage Payton had a 372, Bryce Follett rolled a 366, Collin Runyan had a 355, Joel Unick bowled a 346, and Mason Thompson added a 302.
"Collin finished his four-year bowling career in style with 10 strikes in the Baker games," Robidoux said. "I knew that our senior leader would finish his career strong in the anchor spot. We will miss his strike celebrations!"
Marshalltown's Ray Wiegand bowled back-to-back games of 290 and 279 to win the individual boys' crown with a 569 series. Teammate Kamrin Chizek was second with a 488.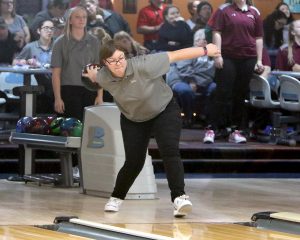 Defending state champion Johnston won the girls' meet with a 2,544 total. The Dragons finished 62 pins ahead of Linn-Mar.
Sydney Sears led the Hawkettes with a 373 series, including a 212 in her first game. She placed third as an individual, but fell 28 pins shy of qualifying for state.
"We will miss Sydney," Robidoux said. "She was a four-year bowler and led our team in many ways, including high season average for both boys and girls, and she earned a school record high series of 471."
Isabel Tetmeyer placed eighth with a 334. Emma Harris had a 292, Zoe Baker bowled a 269, Cynthia Angran rolled a 260, and Christina Angran added a 227.
Karlie Potter of Marshalltown captured the girls' individual title with a 477, posting the highest score among all the districts. Jessica Snyder of Johnston was the runner-up with a 406.
"I'm so thankful for the great work from assistant coach Nick Maile this year," Robidoux said. "He put together all of our spreadsheets and our statistics. He did a great job coaching the girls' team to one of their best records in years. We were rookie coaches trying to figure it all out together."
Robidoux became the fourth different head coach of the Ankeny program in the last four years. He said all of the bowlers adjusted well to his coaching style.
"These kids understand team spirit and really enjoyed being around each other," he said. "No matter the score, bowling is fun!"