In its regular-season finale, the Ankeny boys' basketball team showed just how dangerous the Hawks can be during postseason play.
Visiting Dowling Catholic also demonstrated its potential to be a contender for the Class 4A state title.
Ankeny made five 3-point goals while jumping out to a double-digit lead in the first half before the Maroons rallied for a 57-45 victory in a CIML non-conference game. The win improved Dowling's record to 16-5, while the Hawks dropped to 7-14.
"I just feel like their physicality wore us down," said Ankeny coach Brandt Carlson. "Their press and their pressure defense really wore us down. They're good–they're not 16-5 for nothing."
Dillon Carlson had 18 points to lead Ankeny, but none of his teammates had more than five. The Hawks were held to just 20 points over the last 20 minutes of the game.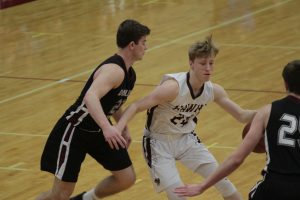 "(The Maroons) are such a well-conditioned team and very physical that I thought we had some mistakes due to fatigue," said Ankeny senior Ben Lyon. "I think they're one of the most physical teams in the state of Iowa, and I think that's really what brought them back."
Northern Iowa football recruit Sam Ingoli led Dowling with 13 points, seven rebounds and four assists. Luke Yacinich also had 13 points while contributing two steals and a block.
Freshman Ryan Riggs added 12 points on 6-of-8 shooting for the Maroons, who were coming off a 44-42 loss at Des Moines Hoover on Tuesday in which the Huskies won the game on a buzzer-beater.
"This was a very good test of our guys' toughness," Carlson said. "I was very pleased with them. We're as ready as we can be for the (substate) tournament. We're healthy now and ready to go."
Ankeny got a boost from the return of freshman forward Jaron Crews, who had missed the previous two games after suffering a knee injury during a loss at Des Moines Roosevelt on Feb. 6. He entered the contest with 5 minutes left in the first quarter and later scored a basket to give the Hawks a 20-13 lead.
"It was good for Jaron to play in a game before Monday," Carlson said. "We'll see how the knee reacted to the game (on Saturday). But I think he moved all right."
Six different Ankeny players scored in the first quarter. Five different Hawks had 3-pointers in the first half, including Carlson, who made one from the Hawk logo well beyond the arc.
Lyon's 3-pointer gave Ankeny its biggest lead, 25-15, with 4:20 left in the half.
"If we're shooting 3s well, we're pretty tough to beat…if we can get defensive rebounds," Carlson said. "But that's an area where we struggle sometimes."
Dowling then closed the first half on a 10-2 run to pull within 27-25 at the break. Jack Lyman had five of his eight points during the run.
"I just thought we ran out of gas in the first half," Carlson said. "They came back, and we were lucky to still be up going into the half."
Dowling eventually took a 40-36 lead after three quarters. The Maroons continued to pull away in the final period.
"We really struggled to score inside the arc," Carlson said. "It was a tough offensive stretch for us, but I have to give Dowling credit for that. They're just so physical, and we couldn't match up with that as the game went on."
Ankeny will travel to Ames on Monday to play the Little Cyclones in a Class 4A substate quarterfinal. The Little Cyclones won both meetings during the regular season.
"We're absolutely pumped to play Ames," Lyon said. "We're looking forward to having another crack at them."