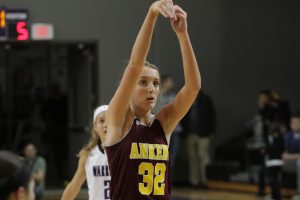 The Dowling Catholic girls' basketball team entered Tuesday's Class 5A regional final against visiting Ankeny as a prohibitive favorite.
That didn't make the Hawkettes' season-ending loss any easier to swallow.
The third-ranked Maroons got 30 points from sophomore sensation Caitlin Clark and pulled away in the second half for a 68-41 victory to advance to next week's state tournament at Wells Fargo Arena.
"It was a tough locker room to say goodbye to three great seniors, thinking what this group has been through the last two years," said Ankeny coach Dru McAnelly. "I told them, 'Don't you dare put your heads down.' They gave their heart and soul to the program."
Meghan Trimble scored eight points and Alexis Legg added six in their final game for the Hawkettes, who finished the season with an 11-12 record. It was also the final contest for fellow senior Sydney Shadravan, who will play for Grand View next year.
"It is really hard to believe that I played my last game tonight with Ankeny," said Shadravan. "I think it has finally sunk in, and I'm really going to miss playing with this team. Tonight didn't end the way we had hoped for, but we accomplished a lot this year and we have a lot to be proud of!"
Ankeny was hoping to avenge an earlier 70-38 loss to the Maroons, but the Hawkettes simply didn't have an answer for Clark–who is considered the nation's top-ranked player in the Class of 2020. She scored half of her points from behind the arc, making five 3-point goals.
"There's a reason why she's rated No. 1 in America," McAnelly said. "She didn't have one open 3, and I bet three of her five (3-pointers) were from at least 22 feet. We were right there on her. She's just a good player, and she's going to hit them."
Clark had 17 points in the first half as Dowling built a 33-20 lead. The Maroons scored 17 of those 33 points in transition.
"I thought our girls came out and were really locked in and ready to go," McAnelly said. "We played with a great amount of energy, and we were in the game. We really looked like we belonged on the court (with Dowling). Our girls really competed and played hard."
Ankeny opened the second half with a 3-pointer to cut the Maroons' lead to 10. The Hawkettes later pulled to within seven or eight points on a couple of occasions.
However, Clark refused to let the game get too close.
"Every time they needed a bucket, she hit a big one," McAnelly said. "And we had a 3- or 4-minute drought at the end of the third period and the beginning of the fourth, and that's when the game got away from us a little bit."
Dowling (20-3) got eight points apiece from Josie Filer and Anna Wanek. Ankeny succeeded in holding those two players to single digits.
"The more film I watched of (Clark), I was thinking, 'What can we do to stop their second and third threats?'" McAnelly said. "Because when you look at the stats, even against top-five teams, Clark is still putting up 30-plus points. A couple of games she had over 20 points in a single quarter. Who does that?
"So I thought we really did a good job on (Filer and Wanek). We wanted to keep them out of double digits, but they had a couple of role players step up and hit some shots. That's why they're a state tournament team," he added.
Sara McCullough led Ankeny with 10 points, about six points below her average. That wasn't enough on a night when Clark was scorching the nets.
"Caitlin is a good player, and she has her shot down," McCullough said. "She was hitting everything tonight, which hurt us."
Despite the loss, the Hawkettes achieved several milestones in their second season under McAnelly. They earned their first conference wins since Ankeny Centennial opened its doors, they won 10 or more games for the first time, and they also posted their first regional victory.
"I'm very proud of my team and how far we've come since the split," said McCullough, who will be the primary building block for next year's squad. "We accomplished some big goals this year, and we will continue to work hard and become better as the year goes on."
Shadravan said she thinks the Hawkettes' future is bright.
"I feel like the seniors have definitely helped get this program on the right track," she said. "The program has come a very long way from when we were freshmen. The underclassmen were great this year, too, and I think they're capable of even more success in the years to come."