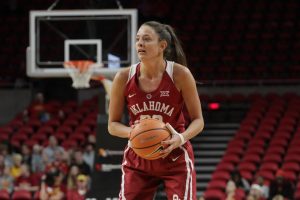 Former Ankeny star Maddie Manning celebrated her Senior Night on Wednesday with a victory over Iowa State.
Manning had 12 points, three assists and two steals as the Oklahoma women's basketball team defeated the Cyclones, 80-71, before a sparse crowd at Lloyd Noble Center in Norman. The game was played despite a snowstorm that blanketed the Sooner state, making it difficult for fans to reach the arena.
After the game, Manning was honored along with the other Oklahoma seniors. She was escorted to mid-court by her parents, Tim and Kim, and all of her grandparents.
"The dadgum weather got us all, but it couldn't keep the Manning family from caravaning down in a vehicle when their flight was cancelled all the way from Ankeny, Iowa to Norman tonight," Oklahoma coach Sherri Coale told the crowd in the postgame ceremony. "I think you rolled in a few minutes before tipoff, right?
"As you can tell, Maddie's had a phenomenal support system growing up and then its extended to her time here at the University of Oklahoma. Maddie's a lot of things, but I'll tell you this: I don't know that there's a more loyal, compassionate or committed person in terms of how she cares about her teammates and the fact that she wants to win. She is as dialed in and as compassionate about her teammates on the court and off the court as anybody we've ever had here……We've been honored to have her for awhile now."
Manning, a graduate student, took the microphone and addressed the crowd.
"I can't be here for six years and not say thanks to my old teammates," she said. "I've been blessed to play with a bunch of special players. I love you, and I'll have you guys in my corner the rest of my life."
Manning then turned to her family and thanked them for their support.
"My family is everything," she said. "We have a lot of people, and we all stick together. You guys have been here through this journey with me. You've lived this journey with me. I just can't thank you enough. I love you guys so much. You're my best friends, and thank you for being there with me in this journey."
Manning overcame a pair of ACL injuries in her first two years to become the 33rd player in Oklahoma history to reach the 1,000-point career mark earlier this season. She currently ranks 30th all-time at OU in points scored, ninth in free-throw percentage and 10th in 3-point shooting percentage.
Manning is pursuing her second Master's degree. She eventually wants to follow in Coale's footsteps and become a coach.
"Coach Coale, thank you so much for your constant pursuit of making me better and never letting me settle," Manning said. "I know at times I wanted to and you refused to let me. I've learned so much–I don't think I'll even know how much I've learned until I leave here. I can't thank you enough for all of that. When I woke up from my two ACLs tears, I got a text message from you every day and I just know I'll have you in my corner no matter what. So thank you."