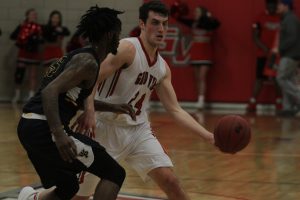 The basketball careers of Jordan Brunkow and Jay Schon have been intertwined for a long time.
The duo played together at Ankeny High School in the 2012-13 season before moving across town to Ankeny Centennial, where they helped the Jaguars to a 36-9 record in the first two years of the school's program.
Brunkow then moved on to Grand View, where he was eventually reunited with Schon in his sophomore season. They both played key roles last year as the Vikings posted a 20-11 record.
Now, while Brunkow's career is thriving after a permanent move into the starting lineup, Schon is no longer a member of the team. The 6-foot-7 center underwent a surgical procedure on his right ankle in December that effectively ended his career.
"It's tough to watch because he was such a good player and such a good teammate," Brunkow said. "Everybody loved him last year. It's a big loss, but he always handles that stuff really well in my opinion. I really do feel bad for him, but he's doing well so that's good."
Schon averaged 6.3 points and 4.8 rebounds in his only season at Grand View. He enjoyed the opportunity to play with Brunkow again, even though he wasn't completely healthy.
"There was some pain once in a while, but nothing I couldn't tolerate," Schon said. "I definitely wanted to be out there with the guys, and I was glad that I could play another year."
However, Schon said he knew that he wasn't the same player that earned all-state honors at Centennial. His ankle never felt quite right.
"The first surgery that I had got stuff put back in place and allowed me to get back to walking again and do normal things, but I probably should not have played another year on it," Schon said. "The wear and tear from that and just the natural degenerative condition of my ankle required another surgery.
"I could tell throughout the year that it just wasn't the same–there was something wrong with it. I guess having been through quite a few injuries before I just had a sense that there was something not quite right with it. So after the season wrapped up, we went and saw a specialist in Colorado and then he recommended that I be done (playing) and have a procedure done," he added.
Schon was scheduled to have surgery last August, but the procedure was pushed back a few months. In December, he finally underwent seven hours of surgery as doctors basically reconstructed his ankle.
"It was pretty major surgery where they did like seven different things to my ankle," Schon said. "Hopefully, this will set me up so I won't have to have any more surgeries until I'm a middle-aged man."
Unfortunately, Schon's playing days are now over. He won't be able to resume playing the sport that he loves.
"I guess I was kind of prepared for it," Schon said. "It had been a long haul from high school to talking to Division I coaches and then having that fade (away), then moving on to junior college and the Division II NAIA (level). After the year was done, I knew I wasn't the same player and I was prepared that it could possibly be over. It's definitely not fun to hear, but life moves on.
"I'm very grateful for the opportunity the coaching staff gave me to come and play here. All the guys are great, so I try to stay in contact with them and support them," he added.
The Vikings have enjoyed another successful season without Schon. They are currently 10-8 in the Heart of America Athletic Conference and 17-11 overall after losing to third-ranked William Penn, 99-90, on Wednesday in Des Moines.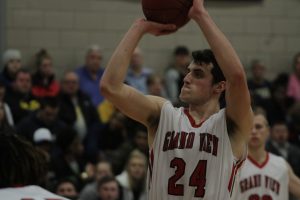 "They are a really talented team," said Brunkow, who scored 13 points in the loss. "We just tried to slow them down by throwing different defenses at them. I don't think we necessarily ran out of gas. We failed to take advantage of opportunities and against good teams like Penn, they will make you pay for it and they did just that."
Brunkow, a 6-5 forward, is having a breakout season for the Vikings. After averaging just 2.7 points per game as a sophomore, he has more than tripled his average this season.
"I think I would be considered the fourth scorer on the team right now, which is fine with me," said Brunkow, who is averaging 9.2 points and 4.9 rebounds. "I've been able to do everything on the floor. I play 1 through 5 if need be. I feel like I'm the glue guy and a leader on the team this year."
Brunkow is shooting 41.1 percent from 3-point range (37-of-90). On Jan. 31, he went 8-for-10 from the field–including 5-for-5 from behind the arc–and scored 21 points in a 79-66 win over Benedictine (Kan.).
"It was a good time," Brunkow said. "I didn't really realize it until after the game when my teammates told me. I just shot it every time I was open, and things just happened to go that way."
Grand View has won eight of its last 11 games, even with the loss to William Penn. The Vikings will close out the regular season on Saturday at Culver-Stockton.
"Right now I feel like we're a pretty hot team," Brunkow said. "We hit a couple rough spots early in the season, but our guys are coming around and it's going pretty well. The (William Penn) game would have really helped our positioning for the conference tournament coming up next week. We had an opportunity to beat them at their place earlier this year, and I think the guys really wanted to play well in this game, especially at home because it was such a great atmosphere and a rivalry game."
Brunkow never got to play in the state tournament as a high school player. Now, he wants to prolong the Vikings' season as much as possible.
"Making a run in the conference tournament will help us get a bid to go back to Kansas City like we did last year," Brunkow said. "I just want to continue to be one of the leaders on the team and push the guys every day. Be a guy that is helping our team get to the national tournament."