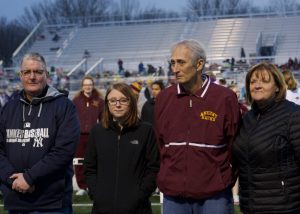 As the weather cooled off Thursday night, many of the fans attending the Hawkette Invitational were probably anxious for the meet to end.
Scott Osborn wasn't one of them.
The former Ankeny boys' track coach was honored at the meet by having the 4×400 relay named after him. Southeast Polk won the inaugural race and received a commemorative plaque.
"It was great to see Mr. Osborn be honored," said Ankeny Centennial girls' track coach Andrew Kruzich. "He's a legend in Ankeny track, and it's long overdue that he be recognized for all of the contributions he's made to Ankeny track over the years."
Osborn will also be recognized at the Fred Smith Hawk Relays on April 17. Beginning this year, the 4×800 relay at that meet will be named after Osborn.
The 4×800 has always been one of Osborn's favorite events.
"At the 1978 conference meet held at Grinnell I believe, he made a 'statement' to the rest of the conference," said Al Purdy, one of Osborn's former runners. "The 4×800 varsity and JV race was run all in one heat to save time. We were so deep in middle distance with quality athletes that we ran five teams, placing first through fifth. What a boost to the confidence for the JV relay teams, of which I was a member."
Osborn began coaching at Ankeny in 1972 under Fred Smith. The 1972 squad won the state team title.
During his 14-year tenure as an assistant and then the head coach, Osborn's teams won 10 conference championships, including an unprecedented eight Central Iowa Conference titles in a row from 1978 to 1985. He served as the middle distance coach and pole vault coach in addition to being head coach.
Osborn was also the team chauffeur, driving the bus to meets.
"Coach Osborn's love for track and field was extremely contagious and provided a positive atmosphere for his athletes," Purdy said. "He is quick-witted with a wry sense of humor and a bit of irreverence, an approach that was very appealing to 16-18 year old males.
"He and his staff were able to foster an environment where athletes experienced the joy of running with a drive to compete–track and field with a bit of an attitude. Athletes had so much fun. I had teammates who went on to play college football and baseball that went out for track their senior year running JV, but (enjoyed) being part of a team where they had a great time while working hard. There was a real sense of family," he added.
After retiring from coaching, Osborn has remained a fixture around the sport. As a meet official, he was responsible for setting up meet heats, processing results and running the FinishLynx system.
Osborn has also been a longtime member of the Drake Relays committee, helping to organize and run one of the nation's premier track meets.
"We honored an instrumental individual who all his adult life coached and promoted track and field and especially Ankeny track and field," Ankeny girls' coach Dennis Adamson said of Osborn.