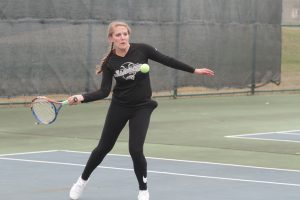 Seniors Alexis Legg of Ankeny and Alyssa Lewton of Ankeny Centennial are the top returning players this season for their respective girls' tennis teams.
Lewton helped the Jaguars to a 10-1 victory over Southeast Polk in their season opener on Thursday. Legg and the Hawkettes, meanwhile, dropped an 11-0 decision to Ames.
Here is some inside info on the duo:
What did you think of your team's performance on Thursday?
Legg: We did Ok for our first meet. It wasn't the outcome I hoped for, but Ames is a very good team.
Lewton: I thought that everyone played really well. I knew there were quite a few people that were really feeling the nerves, including myself, and they came through in the clutch. The varsity went 10-1 and the JV went 17-9, so I would call it a successful day!
Were you happy with how you played?
Legg: No, I wasn't. However, I haven't practiced as much as I had hoped to due to the weather and soccer. Luckily, this week it looks like we will have some better weather and I'll have more opportunities to go outside and hit the ball.
Lewton: Honestly, no. I really felt the nerves and it completely showed in my match. I double faulted like crazy and just didn't move. I did start to feel more comfortable by the second set of doubles, though, so I hope that stage has passed, and I can get back into the "swing" of things. Haha, pun intended.
Has it been difficult to get ready for the season, considering the poor recent weather conditions?
Legg: Yes! In the past week practice has either been cancelled, cut short, or moved inside. It sucks.
Lewton: Yes, getting ready for the season has been rough. We have 102 girls on the team this season, so it's been hard to get the touches everyone needs with this weather.
What is the strongest part of your game?
Legg: My mobility on the court to run up and back and side-to-side.
Lewton: I feel that I'm an aggressive player, which tends to catch people off guard. I also think that my net game is an advantage for me, and that isn't very common with girls in recent years.
Do you prefer singles or doubles?
Legg: In past years I have always preferred singles, but I'm really excited this year to play doubles with some of my best friends.
Lewton: Personally, I prefer doubles. My last two years, my partner and I have really connected and had great chemistry. With Abby (Smith), she was very groundstroke-heavy and I was very net-heavy, so having different strengths made us an interesting combination. With Maddie (Volk), she was also pretty groundstroke-heavy and her serve was really strong, usually setting me up for an overhead at the net. Also with Maddie, we could always pick each other up. When she was upset, I could pick her up and vice versa, and I love that element of doubles and the teamwork involved with it.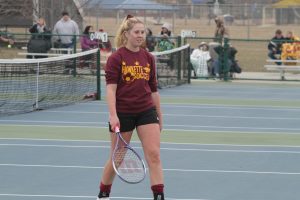 Alexis, you also play for the Ankeny girls' soccer team. What is the hardest thing about juggling two sports at the same time?
Legg: The hardest part is not being able to give tennis as much attention as I would like. I really enjoy playing both sports and am grateful to both of my coaches. I'm going to miss playing tennis next year.
Were you able to play in the soccer team's season opener on Thursday as well?
Legg: Yes. I played singles against Ames and was able to catch the bus ride over and play against Urbandale that night.
You have committed to play soccer for Augustana (S.D.). Do you think being a multi-sport athlete in high school helped you to earn a college scholarship?
Legg: I think playing multiple sports has helped me stay in shape throughout the year, as well as learning different coaching styles.
Alyssa, you are also a member of the Centennial volleyball squad. Which sport are you planning to pursue in college?
Lewton: I have not made my college decision yet. The deadline my parents gave me is April 15. I have it narrowed down to two schools. If I go to Iowa State, I may play intramural tennis. If I go to Central College, I have the opportunity to play both volleyball and tennis.
You qualified for the state doubles tournament a year ago while playing with Maddie, who has graduated. How is your transition to new doubles partner Alli Gustafson going?
Lewton: We've only played one match because of the poor weather, but we are learning and improving together every point. Even within the two sets we played on Thursday, we grew as a doubles team and got more comfortable together.
Your mother, Tami, is the head coach of the Centennial boys' team. Does she ever try to give you any advice, or does she prefer to stay out of your coaches' way?
Lewton: During school season, she is very hands off unless I ask her a question. I have an eighth period open every other day, so I have asked her to hit a couple times since Phomm (coach Emily Phommachack) is a teacher. During the summer, I go to the camps she runs and we go and hit quite a bit, so it really just depends on the season.
Didn't the two of you play tennis together when you were younger?
Legg: Yes, I actually grew up playing with Alyssa. Her mom would always do a summer clinic. It was because of coach Lewton that I really learned to love the game.
Lewton: My mom used to run a summer camp for a week and (Alexis) was always in it! And then while my mom was teaching the younger kids, (Alexis) and a couple of other friends would go to someone's house. We also played soccer together for a couple of years, and her dad was the coach.
What other activities are you involved in?
Legg: The only other activity I was able to play was high school basketball, because of my commitment to soccer. A lot of my time was spent with my club team.
Lewton: I play club volleyball in addition to school volleyball and tennis. I am in National Honor Society, Spanish National Honor Society, and Spanish Club.
Do you know what Fortnite is, and do you play it?
Legg: Yes, I play, but not very well. My little brother is a lot better than me.
Lewton: I know it's a video game, but I have never played it. I'm not really a video game person.