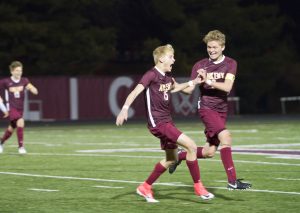 The Ankeny boys' soccer team didn't panic when Dowling Catholic built a 2-0 lead in a non-conference game on Tuesday.
The sixth-ranked Hawks got two goals apiece from Kolby Raineri and Charlie Pritchard and rallied for a 4-2 road victory, their fifth in a row. Ankeny improved its record to 5-1 on the season, while Dowling dropped to 0-2.
"Patience and trust were the two key components for the lads," said Ankeny coach Jordan Burns. "Despite going down 2-0 in the first half, I thought we were pretty dominant in possession and controlled the game. I never doubted the boys for 1 minute; I knew we were always going to get back in the game."
Raineri scored off an assist by Peter Gaspari to ignite Ankeny's comeback. Pritchard then scored, also off an assist by Gaspari, to tie the game.
Raineri later scored again to put the Hawks ahead for good. It was his team-leading seventh goal of the season.
"Kolby once again was the best player on the field with two clinical finishes and an overall solid performance," Burns said.
Ankeny sealed the victory when Pritchard connected for his sixth goal of the season in impressive fashion.
"It was an absolute screamer from 30 yards into the top corner," Burns said. "That killed the game off."
In addition to Raineri and Pritchard, Burns also praised the play of senior midfielder Spencer Anderson.
"His work ethic and desire is incredible," Burns said. "Without him in there battling away, our attacking players would not have the license they do to go be creative."