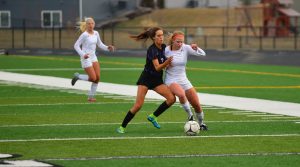 Two of the state's best girls' soccer teams collided on Friday night at Ankeny Centennial's new turf field.
It was almost fitting that the game was decided by a shootout.
Top-ranked Waukee got two big saves from goalkeeper Emily LeVere and eventually won the shootout, 4-3, to post a 1-0 victory over No. 3 Centennial in a CIML Central Conference showdown. It was the season opener for the Jaguars, who had two earlier games cancelled due to bad weather.
"It would have been nice to work out the kinks against someone else before having to play Waukee, but that's the way the spring has fallen," said Centennial coach Chris Allen. "It's certainly a tough start to the season, but it's something we can grow from. We have to take it as a learning experience more than anything else."
Waukee (2-0) took the early lead in the shootout, converting its first two kicks while LeVere made a pair of saves against two of Centennial's best shooters. But the Jaguars then rallied as Megan Gray and Jaecee Hall both scored, and Marissa Lopez followed with another goal to extend the shootout.
Lopez, who usually shares the goalkeeping duties with her sister Nahomi, had yet to play in Friday's game.
"We were so beat up at that point," Allen said. "Lizzy (Johnson) was hurt, and so was (Kenzie) Geiger. Carlie (Jensen) and Lexie (Gutknecht) were cramping up, so we called on Marissa–who has a wrist injury, but she could shoot–and she wanted it.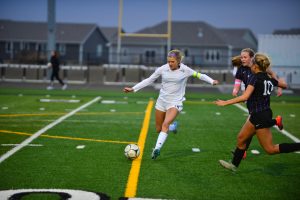 "There was a ton of pressure on her, and she put it in," he added.
However, Waukee then connected on its sixth attempt to take a 4-3 lead. Centennial tried to answer, but its shot went high and deflected off the crossbar to end the game.
"I don't want the girls to dwell on the loss, because it's not the end of our season," Allen said. "I hope they're able to build off the game that they played in the field."
Neither team was able to generate a lot of scoring opportunities during 100 minutes of action under windy conditions. Centennial was credited with four shots on goal, one more than the Warriors.
"Waukee is No. 1 in the state for a reason," Allen said. "They're a talented team and they're well-coached. They are very well organized, and they executed a game plan that frustrated us. We did have some attacking chances, but I think they were the chances that Waukee wanted us to have if we were going to have them."
Allen said he still expects the Jaguars to be an explosive offensive team. He knows they won't be facing Waukee's stingy defense every night.
"We've got personnel that can score goals," he said. "We just have to put everything together."