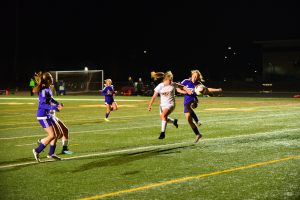 A halftime adjustment paid off in a big way for the Ankeny girls' soccer team on Tuesday.
The ninth-ranked Hawkettes scored three goals in the second half to defeat No. 5 Johnston, 3-0, in a non-conference game at Ankeny.
"We tactically made a big adjustment that the girls responded to very well," said Ankeny coach Dan Bersch, whose team improved its record to 5-0. "We adjusted against Southeast Polk (last week) on the fly and we had to do the same thing vs. Johnston. We scored early in the second half and didn't look back."
Alexis Legg, Riley Whitaker and Ashley Harrington each had a goal for the Hawkettes, who have outscored their opponents by a 14-2 margin this season. Legg leads the team with five goals.
Harrington, a sophomore midfielder, had the highlight of the night, Bertsch said.
"Ashley continues to shine for us and step up in big moments," he said. "A ball was built from the back and whipped into the near post which Ashley, making a run from outside the box, beat her defender to the near post and finished in the side netting on a fantastic header. It is these dynamic plays that will continue to make this team dangerous in the coming weeks."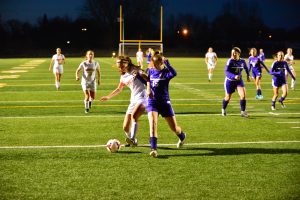 Johnston (1-1) had opened the season with a 4-0 victory at Dallas Center-Grimes on April 12. Sophomore Maya McDermott had two goals in the win after scoring 30 last year in just 14 games.
"The game was a tough one to manage," Bertsch said. "We knew going into the match that Johnston has one of the best coaches in the CIML combined with one of the most dangerous scorers in the league in Maya. We expected a great battle, and we certainly received one.
"We got word that Maya had suffered an injury over the weekend while playing for her club basketball team, which I felt relieved us of a little pressure going into the match. Johnston was extremely well organized defensively and they didn't allow us much time to find space, which made it very difficult for our midfielder to play through them," he added.
Ankeny will try to stay unbeaten when it plays Des Moines Lincoln on Friday at Cownie Park. The Hawkettes will then host No. 8 Ames, the defending Class 3A state champion, on Tuesday.
"The moments are there for us," Bertsch said. "We just need to continue working on finely tuning our crafts."