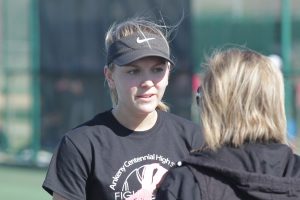 While Ankeny's crosstown rivals battled on the tennis court Thursday, the two schools also managed to raise some money for the American Cancer Society.
It was the annual Pink Out event at the Prairie Ridge courts, where the Ankeny Centennial girls' team rolled to an 11-0 victory over Ankeny.
"Centennial's a tough team, but the main thing is that we had a great night of team unity," said Ankeny coach Katie Owens. "We came together and raised over $500 for cancer research."
Centennial coach Emily Phommachack was also pleased with the fundraising effort.
"That is amazing," she said. "A lot of that comes from the girls and the parents just for contributing. It makes us feel really good about what we're doing and giving back to the organization."
Centennial rebounded from three consecutive losses to post a convincing victory. The Jaguars improved to 2-1 in the CIML Central Conference and 3-3 overall, while Ankeny's records dropped to 0-3 and 2-3.
"It's been unfortunate," Phommachack said of her team's recent slide. "Some of the time we haven't had our full squad, but we're also growing as a team. It's kind of a rebuilding year for us a little bit."
Centennial won all 11 matches in straight sets. One of the best matches came at No. 1 singles, where Alyssa Lewton posted a 6-3, 6-4 victory over Alexis Legg.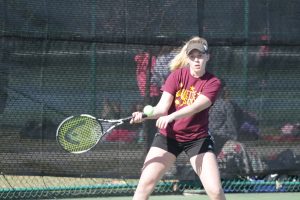 The two players later sat together and reminisced about their younger days as they watched the end of the meet.
"It's a lot of fun," Lewton said. "We have a lot of memories, and we were actually just talking about it. She used to come over (to my house) all the time."
Centennial has won all five meetings against Ankeny in the history of the series. Phommachack said her team is always motivated to play the Hawkettes.
"The girls were really psyched up for this one," she said. "It's a great team-building experience for everybody to be here."
It's also a friendly rivalry.
"There's a lot of smiles and exchanges of conversation when they go back and forth," Phommachack said. "It's fun. It's always a good matchup."
Both teams will be looking for more improvement in the upcoming weeks.
"The season has been kind of frustrating for me, but I'm slowly but surely figuring it out," Lewton said. "This is definitely a confidence-boost, and hopefully we'll take it and run."
Owens is also optimistic that the Hawkettes will continue to get better.
"With every match, we're taking something and growing and learning in experience," she said. "It's been fun to see."
Here are the match-by-match results:
Centennial 11, Ankeny 0
Singles–Lewton beat Legg, 6-3, 6-4; A. Gustafson beat Beecham, 6-1, 6-0; Miller beat Weber, 6-2, 6-4; Nisius beat Greathouse, 6-1, 6-1; Nemmers beat North, 6-1, 6-1; Vandeloo beat Jacobson, 6-2, 6-3.
Doubles–Lewton/A. Gustafson beat Legg/Beecham, 6-0, 6-1; Miller/Nisius beat Weber/Greathouse, 6-4, 6-4; Nemmers/Vandeloo beat North/Jacobson, 6-0, 6-2; J. Gustafson/Bloom beat Blatt/R. Johnson, 6-0, 6-0; Watson/Bryan beat Luther/Penningroth, 6-2, 6-4.