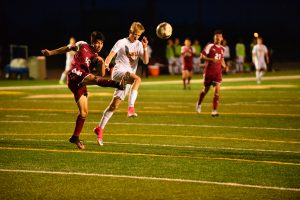 The Ankeny boys' soccer team extended its winning streak to seven games with a 2-1 victory over visiting Des Moines Lincoln on Friday.
The sixth-ranked Hawks built a 2-0 lead and then held on for the win, raising their record to 7-1. No. 12 Lincoln dropped to 1-2-1.
"It wasn't pretty by any stretch. We made it difficult for ourselves," said Ankeny coach Jordan Burns. "We didn't play that well, but we got the win."
Charlie Pritchard scored both of Ankeny's goals. He put the Hawks ahead in the final minute of the first half, then added another goal early in the second half.
Pritchard has now scored a team-high 10 goals, including six in the last three games.
"Charlie was outstanding and was the best player on the field again," Burns said. "He's on fire."

Lincoln scored its only goal with about 9 minutes left in the game. Burns said his team struggled at times.
"But even when we didn't play as well as we can, we were still in control of the game," he said. "We missed a few chances. It was just a sloppy performance. A lot of the boys were frustrated with their individual performances, but they stuck together and finished the game out.
"I've told the boys that this is a special team. We have been able to win in a variety of ways," he added.
On Friday, the Hawks overcame a scrum that led to the ejection of two players. After the Lincoln striker received a red card for hitting Ankeny's Riley Wood in the face, Spencer Anderson came to Wood's defense and also received a red card.
"There was a moment of chippiness," Burns said. "Spencer, unfortunately, dropped an (expletive) out of frustration in trying to protect his teammate. He was just upset that (Wood) got hit in the face, but that was an automatic red card. It was unfortunate, but things do happen in the heat of the moment."
Anderson will have to sit out Tuesday's game at No. 11 Ames.
"He's a key player for us–the engine in our midfield," Burns said. "It'll be a mess without him, but hopefully some other guys can step up for us."