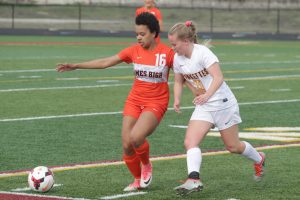 The Ankeny girls' soccer team couldn't figure out a way to stop Ames' Melina Hegelheimer.
It resulted in the Hawkettes' first loss of the season.
Hegelheimer scored a pair of goals, including the game-winner in overtime, as the ninth-ranked Little Cyclones posted a 3-2 victory at No. 5 Ankeny in a CIML Central Conference showdown on Tuesday.
"It was an extremely tough game, but that's life in the CIML," said Ankeny coach Dan Bertsch. "Their big-time player showed for a big game. She's an amazing player."
Hegelheimer, a junior, plays on the same club team with Ankeny defender Riley Whitaker. Both girls have committed to play for Iowa.
Ames never led until Hegelheimer scored the decisive goal with 1 minute 32 seconds left in overtime.
"She got a ball right at her foot about 20 yards out. We gave her too much space, and she cranked it home," Bertsch said. "You can't give that talented of a player, as hot as she was, that type of space to create and make something. They had the wind in their favor, and she executed."
Ames, the defending Class 3A state champion, improved to 2-1 in the conference and 6-2 overall. Ankeny's records dropped to 1-1 and 6-1.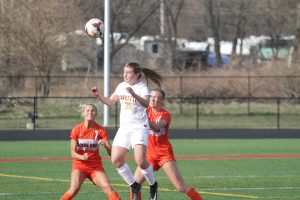 The Hawkettes took a 1-0 lead when Malorie Rohweder scored her second goal of the season in the 24th minute. She was assisted by Saige Adamson.
The Little Cyclones then answered about 4 minutes later when Hegelheimer found the net on a direct kick from about 35 yards out.
"I don't know if that was partly the wind or not, but regardless–I don't care who you have in the net–there's no one saving that shot," Bertsch said.
Ankeny regained the lead early in the second half when Ashley Harrington scored on a header for her sixth goal of the season. She was assisted by Olivia Sharar.
However, Ames tied the game midway through the second half when Grace Nelson scored off an assist by Hegelheimer. It was Nelson's team-leading 10th goal of the year.
"I think the biggest difference was when we scored, they came back with a lot of energy and wanted to score to tie it up again," Bertsch said. "We just never had that extra punch."
Ankeny will have to regroup quickly. The Hawkettes will play in the Tournament of Champions at Burlington this weekend.
"The girls have got to be happy with their performance, but they've got to get over (the loss)," Bertsch said. "We've got three big games in Burlington coming up."