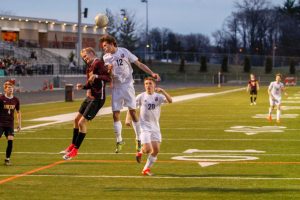 Charlie Pritchard and the Ankeny boys' soccer team are on a roll.
Pritchard scored another goal, his seventh in the last four games, and the sixth-ranked Hawks opened CIML Central Conference play with a 2-0 victory at No. 11 Ames on Tuesday.
It was the eighth consecutive win for Ankeny, which raised its record to 8-1 on the season. The Little Cyclones dropped to 0-2 in the league and 2-2 overall.
"We totally wore Ames out," said Ankeny coach Jordan Burns. "We were able to possess the ball and just made them work so hard to get it back."
The Hawks took a 1-0 lead when Pritchard found the net with about 3 minutes left in the first half. It was his 11th goal of the season, which ranks fifth in Class 3A.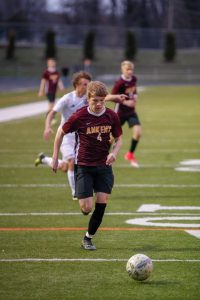 "It was a goal that we really deserved," Burns said. "We had a lot of possession of the ball and created a lot of chances. You could just sense the goal was coming, and then boom, it came at a crucial time right before halftime. For Ames, it was kind of a sucker punch."
Ankeny then added an insurance goal about 10 minutes into the second half. Dayne Kajewski scored the goal, his fourth of the season.
Jack Christmann and Peter Gaspari each had an assist in the win.
"I was really happy with the result," Burns said. "It was a solid performance from the boys. We were really dominant, and it was another huge step in the right direction. I really believe that this is a special team."
It was the fifth shutout of the season for the Hawks, who will host Southeast Polk on Friday.