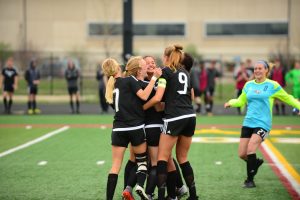 Ankeny Centennial's Nahomi Lopez didn't mind turning the goalkeeping duties over to her sister, Marissa, on Wednesday at Ankeny High School.
It allowed Nahomi to score the game-winning goal against her crosstown rival.
Nahomi converted a penalty kick to give the third-ranked Jaguars a 3-2 victory over No. 6 Ankeny in the completion of Tuesday's suspended girls' soccer game.
"I like to be on the end of Pks, but my sister Marissa does a great job," said Nahomi, who played the first 40 minutes in goal before being relieved by her sister. "She reads it really well, and she's just a fantastic goalkeeper. If I'm not there, she does a really good job."
Marissa didn't have to make any stops during the shootout. Two of the Hawkettes' attempts sailed wide right, opening the door for the Jaguars.
The game ended when Nahomi calmly booted the ball into the left side of the net to give Centennial a 4-3 win in the shootout. The Jaguars earned their third straight victory over Ankeny.
"I think I handled it pretty well," Nahomi said. "I wasn't originally in the first five, but I kind of worked my way up through practice. I'm really excited to have that pressure. I think it's a huge honor to be able to shoot–to be one of the five."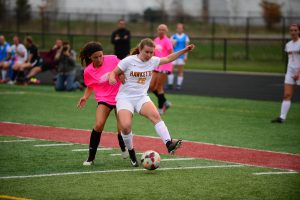 Olivia Brown, Megan Gray and Carlie Jensen also converted their penalty kicks for Centennial, which improved to 2-1 in the CIML Central Conference and 6-2 overall. Morgan Bennett, Alexis Legg and Riley Whitaker each scored for the Hawkettes, whose records fell to 1-2 and 9-2.
"We practiced (penalty kicks) during practice the weeks before, but going into it I just knew I had to place it and everyone else tried, too," said Legg, who also scored on a penalty kick during the first half on Tuesday.
Gray wore a cast on her left wrist after taking a hard fall the night before. She may have suffered a hairline fracture and will go back to the doctor for another X-ray next week.
"I can't play Friday in our game at Valley, but I can run," said Gray, who is also a member of the Centennial girls' track squad. "So I'll be running Friday (at the conference track meet)."
The two teams battled to a 2-2 tie through two overtimes on Tuesday before play was suspended due to lightning. Ankeny took a 1-0 lead on Legg's penalty kick in the 35th minute, but Centennial answered with a pair of goals in the second half–both on corner kicks.
"I was really proud of our adjustments at halftime and how we fought back," said Centennial coach Chris Allen. "We didn't really play our game in the first half, and composure was a big part of it. But in the second half to come out and be a little bit relentless and put the pressure on and get those two goals, that was a big deal for us."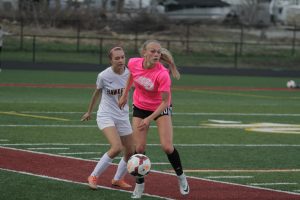 Lexie Gutknecht scored off an assist by Lizzy Johnson in the 50th minute to tie the game. The Jaguars then took the lead when Johnson scored off an assist by Olivia Wee 10 minutes later.
"It was definitely one of our game notes going into it," Ankeny coach Dan Bertsch said of the corner kicks. "(We were concerned about) the strength and the size they had going into the corners, and they executed well on them and had two goals. Thankfully for our group, we were able to fight back."
Shortly thereafter, both teams left the field for 30 minutes due to a lightning delay. When play resumed, Whitaker tied the game almost immediately, finding the top left corner of the net with a rocket from about 30 yards out.
"We had just come out from the delay and we knew that we needed to spark the game out, so I just took a touch and shot it," Whitaker said.
Centennial had several chances to score in the final 10 minutes of regulation, but was unable to capitalize. Neither team could find the net during the two extra periods, setting the stage for the shootout that followed about 20 hours later.
"It was an unfortunate turn of events, because it's tough to get the emotion back and the energy back the next day," Bertsch said. "I'm extremely proud of the girls–they played well. We did our best (in the shootout), and that's all we could do. A lot of respect to Centennial and coach Allen for finishing the job and the game. If we see them later on at state, I think it'll be a good game."