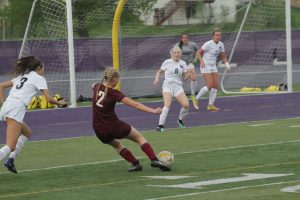 Waukee Stadium is beginning to feel like a second home to the Ankeny girls' soccer team.
The fifth-ranked Hawkettes posted a 3-2 victory in a shootout on Tuesday at No. 2 Waukee. The game was a rematch of last year's regional final on the same field, which was won by Ankeny, 2-1.
"It feels really good to take them down again just like we did last year," said Ankeny senior Alexis Legg, who scored one of the Hawkettes' two goals and then later converted the go-ahead penalty kick in the shootout. "I think (last year's win) definitely had a part in how we played. We came in with confidence."
Ankeny goalkeeper Brenny Frederick played a huge role in the victory. The sophomore stopped three of Waukee's five attempts in the shootout, including one by Jackie White that ended the contest.
"I enjoy PKs. I feel really calm," Frederick said. "I don't really get too worked up about them. It's just 50/50 one way or the other, and all I have to do is my job and keep these girls happy."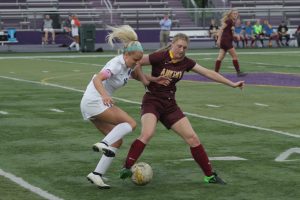 Frederick opened the shootout by blocking Allie Williams' attempt. The two teams then combined for five consecutive goals, with Ankeny getting conversions from Morgan Bennett, Olivia Sharar and Legg.
After Frederick made a save on a shot by Emma Bunz, Waukee goalkeeper Emily LeVere followed with a save of her own, blocking a shot by Saige Adamson to keep the Warriors alive.
However, Frederick then stopped White's ensuing shot, sealing the Hawkettes' victory.
"I've got a way to read them," Frederick said of the penalty kicks. "I just tried my best."
The win improved Ankeny's overall record to 11-2, while Waukee dropped to 7-4. Both teams are now 2-2 in the CIML Central Conference.
"The grit out of these girls was phenomenal," said Ankeny coach Dan Bertsch. "We've got some girls who are sick, some others who are injured, and everyone just stepped up. I'm glad we finally got a result when we needed it."
Ankeny built a 2-0 halftime lead by taking advantage of a strong wind. Sharar scored the Hawkettes' first goal barely 4 minutes into the game.
"I was dribbling the ball and I noticed (the defender's) body position was going out, so I cut in and used my right foot," said Sharar. "And I'm actually left-footed, so I thought that was pretty cool."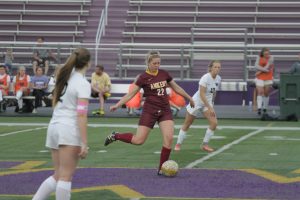 Sharar, who scored the winning goal in last year's victory at Waukee, later earned an assist in the 15th minute. She fired a cross from the left corner to Legg, who headed the ball into the net for her 19th goal of the season.
"It was a beautiful ball played in by Liv," Legg said.
Sharar, a junior, had played in only six of the previous 12 games due to a bulging disc in her spine. The injury has also prevented the dual athlete from competing in several track meets.
"It's been hard," she said. "The injury has held me back a lot. I'm not quite 100 percent yet, but I'm getting there."
Waukee then rallied in the second half with the wind at its back. The Warriors scored an own goal in the 43rd minute, then got the equalizer midway through the half when a shot by Ella Muse was deflected into the goal by an Ankeny defender.
"We had two unfortunate goals against us, but we told the girls to stay calm and stay relaxed," Bertsch said. "We knew we just needed to find a way, and Brenny came up huge for us. She's a phenomenal player, and I'm glad she's on our side."