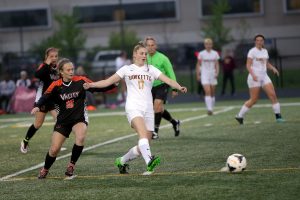 The Ankeny girls' soccer team was in a giving mood Friday.
The third-ranked Hawkettes provided coach Dan Bertsch with a nice birthday present by defeating No. 2 Valley, 3-2, in double overtime at Ankeny. The win avenged last year's loss to the Tigers in the Class 3A quarterfinals.
The victory also gave crosstown rival Ankeny Centennial the outright CIML Central Conference title.
"I think (Centennial coach) Chris Allen owes us dinner here in the next week or so," said Bertsch. "(The Jaguars) are a great team, and if there's any other team that we want to win the conference, it would be our neighbors to the north. We have a lot of friends there and a lot of respect for them and coach Allen. He's a great guy and a great mentor."
Ankeny senior Hailey Osborn picked a good time to score her first goal of the season. She found the net with about 7 minutes left in the second overtime to end the contest.
"Hailey was right there to get a rebound and finished," Bertsch said. "Much respect to Valley because they're a great team, but it felt good to finally pull out a win."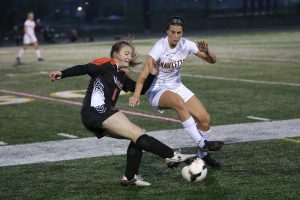 Both teams finished 3-2 in the conference. The Hawkettes raised their overall mark to 12-2, while Valley dropped to 8-2.
The Tigers held a 1-0 halftime lead before Ankeny rallied.
"I think we were still confident going into the second half even though we were down," said Ankeny senior Alexis Legg. "We had plenty of opportunities in the final third; we just needed to put one in."
The Hawkettes tied the game early in the second half after Ashley Harrington was fouled in the box. Legg scored the equalizer on the ensuing penalty kick.
Later in the half, Legg scored again to give Ankeny a 2-1 lead. It was her 22nd goal of the season, which is tied for fifth among all players in the state.
"There was a great shot by (Olivia) Sharar," Legg said. "I just followed it up and put it away."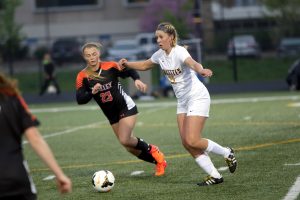 Valley scored with about 7 minutes left in regulation to force overtime. It marked the third time in four games that the Hawkettes needed extra periods to determine the outcome; the previous two contests eventually went to shootouts.
"I told the girls going into overtime, 'We've been here too many times before. Let's not go to PKs. Let's try to take care of business before time runs out,'" Bertsch said.
A year ago, Valley lost to Central Conference rival Ames in the Class 3A championship game. The league currently boasts the top five teams in the Class 3A rankings, a fact that was recognized by Allen after the Hawkettes' victory.
"Ankeny's 3-2 PK win over Valley secures an outright championship for us," he tweeted. "It also affirms how incredibly challenging our conference is. We go to PKs with two teams. Ankeny goes to PKs with two teams (us included) and overtime with two others. Much respect to our entire conference."
The focus for all of the Central Conference teams will now be on postseason play. Ankeny will close out the regular season with three non-conference games before opening regional play on May 30.
"We are going to be a contender," Bertsch said.