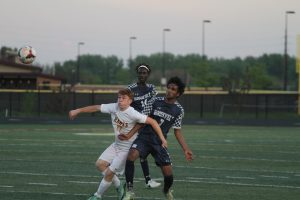 After suffering back-to-back shutout losses, the Ankeny boys' soccer team earned a much-needed victory Tuesday on its Senior Night.
Peter Gaspari scored the go-ahead goal midway through the second half and the fifth-ranked Hawks edged No. 13 Des Moines Roosevelt, 2-1, in a non-conference game at Ankeny.
"Kolby (Raineri) had two guys guarding him inside the box, and I was at the top of the 18," Gaspari said. "He passed me the ball, and I hit it first time and it went bar down."
It was the regular-season finale for the Hawks, who raised their record to 13-4. The Roughriders dropped to 8-3-1.
Ankeny took a 1-0 lead midway through the first half when Charlie Pritchard fired a shot past Roosevelt goalkeeper Edwin Garcia. It was his team-leading 17th goal of the season.
The Roughriders got an equalizer about 6 minutes later. Sri Chilukuri scored off an assist by Yona Abdulahi.
The game remained 1-1 until Gaspari found the net for his sixth goal of the year. He was among the seniors honored before the contest.
"It was very important for us to get back to our winning ways," Gaspari said. "I'm mad I can't play in the next game because of the scuffle at the end, but I'm glad we got the win."