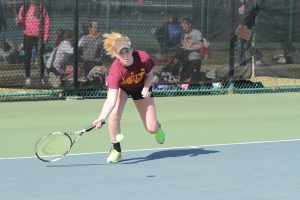 The Ankeny girls' tennis team got a fourth-place finish from Alexis Legg in a Class 2A regional singles and doubles tournament on Wednesday at Valley.
The fourth-seeded Legg received a first-round bye before posting a 6-3, 6-0 victory over Valley's Sam Auer in the quarterfinals. She then dropped a 6-0, 6-0 decision in the semifinals to Davi Patterson of Boone, a two-time state placewinner.
"She is definitely a great player and will probably place at state this year," Legg said of Patterson. "I could tell tennis is her sport. She had me running from side to side. She is definitely the best player I've ever played against. She had a great serve and all around placed hits perfectly.
"But if I see her on a soccer field..," added Legg, who also plays for the Ankeny girls' soccer team and is one of the state's leading scorers.
Legg then lost to Maddi Davis of Council Bluffs Lewis Central, 7-5, 6-1, in the third-place match.
"It was an awesome day of tennis," said Ankeny coach Katie Owens.
Ankeny's Katelyn North also competed in singles. She posted a 6-1, 6-0 win over Des Moines Lincoln's Hser Thaw before falling to Lewis Central's Hannah Moen, 6-0, 6-3, in the second round.