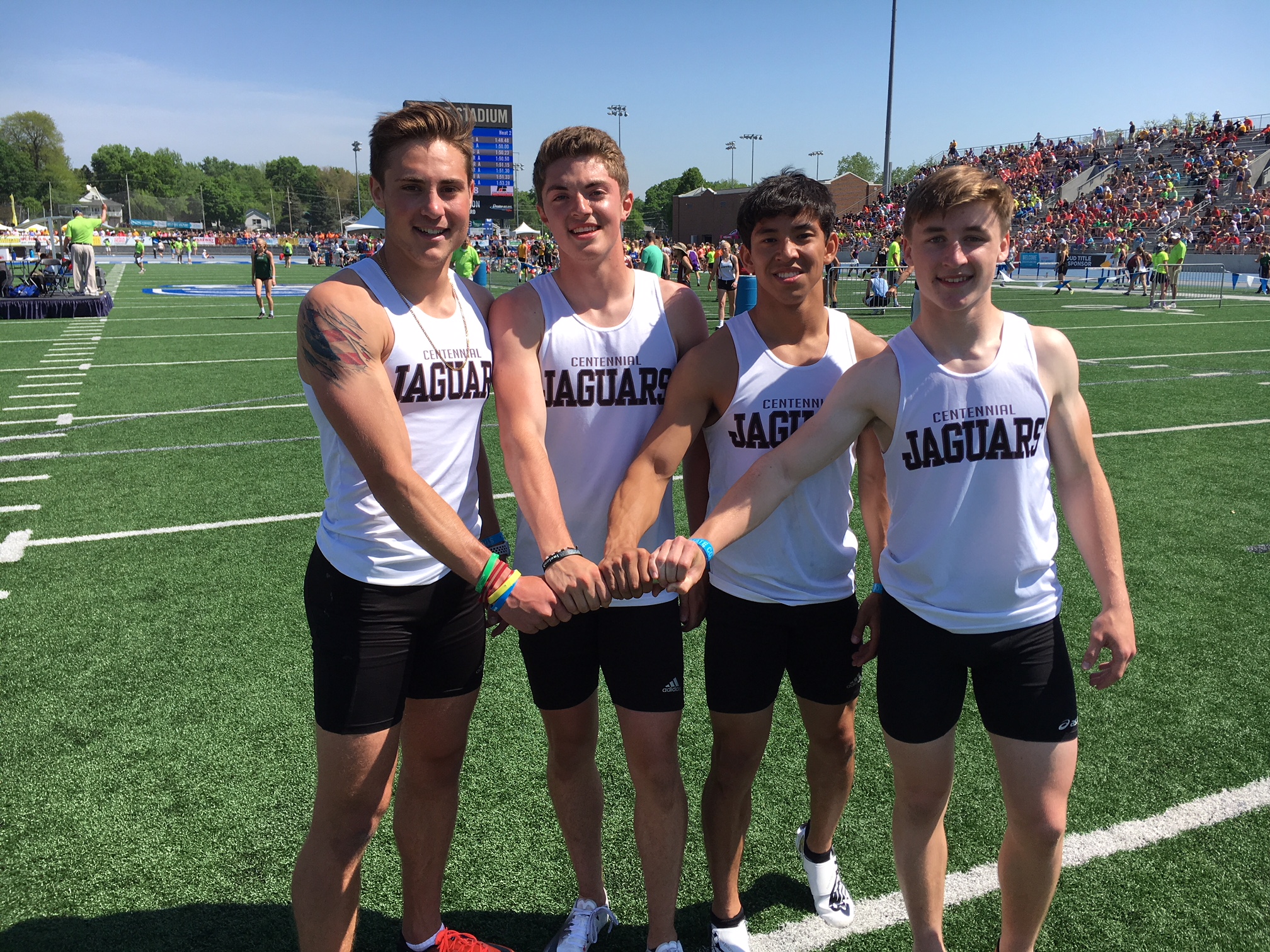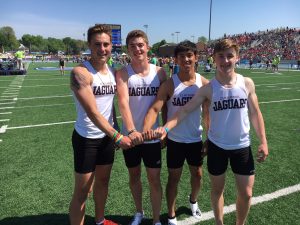 The members of the Ankeny Centennial boys' 4×200 relay team thought they could beat Cedar Rapids Jefferson at the Class 4A state track meet on Friday.
Thanks to a dropped baton, the Jaguars didn't have to.
Centennial raced to a victory after Jefferson dropped the stick on the first exchange, posting a time of 1:27.99 at Drake Stadium. The winning team consisted of Ryan VanBaale, Avery Gates, Brendan Hoy and Riley Moss.
"It feels great," Hoy said. "Last year we finished third, and we were just trying to run the best time that we could. It was kind of a battle for second, but when I realized Jefferson dropped the baton I knew we had a definite shot. I don't know if I'd call it luck. We put our hearts on the track today, and I'm just really happy."
Moss anchored the relay after running a preliminary heat in the 110 hurdles about 40 minutes earlier. He held off Valley's Creighton Mitchell to win the race by .4 seconds.
"(Jefferson) was really our only competition, but I was scared that somebody would be able to catch me," said Moss, who won his second relay crown in two years after running on the state champion shuttle hurdle relay last season. "I just ran the hurdles, and I felt pretty fatigued. But I told myself that it wasn't for me. It was for the team, and I had to get going. That's what was going through my mind, and it worked out pretty well.
"It was really cool to go through the finish line and know you're a state champ," he added.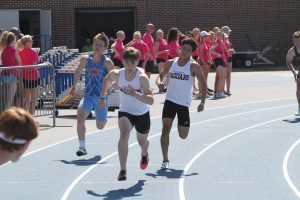 The relay title was especially sweet for VanBaale, a Northern Iowa recruit who has been one of the state's top sprinters since his freshman season. He entered Friday's race without a state championship despite being a four-time placewinner.
"This feels amazing. It's surreal," VanBaale said. "It's even better because I can celebrate with my teammates. There's nothing else like it."
The Jaguars had finished second behind Jefferson at last month's Drake Relays. The J-Hawks then ran 1:27.55 at last week's district meet, by far the fastest qualifying time.
Still, the Centennial runners were confident.
"We had no doubt in our mind," VanBaale said. "We ran pretty conservative at districts, and Moss didn't run that final leg. Jon Wong was able to run that anchor leg for us and get us in that final heat, so it's a credit to Jon as well."
Centennial later posted the fastest qualifying time in the 4×100 relay. The quartet of VanBaale, Avery Gates, Jensen Gates and Moss was clocked in 42.04 seconds, which ranks 11th on the state's all-time list.
Jefferson turned in a time of 42.24, setting up a showdown in Saturday's final.
"I think we really wanted to put up a time that kind of proved something. We've been working on our handoffs all year just trying to perfect that race," said Avery Gates. "I think (Saturday's final) will be interesting. We definitely want to show that we can beat (Jefferson) fair and square, without them dropping the baton or anything like that."
Moss will also have a chance to win his first individual title in the 110 hurdles. He stumbled over the second hurdle during Friday's preliminaries, but still managed to post the fourth-fastest qualifying time of 15.03 seconds in his signature event.
"I got scared there when I stumbled, because that's the first time I've ever stumbled in a race," Moss said. "I didn't think I was going to be able to recover, but I three-stepped the rest of the way so it went well after that."
Moss will be joined in the final by Ankeny's Connor Niffenegger. He posted a time of 15.18 to just barely qualify for Saturday's race.
Centennial is currently in 13th place with 13 points. The Hawks are tied for 19th with six points.
The Jaguars placed sixth in the distance medley relay on Friday. The foursome of Josh Decker, Liam Murphy, Hoy and Camden Cox was clocked in 3:32.38.
"We came in with some pretty big goals," Hoy said. "We all ran hard, so it's a win in my book."
Ankeny finished 10th in the same event. The team of Cooper Cox, Ryan Utterback, Anyoun Anyoun and Tim Sindt posted a season-best time of 3:34.03.
"It was a 2-second PR, so it was a good time for us," Utterback said. "We thought we could be up there in the top three. Our plan was to get the stick to Tim in good position, but we just weren't able to do it today."
Here are the rest of Ankeny and Centennial's results from Friday:
400 hurdles–Dylan DeAngelo (AC), 56.94 (20th).
4×100–Ankeny (Cox, Max Smith, Cael Boyd, Nick Scherle), 43.99 (20th).
4×400–Ankeny (Utterback, Max Griffin, Niffenegger, Anyoun), 3:27.82 (14th); Centennial (Murphy, Thomas Collins, Wong, Karter Kester), 3:29.76 (18th).