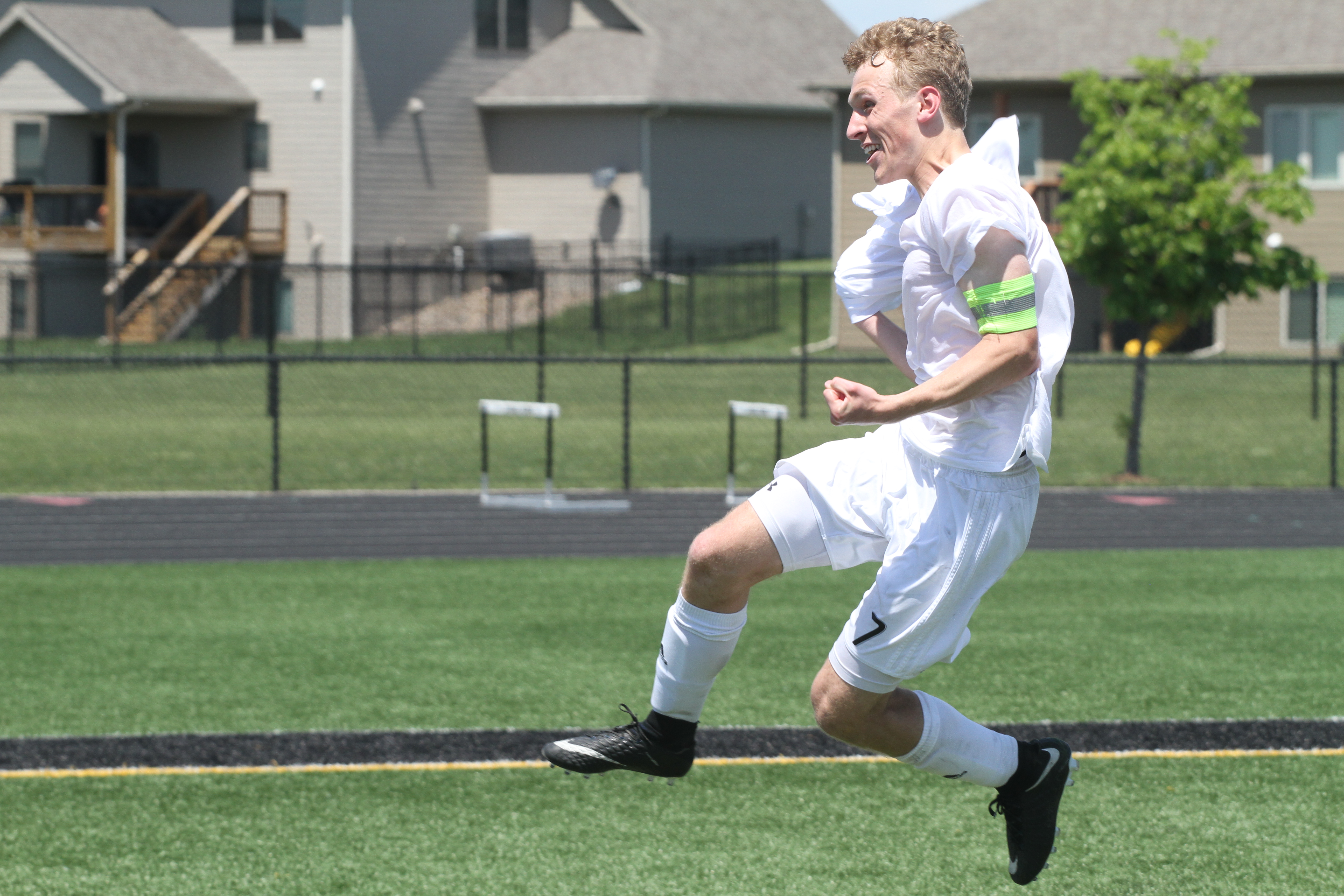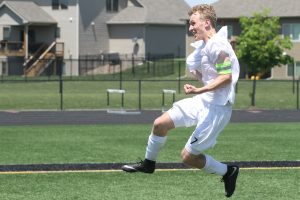 When Mitch Hinners woke up on Saturday morning, he had no idea he would play such a pivotal role for the Ankeny Centennial boys' soccer team in its quest for a berth in the Class 3A state tournament.
His diving saves, though, were a driving force for the eighth-ranked Jaguars in their 1-0 shootout victory over No. 14 Des Moines Lincoln in a substate final that was played on a steamy morning at Centennial.
"It feels great," said Hinners, a senior goalkeeper. "This is my family, and I would do anything for these guys."
The game started at 11 a.m. to accommodate Lincoln's commencement later in the day. When play began, Hinners found himself on the bench, where he has spent most of the season.
Hinners had played in only five of the previous 18 games, making two starts. But he was called upon quickly when Centennial goalkeeper Cole Pankey received a yellow card in the 14th minute after a collision in the box with Lincoln's Refuge Bargblor.
That set up a penalty kick for the Railsplitters, putting a lot of pressure on Hinners as he raced onto the field.
"I was like, 'I really don't have a chance,'" Hinners said. "But I was confident in myself, went out there and guessed the right side, and got the save."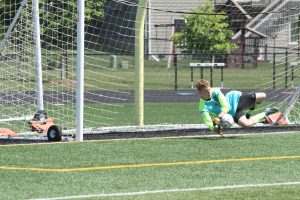 Hinners dove to his right to block the shot by Lincoln's Roderick Orellana-Lemus. It turned out to be a huge play as the two teams battled through regulation and two overtime periods without any goals.
"He's a great player," Centennial senior Alex Keninger said of Hinners. "He put in a great performance, and I'm real proud of him."
Pankey returned in the second half, but he left the game with 12:45 left in regulation after another collision in the box that resulted in a yellow card for the Railsplitters. Hinners was again summoned from the bench, and he went on to play the rest of the game.
Lincoln nearly scored on a header by Refuge with 2:30 left in the second overtime, but the shot went just left of the post. The game then went to a shootout shortly thereafter, which wasn't surprising to Centennial coach Brian Duax.
"We knew we weren't deep enough to play our normal style, so we decided to sit in and defend and stymie their attack," he said. "We weren't playing for a shootout, but we were playing safe to make sure that we didn't give up any goals. If we didn't score any, so be it. But we obviously wanted to make sure that we didn't give up any. It's not the prettiest brand of soccer, but it got us a win."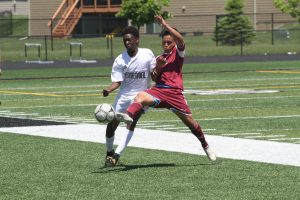 The shootout was tied at 3-3 after Hinners and Lincoln goalkeeper Javier Santiago each made a save on one of the first four penalty kicks. Cole Vincent scored the second goal for the Jaguars after not playing in the field during the game.
"Coach told me I'd be able to take PKs, and I was really excited about it," Vincent said through a broken jaw that he suffered in practice on May 10. "You've just got to be confident and believe that you can do it."
Vincent also had faith in Hinners, who then came up with another big save.
"We have a lot of confidence in Mitchy," Vincent said.
Hinners dove to his left to deny a shot by Lincoln's Fernando Rocha, putting the Jaguars in position to close out the game.
"The first guy that came up and took the PK was kind of easy to read," Hinners said. "So I thought maybe some of the other guys would be, too, and they were."
Keninger then stepped up and found the right side of the net for his third game-winning goal in the last four contests. He ended a shootout at Waukee on May 11 in similar fashion.
After his shot scooted past Santiago, Keninger peeled off his jersey as he raced toward the sideline in front of the bleachers. His teammates ran across the field and mobbed him in celebration.
"It feels amazing, especially after a long game like that," Keninger said. "There were a lot of nerves. It's hard to keep your cool, especially when it's something this big. But the euphoric feeling you get afterwards, being able to celebrate with your teammates, it's amazing."
Centennial (15-4) advanced to the state tournament for the first time since 2015, when it placed second in Class 3A. The fourth-seeded Jaguars will meet defending champion and fifth-seeded Iowa City West (17-3) in the quarterfinals on Thursday, beginning at 5:10 p.m. on Field 7 at Cownie Soccer Complex in Des Moines.
The loss snapped a 10-game winning streak for Lincoln. The Railsplitters finished with a 12-5 record.
Keninger and the other Centennial seniors were freshmen the last time that the Jaguars reached the state tournament.
"It means everything," Keninger said. "We've been working all season for this. It means a lot, and I think the boys deserve it."