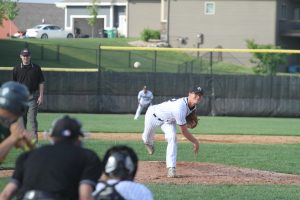 Casual fans of the Ankeny Centennial baseball team probably won't recognize many names on the Jaguars' roster.
Centennial posted a 27-15 record last year under coach Mark Hey, but the Jaguars were hit hard by graduation.
"We lost 16 seniors last year, and all 16 played a pretty significant role," said Hey. "The guys that are seniors this year have done a great job of waiting their turn. They've worked really hard. We had great leadership out of them (in our first doubleheader), and I couldn't be happier for them."
The Jaguars opened their season on May 21 by sweeping a twinbill against visiting Des Moines Hoover. They rolled to a 14-1 victory in five innings in the opener, then completed the sweep with a 3-2 triumph.
Senior Noah Stober doubled and knocked in three runs in the first game. He was also the winning pitcher.
Stober then tripled and scored the go-ahead run in the sixth inning of the nightcap.
"Noah played an outstanding doubleheader," Hey said. "He's an aggressive hitter and an aggressive base runner. I thought he pitched very well and made some plays in the field."
Stober made eight appearances on the mound last year, compiling a 2-3 record with a 4.27 ERA. He has signed a letter of intent to play for John Wood Community College in Illinois.
Seniors Stefan Stockwell and Joe Healy are also expected to be among Centennial's top pitchers. Those two combined on a three-hitter in the second game against Hoover.
Stockwell started and had seven strikeouts over the first five innings. He will play for Culver-Stockton next year.
Healy pitched two hitless innings of relief against the Huskies to earn the win. He made four appearances on the mound last year, allowing just three hits in 7 2/3 innings while posting a 0.91 ERA.
Junior Tyler Heinzerling also boasts some varsity pitching experience. He went 0-1 with a 4.79 ERA in seven appearances a year ago.
"We've got some guys who can pitch," Hey said.
Junior third baseman Josh Meader is another key returnee for the Jaguars. He played in 10 games as a sophomore, batting .227 with one double and two RBIs.
"There's really nobody on the roster that had significant playing time last year," Hey said. "But I like these guys. They're a young team and they hustle, they want to learn, and they want to get better. You like coaching teams like that."
Seniors Greyson Jennings and Luke Loney and junior Derek Boike will likely see a lot of action in the outfield. Boike batted leadoff in both games against Hoover and scored three runs on the night, while Loney had three RBIs in the opener.
Jennings is a third member of the senior class who will take his talents to the next level. He will play for Dominican University in Chicago.
"I think it speaks to their talent," Hey said of his three college recruits. "They've been to some showcases and been seen. So even though they didn't get a lot of experience last year, they're obviously pretty good and some colleges wanted them."
Junior second baseman Cory Prange and junior catcher Kaden Bollwinkel played key roles in the second win over Hoover. Prange went 2-for-4, while Bollwinkel went 2-for-3 and drove in the winning run.
Several sophomores could also contend for varsity positions. First baseman Trey Morris, shortstop Keaton Gray and catcher Ryan Vermeer all saw some action against Hoover.
"I don't really know what our strength is going to be, but I don't see anything that is going to be a glaring weakness for us," Hey said.
Centennial will host a doubleheader against ninth-ranked Southeast Polk on Tuesday. It will be the Jaguars' CIML Central Conference opener.