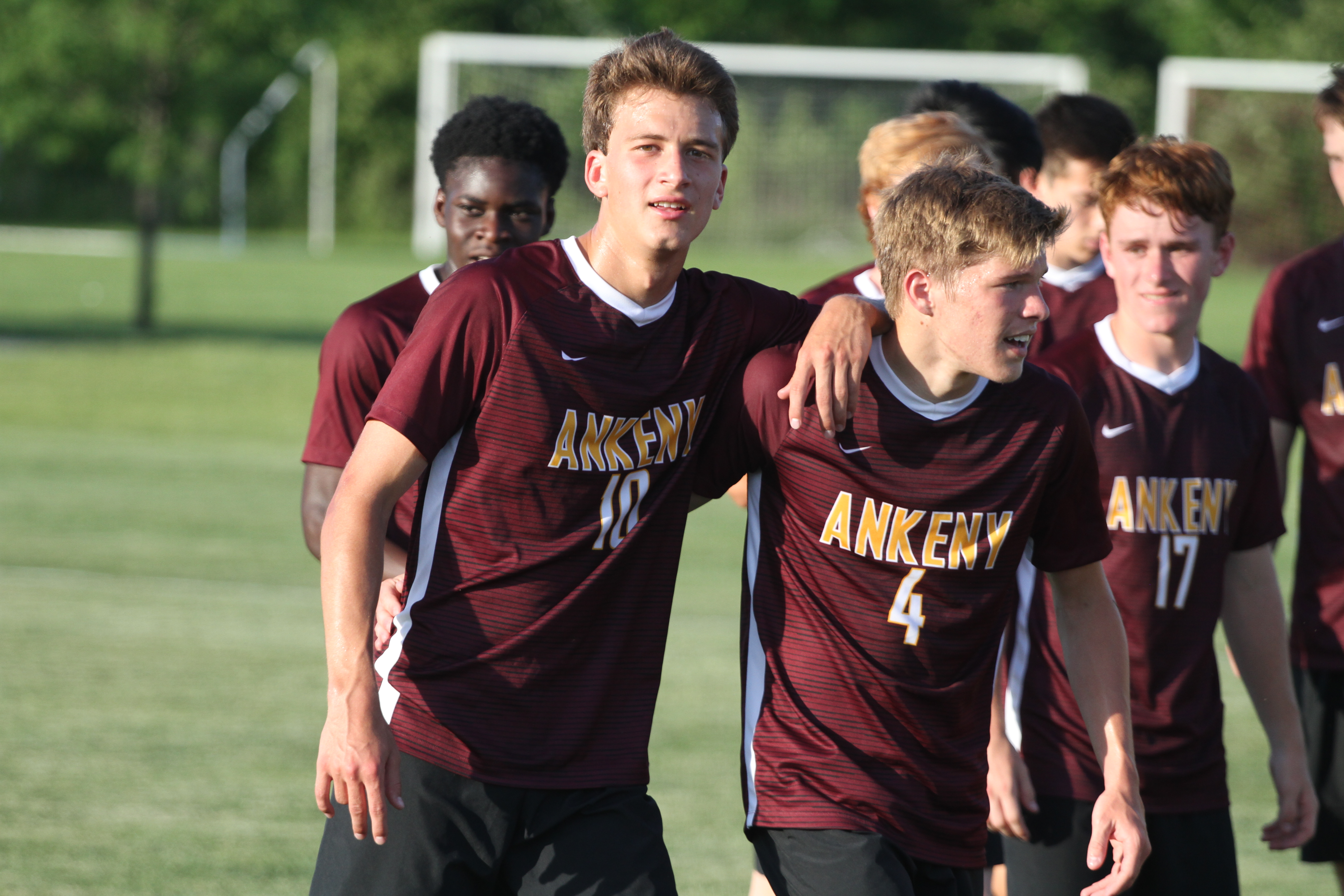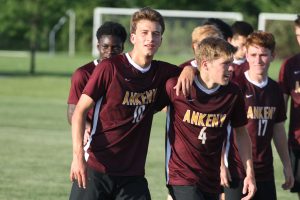 If the Ankeny boys' soccer team was supposed to be an underdog, the Hawks didn't play like one.
Peter Gaspari scored the go-ahead goal in the 55th minute, Kolby Raineri added two late goals to seal the outcome, and sixth-ranked Ankeny stunned No. 2 Cedar Rapids Prairie, 3-0, in the quarterfinals of the Class 3A state tournament on Thursday at Cownie Soccer Complex in Des Moines.
"We just knew that our team was good," said Raineri. "It was going to be a battle, and we got the victory."
Ankeny was one of three lower-seeded teams to advance to the semifinals. The seventh-seeded Hawks (16-4) will face third-seeded Bettendorf (15-2) on Friday at 5:05 p.m.
"We've got so much momentum coming in as the 7 seed and beating the No. 2," Gaspari said. "I think we can take down No. 3 (Friday)."
Cedar Rapids Prairie finished the season at 14-2. The Hawks' only other loss came to defending state champion Iowa City West, which will play Waukee in the other semifinal.
"Our boys battled hard," said Ankeny coach Jordan Burns. "I think they wanted it more the second half. We've been a second-half team; we play better in the second half."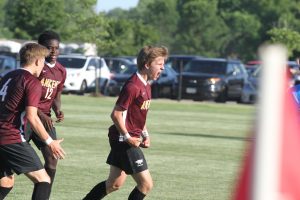 Gaspari broke a scoreless tie in spectacular fashion. He took a pass from Jack Christmann along the right sideline, maneuvered past two Prairie defenders, and then beat an onrushing goalkeeper with a shot into an open net.
"We won the ball, and then we automatically went on a counter," Gaspari said. "I just touched it past two defenders when they overstepped to me, and it was an easy finish to the bottom left."
It was Gaspari's seventh goal of the season.
"That was a big moment for Peter at the right time," Burns said. "We were attacking a lot and had chance after chance. Then Peter takes a ball and he beats one (defender), he beats (a second one), and he's got momentum. He's going 100 miles an hour and once you get past that first guy, the second and third are easy. He was cool and collected to finish it."
Raineri scored an insurance goal with about 4 minutes left to play. He was assisted by Charlie Pritchard.
"I got the through ball from Charlie, and the first defender went for it but he missed and I just took it, shot and it went in," Raineri said.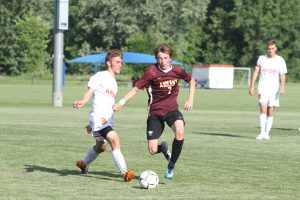 With less than 30 seconds remaining, Raineri found the net again for his 15th goal of the season. He then teamed up with Gaspari for what he called a "shoeshine" celebration, which earned a yellow card from the referee.
"We've always seen it on TV," Gaspari said. "We've done it a couple of times this year. I always put a shoe on my knee. Having the freedom to do that, it's a great feeling."
Both Gaspari, a senior, and Raineri, a junior, played on Ankeny's last state tournament team. The Hawks were quickly eliminated in 2016, dropping a 6-1 decision to Valley.
"It feels really good," Raineri said. "We made it out of the first round, and that was our goal from two years ago."
Now, the Hawks will try to advance even farther.
"Anyone can win it at this stage," Burns said. "The eight teams that are here…are here for a reason."