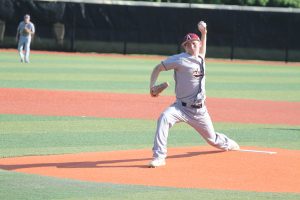 Ankeny lefthander Will Casel recorded only one strikeout during the first game of a CIML Central Conference baseball doubleheader on Monday at Southeast Polk.
But the senior was still very effective.
Casel tossed a three-hitter and retired 13 batters on fly balls as the Hawks extended their winning streak to seven games with a 3-2 victory in the opener of the twinbill. The ninth-ranked Rams then rebounded to win the nightcap, 7-1.
"I usually pitch for strikeouts, but I'm just glad we got the win," said Casel, who raised his record to 2-1.
Ankeny scored all of its runs with a pair of two-out rallies, both of them ignited by Jayden Maifeld. He walked in the fourth inning, advanced to second on a single by Henri Harpenau, and then raced home on another single by Chris Spear to tie the game at 1-1.
"We talk about two-out hitting all the time, and I thought our guys showed a lot of grit against their No. 1 pitcher (Aaron Lang)," said Ankeny coach Joe Balvanz. "I was proud of them."
After Southeast Polk regained a 2-1 lead in the bottom of the frame on a two-out balk by Casel, the Hawks rallied for two runs in the top of the sixth. Maifeld again started the rally with a two-out single to right field.
"I love this team for never giving up," Casel said.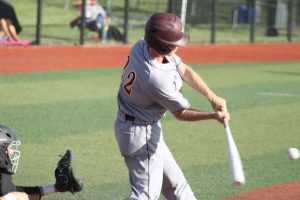 Harpenau followed with a single to center, then pinch-hitter Jase Bauer walked to load the bases for Garrett Stiles, who stroked a pitch from Lang into right field to drive in the tying and go-ahead runs.
"He was hitting his spots well," Stiles said of Lang, "but I was looking to get deep in the count and basically I wanted to get a walk. But if it was down the middle, I just wanted to swing and get a single and get some runs in."
The Rams tried to rally in the bottom of the seventh, when Devin Creger singled with one out and stole second with two outs. Pinch-hitter Shane Starcevich then hit a slow grounder to second, but Ankeny's AJ Slattenow threw him out on a close play to end the game.
"He's a great pitcher," Stiles said of Casel. "He always comes out and throws strikes and gets the job done for us."
Casel opened the game by hitting Adam Schneider with a pitch. After Calvin Harris drew a walk later in the inning, Casel found his groove and retired the next four batters on fly balls.
He later had a stretch where he retired six consecutive batters, five of them on fly balls.
"The way the wind was blowing in, it worked. (The Rams) hit a lot of balls right at people," Balvanz said. "I thought Will pitched very well. He struggled a little bit in that first inning, but he battled with what he had and I was tremendously proud of him. He looked like a senior out there."
Cameron Rinker went 2-for-3 in the win. He also stole a base.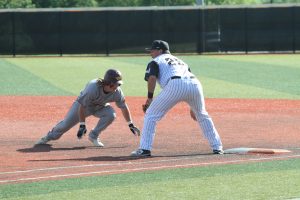 Southeast Polk then bounced back to win the second game, scoring three runs in the first inning and three more in the fourth. The Rams took advantage of Ankeny's defensive mistakes.
"Southeast Polk is too strong of a program to come out and give them three runs and have to play from behind," Balvanz said. "At one point they had three runs on one hit, and that's on us."
Austin Probasco (1-1) took the loss. He allowed five earned runs on six hits over five innings.
Maifeld went 3-for-3 for the Hawks, who are now 3-1 in the conference and 7-4 overall. Peyton Agan went 2-for-2 with a double and scored a run.
Evan Martin went 2-for-3 and drove in two runs for the Rams, who improved to 1-3 in the league and 9-3 overall.
"I feel a little disappointed that we split," Balvanz said. "I feel like we're just as good as they are."