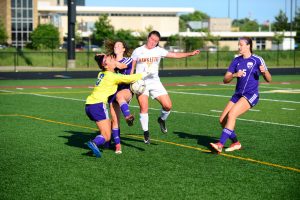 The Ankeny girls' soccer team didn't put a lot of emphasis on its opponent heading into Monday's regional final at Ankeny.
It proved to be an effective strategy.
The second-ranked Hawkettes rolled to a 6-0 victory over No. 14 Muscatine to reach the state tournament for the second straight year. The Muskies finished with an 11-7 record.
"I think we were pretty confident going into the game," said Ankeny senior Alexis Legg, who had a pair of goals in the win. "We didn't know much about Muscatine, but we knew we had to focus on ourselves and get the job done."
Ashley Harrington recorded a hat trick as Ankeny (17-2) extended its winning streak to eight games. The Hawkettes have outscored their foes, 59-4, during that stretch.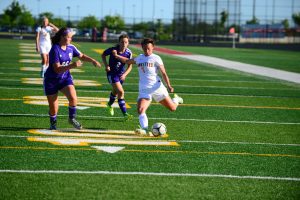 Riley Whitaker also had a goal, scoring from about 40 yards out right before halftime to give Ankeny a 3-0 lead.
"(Muscatine) really man-marked a lot of our individuals, so we had to adjust right from the get-go," said Ankeny coach Dan Bertsch. "The girls responded well. It was a total team effort."
Harrington, a Northern Iowa recruit, scored three goals for the second time in three games. She also had a hat trick in the regular-season finale against Des Moines Hoover on May 22.
Harrington has now scored 16 goals on the season. She ranks second on the team behind Legg, who increased her single-season school-record total to 33 on Monday.
"It feels great to be going to state," Legg said. "It's just another step closer to meeting our goal!"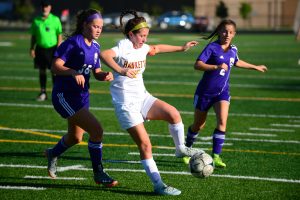 Ankeny will play No. 12 Linn-Mar (Marion) (14-5) in the Class 3A quarterfinals on Thursday. The game will be played on Field 6 at Cownie Soccer Complex in Des Moines, beginning at 4:30 p.m.
"This has been our goal since the beginning of the season," Bertsch said. "We knew it wouldn't be an easy road, but hats off to the team for getting the job done."
The Hawkettes suffered a 3-2 loss to Valley in last year's quarterfinals. They could get a rematch against the No. 3 Tigers in Friday's semifinals.
Ankeny could potentially meet No. 1 Ankeny Centennial in Saturday's championship game.
"To be the best, you've got to beat the best," Bertsch said. "It's just one game at a time, and you never know what will happen. But we were expecting to see a lot of the teams from our (CIML Central Conference). We knew how strong our conference was during the season, and we're excited.
"We'd like to get another shot at those teams," he added.