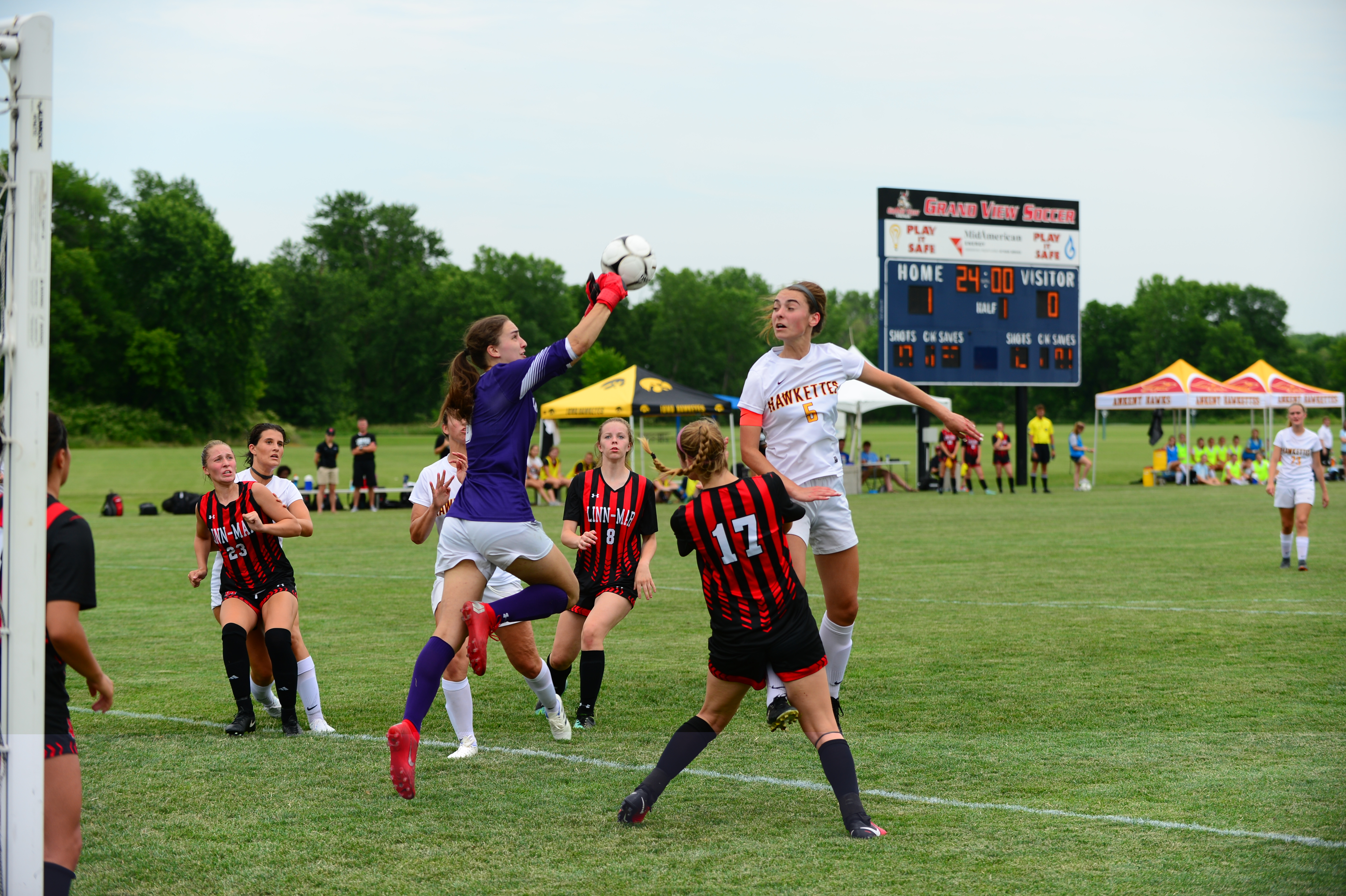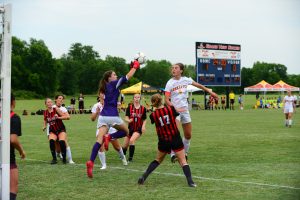 It's going to be hard for Morgan Bennett to top what she did at the girls' state soccer tournament three years ago.
But she's sure going to try.
Bennett, who scored the golden goal as a freshman in 2015 to give Ankeny an overtime victory against Pleasant Valley in the Class 2A championship game, was back at Cownie Soccer Complex on Thursday for a Class 3A quarterfinal against No. 12 Linn-Mar (Marion). She recorded a pair of assists as the second-ranked Hawkettes rolled to a 5-1 victory.
"It does bring back some memories," Bennett said. "But all we can do is focus on the next game."
Fellow senior Alexis Legg scored a goal and had three assists as Ankeny (18-2) extended its winning streak to nine games. The Hawkettes haven't lost since they dropped a 3-2 decision to No. 1 Ankeny Centennial in a shootout on May 1.
Legg said she didn't know much about Linn-Mar heading into Thursday's game, so she asked her crosstown rival for some help. The Jaguars defeated Linn-Mar, 2-1, on May 18.
"I talked to some of the Centennial players and some of the dads," Legg said. "They said that Linn-Mar was fast and physical up top."
The Lions (14-6) were no match, however, for Ankeny's depth. The Hawkettes held a 2-0 lead at halftime, then sealed the victory with three more goals in the second half.
Ankeny took a 1-0 lead when Legg scored on a header at the 10:01 mark for her 34th goal of the season. It came off a cross from Bennett.
"She's always up in the air on headers, and she's one of our key players that I can always count on for hitting it in the back of the net," Bennett said of Legg.
Linn-Mar hit the crossbar a couple of times late in the first half, but was unable to score an equalizer. The Lions were then demoralized when Taylor Peterson followed in a blast from Legg with less than 1 second left on the clock.
"I was not paying attention to the clock at all," Peterson said. "When we came over at the half, the coaches were saying it might not be a goal. I was getting kind of nervous, but then the officials said it was a goal and it felt really great."
Ankeny then dominated the second half to punch its ticket to Friday's semifinals. Saige Adamson scored off a Bennett assist in the 51st minute, then Malorie Rohweder added a pair of goals in the final 10 minutes–both on assists from Legg.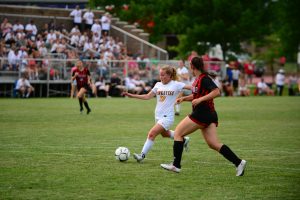 Linn-Mar scored its only goal in the 63rd minute, preventing the Hawkettes from recording a sixth consecutive shutout.
"That was a battle. It was a tough one to get through," said Ankeny coach Dan Bertsch. "We have a few little things we need to clean up, but the girls know. They know how they performed, and I'm confident they'll take care of themselves and be ready to play against Valley."
Ankeny defender Riley Whitaker switched from her usual No. 7 jersey to No. 13 for Thursday's game. It wasn't a superstitious move.
"My car got robbed two nights ago, and my maroon jersey was in it," Whitaker said. "I had to switch to a different number, and I picked 13."
The Hawkettes will now face No. 3 Valley (17-2) for the right to advance to Saturday's championship game. The CIML Central Conference rivals will meet on Friday at 4:15 p.m. on Field 6.
"They're very good, so we're going to have to go in hard," Legg said.
This will be the second straight year that the two teams have met in the state tournament. Valley posted a 3-2 victory in last year's quarterfinals.
Ankeny defeated the Tigers, 3-2, in double overtime on May 11. Valley has since reeled off nine straight wins, including five consecutive shutouts.
"They have a couple of good forwards, Hannah Olson and Libby Helverson, and we've just got to shut them down," Whitaker said. "If we can do that and then get our offense going, we should be in good shape."