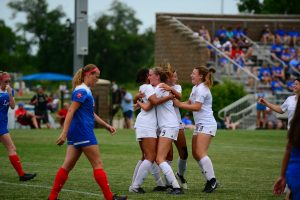 Olivia Brown didn't mind spending the second half of Thursday's Class 3A quarterfinal on the bench.
The Ankeny Centennial senior scored a pair of goals in the first half, then took a seat for the rest of the way as the top-ranked Jaguars cruised to a 7-0 victory over Council Bluffs Lincoln in the girls' state soccer tournament at Cownie Soccer Complex in Des Moines.
"I definitely think it's going to be helpful because having back-to-back-to-back games–three in a row–we're going to need all the legs we can get, especially if we get to the championship game," said Brown. "So getting that time off to help our bodies rest is really beneficial."
Megan Gray and Nahomi Lopez each had a goal and an assist for Centennial, which improved to 18-2 with its 13th straight victory. Lopez was one of the few starters who saw much action in the second half for the Jaguars, who reached the Class 3A semifinals for the third year in a row.
"That was absolutely the best thing about this game," Centennial coach Chris Allen said of the chance to rest his starters. "We had a lot of rotations going through, and I think it's good morale-wise, too, to come to the state tournament and get all your players out on the field. I thought all the girls contributed, and they all have something to be proud of."
Gray scored the only goal that Centennial needed about 14 minutes into the game. She dribbled past two defenders near the endline, then took a shot that deflected off Lincoln keeper Rilee Filip and went into the net.
"I think we just told ourselves to live up to our expectations," Gray said. "We set expectations for ourselves, and living up to those in the game was really important for us."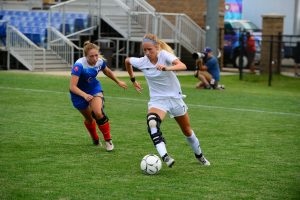 The Jaguars then scored four more goals in the next 13 minutes, two of them on headers by Brown. The Nebraska recruit converted on passes from Gray and Olivia Wee.
"We've been practicing them a lot, so just taking those opportunities to get it into the back of the next was really exciting," Brown said. "I was focusing on that."
Centennial's Kenzie Langstraat scored a goal off an assist by Miranda Wood. Lexie Gutknecht also had a goal for the Jaguars in the first half.
Lopez scored her goal in the 63rd minute. She then assisted on a goal by Jaecee Hall about 75 seconds later.
"I think our reserves definitely stepped up," Gray said. "The tempo didn't drop at all, and I'm just really proud of everyone for their efforts today."
Lincoln finished the season at 13-7. The loss ended the Lynx's five-game winning streak.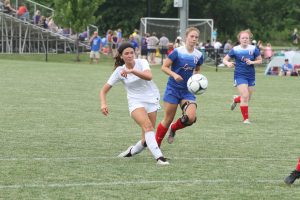 "We knew they liked to go through the center, and that's pretty much where we're the strongest defensively between Paige (Frette), Olivia (Brown) and Tori (Ubben)," Allen said. "If that's where they were going to run the attack, we felt pretty confident we could handle it. That's kind of the strength of our defense."
Lincoln junior Darby Thomas, one of the state's fastest players, entered the contest with 16 goals in just 13 games. Like Gray, Thomas split her time between soccer and track this spring.
"We watched a little film on them," Gray said. "We knew they had Darby up top, and I knew her from state track, too. We just had to keep an eye on her and not let them get in our heads or anything."
Centennial will now face No. 4 Waukee (14-4) in Friday's semifinals at 4 p.m. on Field 9. The Warriors advanced with a 3-1 victory over No. 6 Pleasant Valley.
The Jaguars will be looking to avenge a 1-0 shootout loss to Waukee in their season opener on April 13.
"They're always super well organized," Allen said. "Waukee makes you do the things they want you to do, and we've got to be aware of that. But our girls have proven to be a group that can adjust to different strategies, so I think we'll be ready for them."