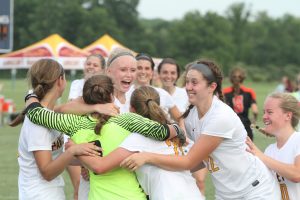 Will the last person to leave Ankeny on Saturday afternoon please turn out the lights?
There is likely going to be a huge caravan of cars making the short trip to the south side of Des Moines for the Class 3A championship game of the girls' state soccer tournament. For the first time ever in any sport, Ankeny and Ankeny Centennial will play for a state title at 3 p.m. on Field 9 at Cownie Soccer Complex.
The much-anticipated matchup became a reality on Friday when second-ranked Ankeny outlasted No. 3 Valley, 2-1, in a shootout in the semifinals. No. 1 Centennial had already punched its ticket to the final about 30 minutes earlier with a 2-0 win over No. 4 Waukee.
"It'll be a really good game," said Ankeny sophomore Ashley Harrington, who converted the decisive penalty kick for the Hawkettes. "We're crosstown rivals, and hopefully the whole town will come out to see it."
Ankeny (19-2) dominated the shootout against Valley (17-3) after the two teams battled to a 1-1 tie through the end of regulation and two overtime periods. It took only three shooters to determine the outcome, because the Hawkettes made their first three attempts while the Tigers came up empty.
"With all the experience we've had in previous (shootouts), we just had to pick a corner," said Ankeny senior Riley Whitaker, who made the first penalty kick. "And I was confident in our keeper–Brenny (Frederick) has been great all year. She's just incredible."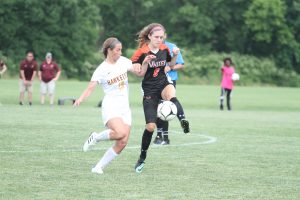 After Whitaker opened the shootout with a goal, Frederick blocked a shot by Valley's Caton Johnson. Alexis Legg followed with another goal for the Hawkettes, then Libby Helverson hit the left post on the Tigers' next attempt.
The 2-0 advantage took some of the pressure off of Harrington, who then found the net for Ankeny's third goal.
"It helped to be ahead, but you still have to have that focus in your mind to be able to zero in and focus on your shot no matter what the score is," Harrington said.
Valley then turned to Abbey VanWyngarden to try to keep the game alive. She needed to score to extend the shootout, but her attempt was thwarted by Frederick, sending the Hawkettes to the championship game.
"Nobody thinks it's going to a shootout until the end of that second overtime," Frederick said. "Our girls put in the work, so I had to do it, too."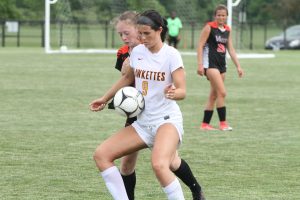 It marked the third time this season that Ankeny has been involved in a shootout. The Hawkettes lost to Centennial on May 1, but then bounced back a week later with a win at Waukee, where Frederick also came up with some crucial saves.
"I think Brenny should start charging people to figure out what she does because I think she'd become a millionaire," said Ankeny coach Dan Bertsch. "She's got something figured out. She's been just absolutely stunning this whole season for us."
After Frederick swatted away the Tigers' last hope, her teammates came running across the field to celebrate the victory with their sophomore goalkeeper. The Hawkettes chanted "Southside" repeatedly as they jumped up and down in the stifling heat.
"It feels amazing," Harrington said. "All this hard work the whole season finally paid off. I'm glad we got the win. Brenny had some huge saves, and we just had to finish it for her."
Ankeny overcame a deficit for the first time since May 11, when the Hawkettes trailed Valley at halftime, 1-0, before rallying for a 3-2 win in double overtime.
On Friday, the Tigers again took a 1-0 lead on a goal by Helverson barely 5 minutes into the game. It was her 25th goal of the season.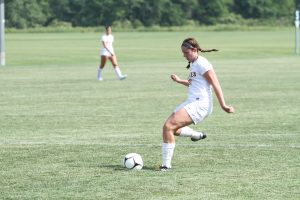 However, Ankeny tied the score when Legg converted a penalty kick in the 12th minute. She now has 36 goals on the year.
"Valley's a helluva team and they played very well, and we knew it was going to be a tough game," Bertsch said. "There's a reason why four CIML teams are in (the semifinals). I'm just glad we came out on top, and now we've got to prepare for the big game (on Saturday). I know it's a quick turnaround, but our girls will be ready."
Whitaker said the Hawkettes will need to attack more aggressively than they did on Friday.
"We've got to get our offense going," she said. "We were a little hesitant today, a little timid. We've just got to go out there and be fearless."
Regardless of the final result, the championship trophy will be heading back to Ankeny.
"I hope they're bringing in some more stands because they're going to need it because people have been talking about this game for three or four weeks now," Bertsch said. "We were just taking it one game at a time, but now here we are. So, hey Ankeny, let's bring it on!"