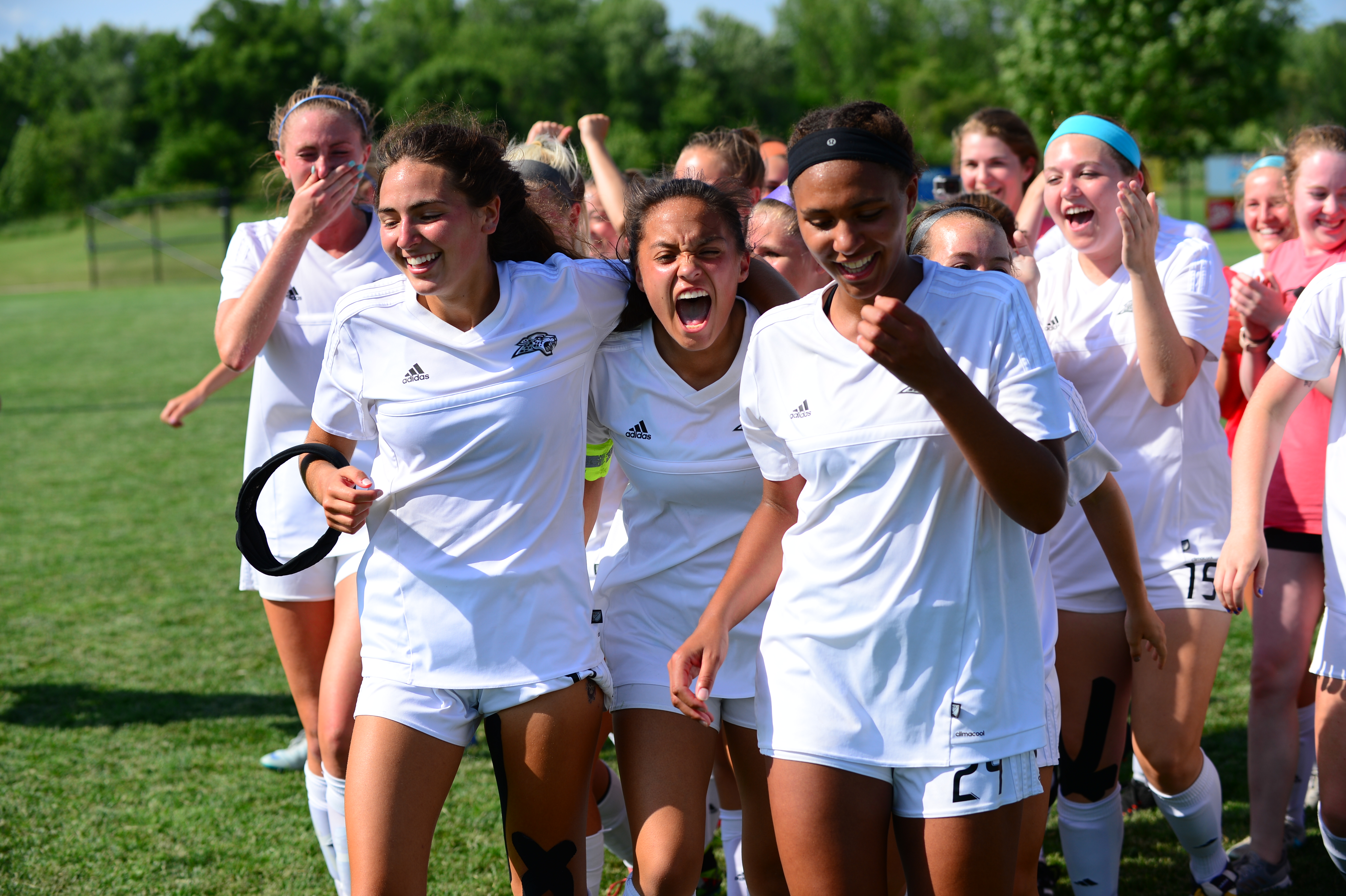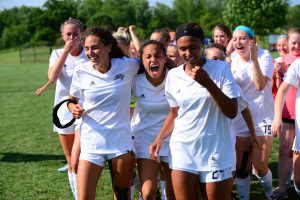 Ankeny Centennial senior Kenzie Geiger held onto the Class 3A championship trophy and didn't want to let go.
She finally allowed somebody else to hold it when a reporter interrupted her victory celebration.
"It feels really amazing," Geiger said after the top-ranked Jaguars defeated No. 2 Ankeny, 3-2, in the Class 3A final of the girls' state soccer tournament on Saturday at Cownie Soccer Complex. "We've been working for this all season, and it just feels so great to win it again."
Centennial (20-2) won its second state title in three years under coach Chris Allen, who captured his fourth crown overall. Allen won a pair of championships at Ankeny High School before moving across town when Centennial opened in 2013.
This year's title came with a twist. It marked the first time that the two schools have met in a championship game in any sanctioned high school sport.
"It's kind of a culmination with both programs having very successful runs," said Allen. "It does feel a bit different. You don't want to go up and face your community members, but both teams came to battle and both teams played very well and represented the schools very well. I thought it was a great display of effort and resiliency. That speaks well to the community."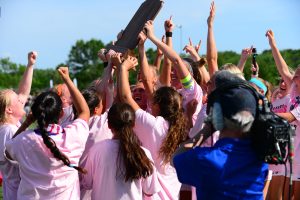 Ankeny (19-3) was hoping to avenge last month's 3-2 shootout loss to the Jaguars, but the Hawkettes ran out of time and healthy players. Second-leading scorer Ashley Harrington missed part of the second half due to an injury, while defender Jaelynn Kueker was sidelined by another injury that left her on crutches afterwards.
Ankeny coach Dan Bertsch was proud of his team's effort on a steamy afternoon.
"It's been a hell of a year, and I couldn't ask for more," he said. "It's day three (of the tournament) and your legs are gone, and the girls gave their all. This is the first time we've had this (all-Ankeny) matchup in the finals, and I don't think it's going to be the last time. That's a big stepping stone for the community."
The Hawkettes got off to a great start when Morgan Bennett took a pass from Alexis Legg and rifled a shot into the top left corner of the net less than 5 minutes into the game. It was the eighth goal of the season for Bennett, who was the title-game hero on Ankeny's last championship team in 2015.
"I just got set up perfectly, and I saw the shot and I decided to take it," Bennett said. "I've been so fearful of shooting throughout the whole season, and I just thought it's the last game that I've got in my career that I might as well make it count. I tried to put something up for my team, and it went in."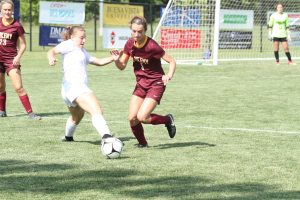 Centennial tied the game about 5 minutes later when Megan Gray beat a defender and drew a foul in the box. She converted the ensuing penalty kick with a blast to the left side that just eluded Ankeny goalkeeper Brenny Frederick, who made a pair of huge saves in the Hawkettes' shootout win over Valley in Friday's semifinals.
"From film we just knew that (Frederick) would commit early to the ball, so just reading her and being able to put it in the spot where she hasn't committed was really valuable to be able to score," Gray said.
The Jaguars then took a 2-1 lead in the 14th minute when Gray lofted a ball over the top to Geiger, who finished for her eighth goal of the year.
"I saw that there was space open, and I ran to it and I just screamed at Meg and she just played a perfect ball," Geiger said. "I knew that I had to capitalize because you're not going to get chances like that, especially against such a good team. I'm so happy I made it."
Ankeny tied the game once again in the 23rd minute, when Cambri Mason served the ball into the box to Legg, who arched a perfect shot over the outstretched arms of Centennial goalkeeper Marissa Lopez for the equalizer. It was her 37th goal of the season, which stands as a new school record.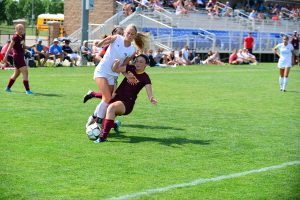 "I knew I had to put something on it," Legg said. "It was a great ball served in, and I just got a foot on it and got it over Marissa's head."
The flurry of goals continued 3 minutes later, when Centennial regained the lead for good off a corner kick. The ball was deflected back to Olivia Wee, who again served it into the box and onto the head of Olivia Brown, who found the net for her fourth goal of the tournament.
It turned out to be the game-winner as neither team scored again the rest of the way.
"Our team came into the game knowing that we needed to push through and work hard to get this win, and that's what we did," said Brown, who was named the captain of the Class 3A all-tournament team. "Everyone stepped up. It's really exciting."
Centennial finished the season on a 15-game winning streak that was bookended by a pair of victories over its crosstown rival. Eight of the wins during the streak came by a one-goal margin.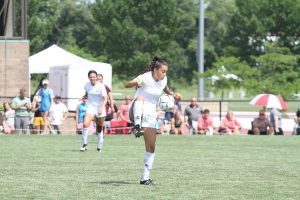 "Legg's shot was just an incredible goal…making the most of a sliver of an opportunity," Allen said. "But I can't be more proud of our girls for turning it back the other direction and finding a way to get another goal. That's what we did all season–we just found a way to win."
Brown was joined on the all-tournament team by Gray, Lopez and Wee. Lopez started the season as a backup behind her sister Nahomi, who was later moved to a midfield position.
"Honestly, I couldn't have ever imagined this," said Marissa Lopez. "I thought Nahomi would still be playing (goalkeeper) and I might get a chance on the field, but this is how it turned out."
Ankeny's Chloee Kooker, Legg and Riley Whitaker were also all-tournament selections. Kooker will be back next season.
"It's a little tart because they're your big intercity rival, but I'm coping with it the best I can," Kooker said. "I'm trying not to cry, and trying not to let the emotions get the best of me. I feel we know we didn't do our best. We just have to learn from it and do better next year."