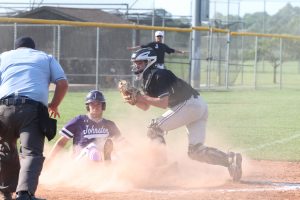 Johnston's 2008 state championship baseball team was honored on Friday night to celebrate the 10th anniversary of the Dragons' historic season.
That Johnston team, coached by Ankeny resident Randy Wee, finished with a perfect 40-0 record.
This year's Johnston squad won't be able to match that accomplishment, but the second-ranked Dragons are still one of the state's best teams.
Johnston swept both games of a non-conference doubleheader against visiting Ankeny Centennial. The Dragons posted a 15-5 victory in six innings in the opener, then completed the sweep with a 5-1 triumph.
"They're really good, especially the top of their order," Centennial coach Mark Hey said of the Dragons. "They've got some really nice hitters up there, and they've got some outstanding pitching, too. They're just a very good team with some really good players."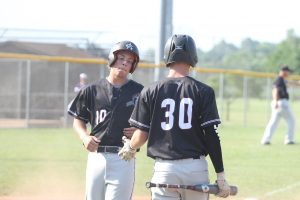 Johnston (17-4) scored two runs in the fourth inning and three more in the fifth to win the nightcap. Stefan Stockwell (1-2) took the loss for the Jaguars, who dropped to 9-9 on the season.
Logan Neils and Luke Loney came on in relief of Stockwell.
"I was actually pretty happy with the pitchers in the second game," Hey said. "There were just a couple of things we didn't do, and that opened the door for them to score some runs."
Trey Morris went 3-for-3 in the loss. Josh Meador doubled and scored the Jaguars' only run in the sixth inning.
In the first game, Centennial took a 5-4 lead before the Dragons erupted for six runs in the fifth inning and five more in the sixth. Noah Stober (2-2) took the loss in relief of Cory Prange, who pitched three strong innings for the Jaguars.
"Prange is usually a late-innings guy, but he stepped up for us and went about as far as he could," Hey said.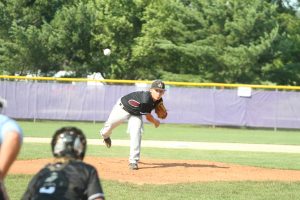 Johnston's Hayden Sinnett hit a three-run double in the first inning, but Centennial answered with a four-run rally in the third against Sean Nussbaum.
Derek Boike and Prange had back-to-back singles to ignite the rally. Kaden Bollwinkel and Meador drew consecutive walks to force in a run.
After Morris hit a sacrifice fly, Ryan Vermeer followed with an RBI single to tie the game. The Jaguars then took a 4-3 lead when Keaton Gray's grounder was thrown away for an error.
However, Johnston tied the game in the bottom of the inning. Iowa recruit Andrew Nord hit a one-out triple to the gap in right-center field, then beat the throw home on a grounder to third by Cade Moss.
"We just didn't hold them down," Hey said.
Vermeer went 3-for-3 with a double and two RBIs. Prange went 2-for-4.