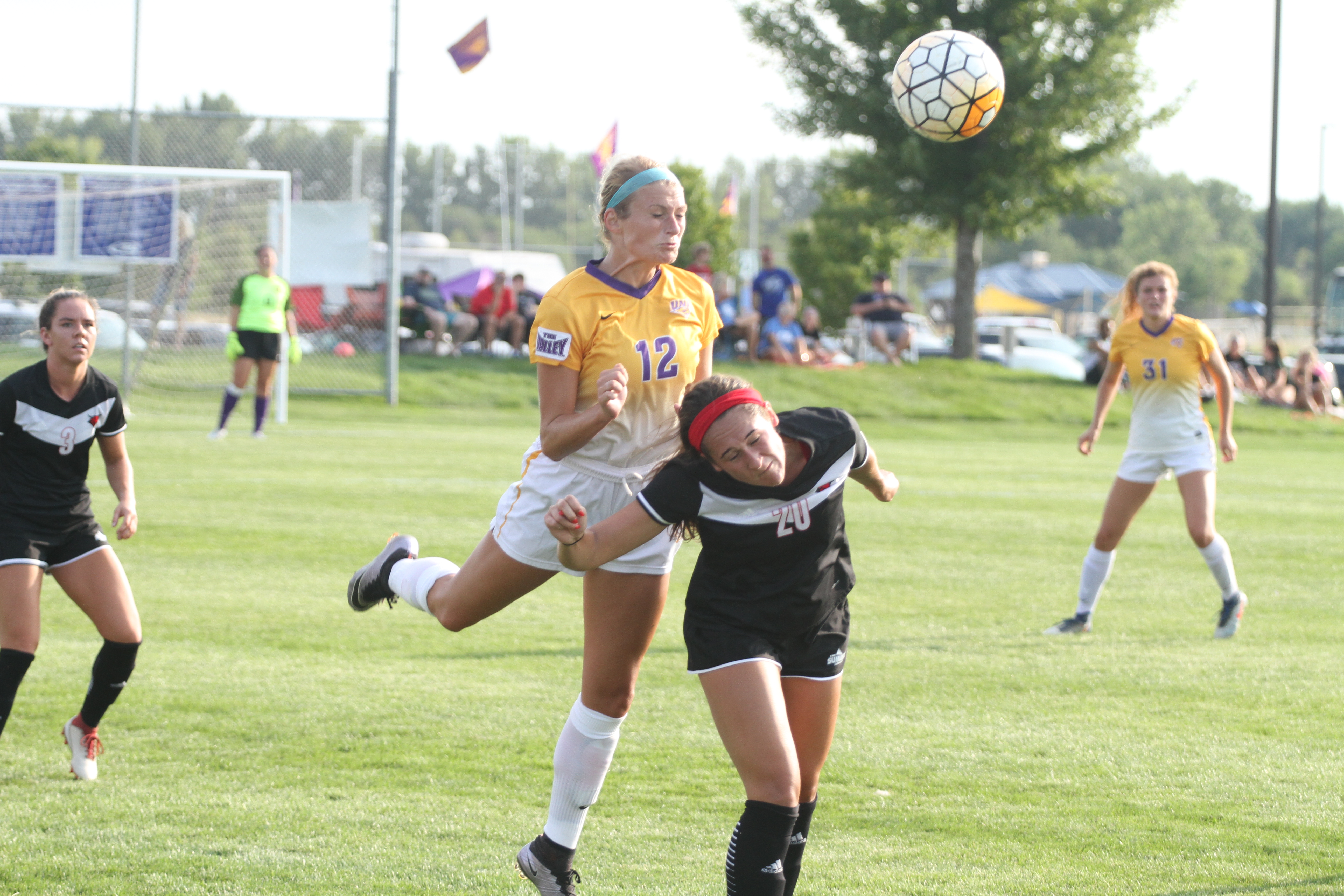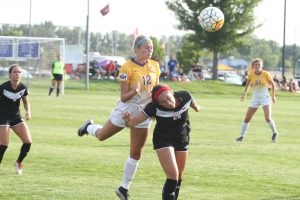 A large crowd gathered at the Prairie Ridge Sports Complex on Monday to watch an exhibition match between two NCAA Division I women's soccer teams.
Many of the fans came to see Northern Iowa's Claire Netten and Kelsey Yarrow.
It was a homecoming for the Panthers' duo, who helped their team to a 1-0 victory over Omaha.
"It was so fun being back in Ankeny, playing on the fields I grew up learning the game on," said Netten. "I felt right at home."
Both Netten and Yarrow played on Ankeny's state championship team in 2015. They were also members of the Iowa Rush Soccer Club, who hold their practices at the Prairie Ridge fields.
Fellow UNI players Katie Cooper, Anna Forsyth and Hannah McDevitt are also Iowa Rush alums.
"It was really fun to play in my hometown my senior year," said Yarrow, who was also celebrating her birthday. "I had a lot of family and friends there."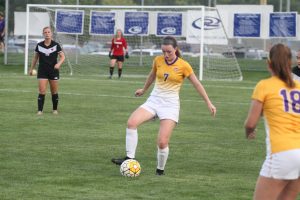 Northern Iowa scored the game's only goal early in the second 30-minute period. The Panthers missed some other scoring opportunities, but dominated most of the contest.
"A lot of my family and friends were able to make it to the game, so it was fun to see them afterwards," Netten said.
UNI is coming off a 14-5-1 season in 2017. The Panthers set school records for victories (14), goals (34), assists (29), shots (309) and shutouts (11).
UNI coach Bruce Erickson will have to replace six seniors from last year's team, including former Ankeny and Ankeny Centennial standout Sarah Brandt. Brandt was named to the all-conference honorable mention team after finishing her career with 15 goals, which is tied for third on the school's all-time list.
Northern Iowa lost to Missouri State, 1-0, in last year's Missouri Valley Conference championship game. Yarrow was named to the all-tournament team.
"We are hoping for a great year and getting another shot at the MVC title this fall," Yarrow said.
Yarrow, a senior midfielder, played in all 20 games and had 19 starts a year ago. She scored two goals and had three assists.
Netten, a senior defender/midfielder, is hoping to play a bigger role for the Panthers this season. She saw action in 10 games last year after playing in 18 games and making nine starts as a sophomore in 2016, when she had a game-winning goal in a victory over Loyola-Chicago.
UNI will host Viterbo in its season opener on Aug. 16. The Panthers will play at Iowa State on Sept. 16.
"I can hardly believe I'm a senior," Netten said. "It's gone by so fast!"