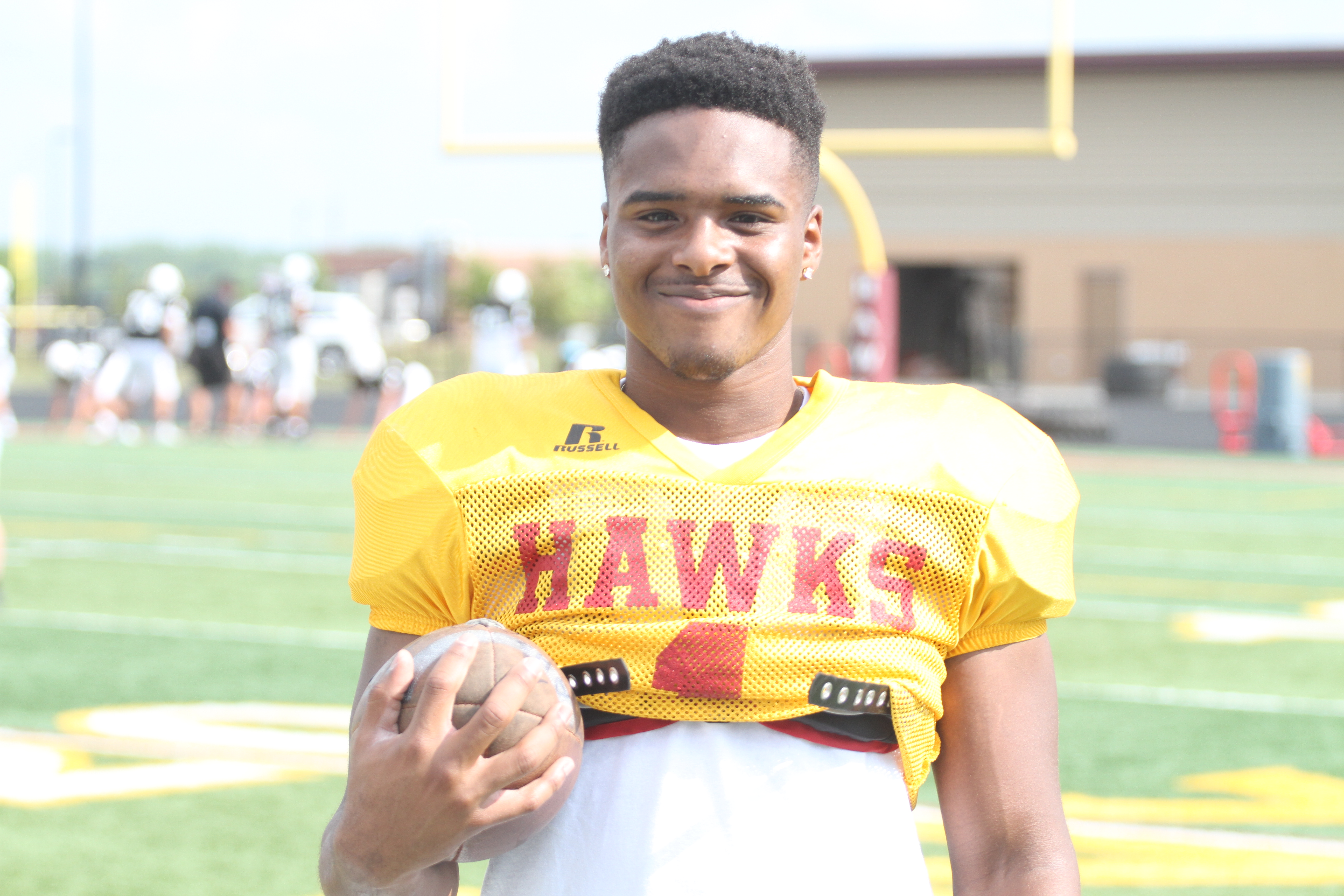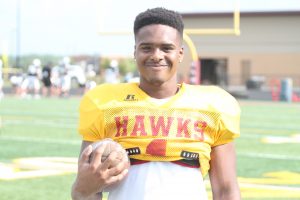 A year ago, Ankeny's Ray J Crawford was one of the top running backs in the CIML, rushing for 1,008 yards and six touchdowns on 202 carries.
This season, he might not be able to match those numbers.
That's because Ankeny coach Rick Nelson has elected to shore up his defense by moving Crawford to linebacker. The 6-foot, 196-pound senior will still get to carry the ball, but not on a full-time basis.
"Ray J is doing really well," Nelson said. "He's maybe a little lighter than last year, but he's stronger and he looks good. We're going to have to play him both ways. Ray J and (Cael) Boyd will split the carries at running back because he won't be able to take all the carries at running back, because we need him on defense."
Ankeny posted a 4-5 record last year and missed the Class 4A playoffs for the first time since the split into two high schools. Crawford is more than willing to take on a heavier load if it will help the Hawks make a return to postseason play.
"I love to compete, and being on the field as much as possible is always great," Crawford said. "The coaches have been getting me ready all year to play on both sides of the ball conditioning-wise and playbook-wise, so I think we're ready."
Crawford is one of several key returning players for a team that will host Ankeny Centennial in its season opener on Friday. Among the others are senior Max Griffin, junior Hayes Gibson, and sophomores Boyd and Brody Brecht.
Gibson took the reins at quarterback last season and completed 72-of-152 passes for 989 yards and 13 touchdowns. He was intercepted only three times.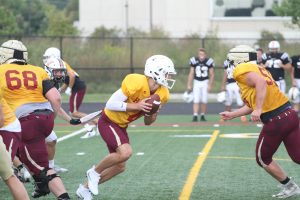 Gibson is currently battling sophomore Jase Bauer for the starting job.
"Hayes is doing well, but he's having a pretty good competition right now with Bauer," Nelson said. "It's up for grabs."
Whoever wins the position will have some talented receivers at his disposal. The 6-foot-4 Brecht led the team in receiving as a freshman, catching 17 passes for 361 yards and four touchdowns.
Griffin caught 12 passes for 192 yards and a touchdown. Conner Niffenegger, a senior, had eight catches for 95 yards and a score.
Nelson said he thinks Brecht is a potential Division I recruit.
"The two freshmen who played for us last year are doing really well right now," he said of Brecht and Boyd. "Those two kids have a lot of talent."
Boyd, a defensive back, is the team's top returning tackler. He made 44.5 stops a year ago and also had a team-high two interceptions.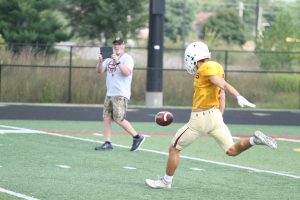 Griffin, a defensive back, is entering his fourth season on the varsity. He had 40.5 tackles as a junior.
Griffin, who also rushed for 237 yards and three touchdowns, will continue to do a little bit of everything. He also serves as the team's punter.
"The biggest thing for Max is just to stay healthy," Nelson said. "The poor kid has had so many injuries. He'll play some DB and wide receiver and probably not at running back as much so we can take some hits off of him."
Nelson said he's been pleased with the progress of his interior lines. Dylan Miller, Kaden Young and Jacob Baier are back on the offensive line, while 6-foot-2, 315-pound Romello Gray has been moved to the middle of the defensive line.
Other returnees on the Hawks' defense are Nic Scherle and Mo Watson. Scherle had 27.5 tackles last year, while Watson added 23.5.
Nelson pointed to a couple of key areas if his team hopes to be successful.
"I just think on offense it's (avoiding) loss-yardage plays and turnovers," he said. "And then on defense, you've got to stop the run."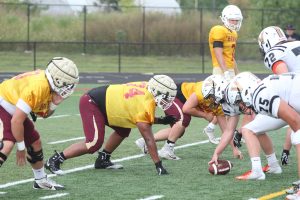 Ankeny will play three consecutive rated opponents to open the season. Seventh-ranked Centennial, No. 2 Johnston and No. 5 Cedar Falls are all listed in The Des Moines Register's preseason rankings.
The Hawks will open district play on Sept. 21 against No. 1 Dowling Catholic, the five-time defending Class 4A champion.
"Our first five games are pretty interesting," Nelson said. "We need to get some confidence. It'd be nice in the first quarter against Centennial if some things went our way. I think that would really help our mindset."
Nelson said he wants the Hawks to play with a little more passion in 2018.
"The kids know that. Last year I just think our kids at times just didn't have the passion that you need to play," he said. "We have great kids–they're really good kids who care–but there were times when we were just a little flat going into games, kind of like a practice mode. That's my fault as the head coach, and we're trying to preach that to them this year."