On paper, the Ankeny volleyball team doesn't appear to match up with some of the CIML's top squads, including its crosstown rival.
A closer look, though, reveals a scrappy and talented team that should be able to compete with just about any opponent on its schedule.
The Iowa Girls' High School Athletic Union did not make the mistake of underestimating Ankeny's potential. The Hawkettes are No. 6 in Class 5A in the IGHSAU's preseason rankings.
"We understand that this season we will be a bit undersized compared to a lot of the other top teams in the state, so we are putting a lot of emphasis into being a smart team," said Ankeny coach Joe Morton. "Focusing on decision-making and game-like scenario understanding with an intent to minimize errors. Our girls have the athleticism and talent to be a contender for the championship if we can control matches with our brains rather than our brawn."
Ankeny posted a 22-14 record last year. The Hawkettes closed out the regular season with a four-set victory over Valley, the eventual Class 5A state runner-up.
But after a two-week layoff, Ankeny lost at Dowling Catholic in five sets in a regional semifinal. The Maroons won three of four matches against Ankeny last year, including a pair of five-set wins.
Morton will have to replace standout libero Miranda Greathouse, who racked up 504 digs and was named to The Des Moines Register's all-CIML Elite team. She is now playing for Grand View.
However, most of the team's other top players are back. Leading the way is sophomore setter Phyona Schrader, who led the Hawkettes with 237 kills and placed second on the squad with 384 assists.
Schrader, who has verbally committed to play for Notre Dame, has taken over a leadership role on the court.
"She has already begun to show a lot more control of the floor this season," Morton said. "She has been taking the time to ask questions with the coaching staff and teammates and understand what needs to be said on the floor. Not only does she lead vocally, but she never takes a rep off and leads by example. I also believe the girls have really begun to buy into her and are looking to her for direction."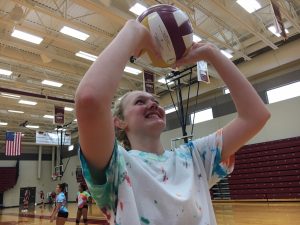 Among Ankeny's other returnees are seniors Riley Kenworthy, Sara McCullough, Taylor Richards and Karly Weber. Juniors Kaci Behrens, Malea Daugherty, Isabelle Vacek and Morgan Wessels are also back.
Wessels had 229 kills and 199 digs a year ago. She is an outside hitter.
Vacek, a middle hitter, had 194 kills and a .456 hitting percentage as a sophomore. She also contributed 35 aces and led the team with 101 blocks.
McCullough, a Northern Iowa basketball recruit, is the team's tallest player at 6-foot-1. The middle hitter had 164 kills and 73 blocks last year.
Daugherty had 86 kills, Kenworthy contributed 66 kills and 33 blocks, and Richards added 62 kills. Daugherty and Richards will play on the outside, while Kenworthy is a right-side hitter.
Behrens will take over the libero position following Greathouse's graduation. She completed 357-of-372 serves (96.0 percent) a year ago while leading the team with 42 aces and placing second on the squad with 326 digs.
Weber is a defensive specialist for the Hawkettes, who will open their season on Tuesday with a match at Waukee. The team will then play in the Ankeny Centennial Invitational on Saturday.
"Karly was our JV libero last season and has been exceptional for us in serve receive this summer and to start the season," Morton said. "The practices have been going really well. The kids seem to have a certain level of determination this fall that has been driving the pace. We have a solid squad 9 through 12 so the level of competition has been great to start the season."
Sophomore McKenna Scheib, a middle hitter, is also expected to make an impact for the Hawkettes.
"She has really grown a lot since playing JV last season," Morton said. "She should be looking to start or come off the bench in certain scenarios."