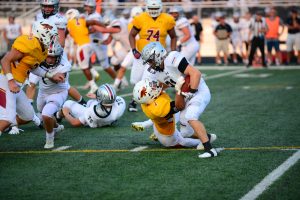 There was no way Ankeny's Max Griffin was going to sit out his final Jag-Hawk game with an injury.
The senior defensive back/receiver suffered a dislocated shoulder during the first quarter of Friday's season opener against Ankeny Centennial, then went to the sidelines and appeared to be done for the night after taking off his jersey and shoulder pads.
But a few minutes later, Griffin was back on the field for the Hawks, playing on both sides of the ball and resuming his punting duties.
"I just didn't want to miss this game," Griffin said.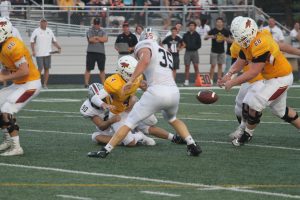 Despite Griffin's return, Ankeny lost to its crosstown rival for the fourth consecutive time. The seventh-ranked Jaguars posted a 20-0 victory for their second straight shutout in the series.
"I still love this team," said Ankeny coach Rick Nelson. "I think we've got great kids, and I think we've got the makings of a good football team. I want to beat them as bad as our kids do, but I've got to give Centennial and their coaches and their kids a lot of credit. They took it to us, and they were physical. I thought they were a good football team."
The Hawks were outgained by a 336-200 margin. They ran just 43 plays from scrimmage, 23 fewer than Centennial.
"We just don't have a running game right now, which hurts," Nelson said. "Our defense was on the field a lot, and they made a lot of first downs. They didn't ask their quarterback (Garret Severseike) to do a lot–he just handed it off–but they do a good job."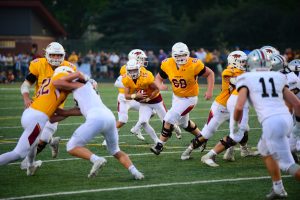 Nelson was planning to use both Cael Boyd and Ray J Crawford at running back, but Crawford also started at linebacker and played so many defensive snaps that he saw only limited action on offense. Last year, Crawford rushed for 1,008 yards as a junior.
"We've got to be able to run the football to take some pressure off our quarterback," Nelson said. "We have some good backs, but we couldn't play Ray J because he was on defense so much. We couldn't really get him into the game."
Things won't get any easier for Ankeny next week. The Hawks will travel to No. 2 Johnston on Friday and can not afford another loss with the new playoff format that places more importance on all nine games.
"We're going to get a nice week of practice in, and we're going to grind our butts off," Griffin said. "I'm going to get these guys going, and we're going to get after it."