Avery Gates finally got his chance to take center stage in Ankeny's crosstown rivalry.
He didn't let it go to waste.
The junior running back rushed for 130 yards on 16 carries and scored all three of the game's touchdowns as the seventh-ranked Ankeny Centennial football team opened its season on Friday with a 20-0 victory over Ankeny before an overflow crowd at Ankeny Stadium.
"It feels really good," said Gates. "Ever since I was a little kid in (Ankeny Junior Football) and we first split schools, I always wanted to be a kid out there running the ball and to do what I got to do, it was really fun."
Gates scored on runs of 16, 23 and 21 yards as the Jaguars improved their record to 6-1 in the all-time series. It was the first varsity start for Gates, who took over the position that his brother, Jensen, handled so well in each of the last two seasons.
Jensen is now playing for Grand View after rushing for nearly 2,500 yards in his high school career.
"Avery's special," said Centennial co-head coach Jerry Pezzetti. "The Gates family has been very good to Jaguar football."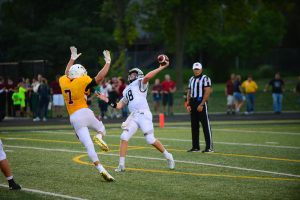 Centennial's defense turned in another outstanding performance, holding the Hawks to 200 total yards. The Jaguars blanked Ankeny for the second straight year–they won last year's game, 21-0.
"Coming in we were very confident about our defense," said Centennial safety Tyler Rodgers. "We were just trying to repeat what we did last year, and it feels great to get two goose eggs."
Ankeny had a chance to take an early lead after Hayes Gibson completed a 40-yard pass to Brody Brecht on the Hawks' second possession of the game. However, they eventually turned the ball over on downs.
Ankeny started another drive at Centennial's 42-yard line later in the first half, but Gibson was intercepted two plays later when his pass was tipped and picked off by Jackson Huber at the Jaguars' 15.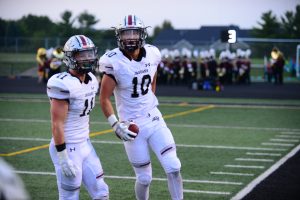 In the third quarter, Ankeny turned the ball over on downs at the Centennial 30 when Cael Boyd was stopped by Scott Doup for a 2-yard loss on fourth-and-1.
"Our defensive coaches and our kids did a great, great job," Pezzetti said. "We had some very big plays…Scott Doup stopping them on that fourth-and-inches was a great, great play. It was a defensive game, and when we had to control the ball, we did. We kept going and kept going and finally broke a couple of them. But we beat a very good Ankeny team that came to play."
The Jaguars took a 6-0 lead when Gates dashed 16 yards up the middle on the opening play of the second quarter. The PAT attempt failed.
Gates also caught an 18-yard pass from Garret Severseike on the drive, which covered 75 yards in nine plays.
"I was really just coming into the game ready to do my part," Gates said. "Do whatever it took for the team, not necessarily whether it was scoring touchdowns or faking or blocking. I was just ready to do my part."
Centennial missed an opportunity to increase its lead late in the first half, when the Jaguars recovered a fumbled punt by Ankeny's Conner Niffenegger at the Hawks' 13 with 1:46 left until halftime. On the next play, Severseike was intercepted at the goal line by Brecken Manus.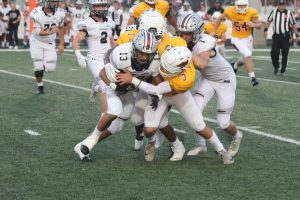 The score remained 6-0 until early in the fourth quarter, when the Jaguars drove 74 yards in nine plays for their second touchdown of the game. Gates raced 23 yards around right end to make it 13-0 with 8:28 remaining.
After Ankeny lost a fumble on the ensuing possession, Gates sealed the victory with a 21-yard scoring run on fourth-and-2 with 4:05 left.
"They blocked us well, and we didn't block them well," said Ankeny coach Rick Nelson. "Their kids ran hard. There were a couple times we stuck our helmets in there and they ran through us."
Rodgers said the victory was the result of a lot of hard work in the offseason.
"It feels great," he said. "We just kind of wanted to come out and make a statement the first game, prove that we can hang with everybody else."