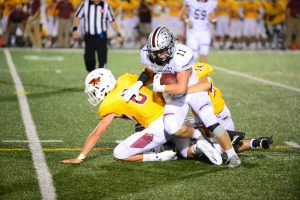 Senior defensive back Tyler Rodgers played a key role as the Ankeny Centennial football team opened its season on Friday with a 20-0 victory over Ankeny. He helped the seventh-ranked Jaguars post their second consecutive shutout against their crosstown rival.
Rodgers also saw some action at running back. He ran four times for 25 yards, including a 14-yard gain on the opening play of the fourth quarter.
Here is some inside info on Rodgers:
Congratulations on the win over Ankeny. What was the key to holding the Hawks scoreless for the second straight year?
Thank you. The key for us was our front seven. They did a great job of stuffing the run and keeping pressure on Ankeny's offense. Our coaches created a great game plan that put us in the right gaps and places to stop their offense. Also, our offense dominated the time of possession and kept our defense off the field and gave us rest. Keeping them out of the end zone for the second straight year feels good, and I'm very proud of our defense. It is a confidence-booster heading into the season.
This is your third year as a starter on defense. Are you trying to be a leader for the unit?
Yes, I am trying to be more vocal than last year. We have some new talent in our juniors so I'm trying to give them confidence and encourage them as much as I can. I'm also trying to lead by example and play with more emotions than last year.
You also saw some action in the offensive backfield. Do you like playing both ways?
Yes, it was a throwback to youth football for me! It was good to be back on offense and playing both ways. Just trying to be involved as much as I can and do whatever my coaches ask of me and help the team out in any way.
There were a lot of players on both teams who were cramping up during the game. Did you have any problems with that?
I did not, thankfully. I tried my best to stay hydrated throughout the day and I know how bad cramping up can be, so I did everything to try and avoid that.
Your teammate, Avery Gates, rushed for 130 yards and three touchdowns in the win. Were you surprised by his performance in his first varsity start?
Honestly, I was not. Seeing him in practice and in the offseason what he was doing I had a feeling he would come out and live up to the Gates name just like his older brother (Jensen). He seemed very comfortable out there and will only get better as the season goes on. He is very dynamic and a great addition to our offense.
Do you think this team has the potential to make it back to the UNI-Dome?
Yes, we have returning seniors with experience and we have the skill level to make it back to the dome. Our coaches are also great and always prepare us so well every week against our opponent and put the game in our hands. A championship is the goal on everyone's mind so being short of that this year would be heartbreaking, due to all the work and time everyone has put in.
You were the team's backup quarterback as a junior before suffering an injury. Didn't you eventually have to undergo surgery?
Yes, I did tear my labrum in my throwing shoulder before last season but played through it until the end of the year and had surgery on it. I had to miss the entire basketball season which sucked, but I'm very excited to be back and playing again. I am about eight months post-surgery and it is holding up very well and starting to feel back to normal.
Do you miss playing quarterback?
Yes, to a certain degree. When I did not win the job my sophomore year they moved me to safety and I loved it and decided to stay with defense. I have incorporated directing traffic from offense to defense, becoming a defensive quarterback. I do miss being the one calling the shots on offense but am very happy with how things have turned out.
Garret Severseike has taken over the quarterback job and is now 6-0 as a starter for the Jaguars. How much confidence do you have in his ability to lead the offense?
I have a lot of confidence in him. He is one of the best guys on our team to do his job day in and day out. He runs the offense well, and I have no worries he will do big things this year on the offensive side of the ball.
Plans for next year? Would you like to play football somewhere?
Plans for next year are still undecided at this point. I'm waiting on how the season goes and how things line up for myself school-wise. It has always been a dream of mine to play college football so it is always exciting to think about playing at the next level.
What did you think of the Ohio State scandal? Do you think Urban Meyer should have been fired?
I think it was a horrible situation for everyone involved. However, since Urban Meyer is such a big name in college football, many look up to him and when it was brought to national news, his reputation took a hit. I don't really have an opinion either way. Everyone makes mistakes and deserves to have a second chance, but the situation is a bad one either way.