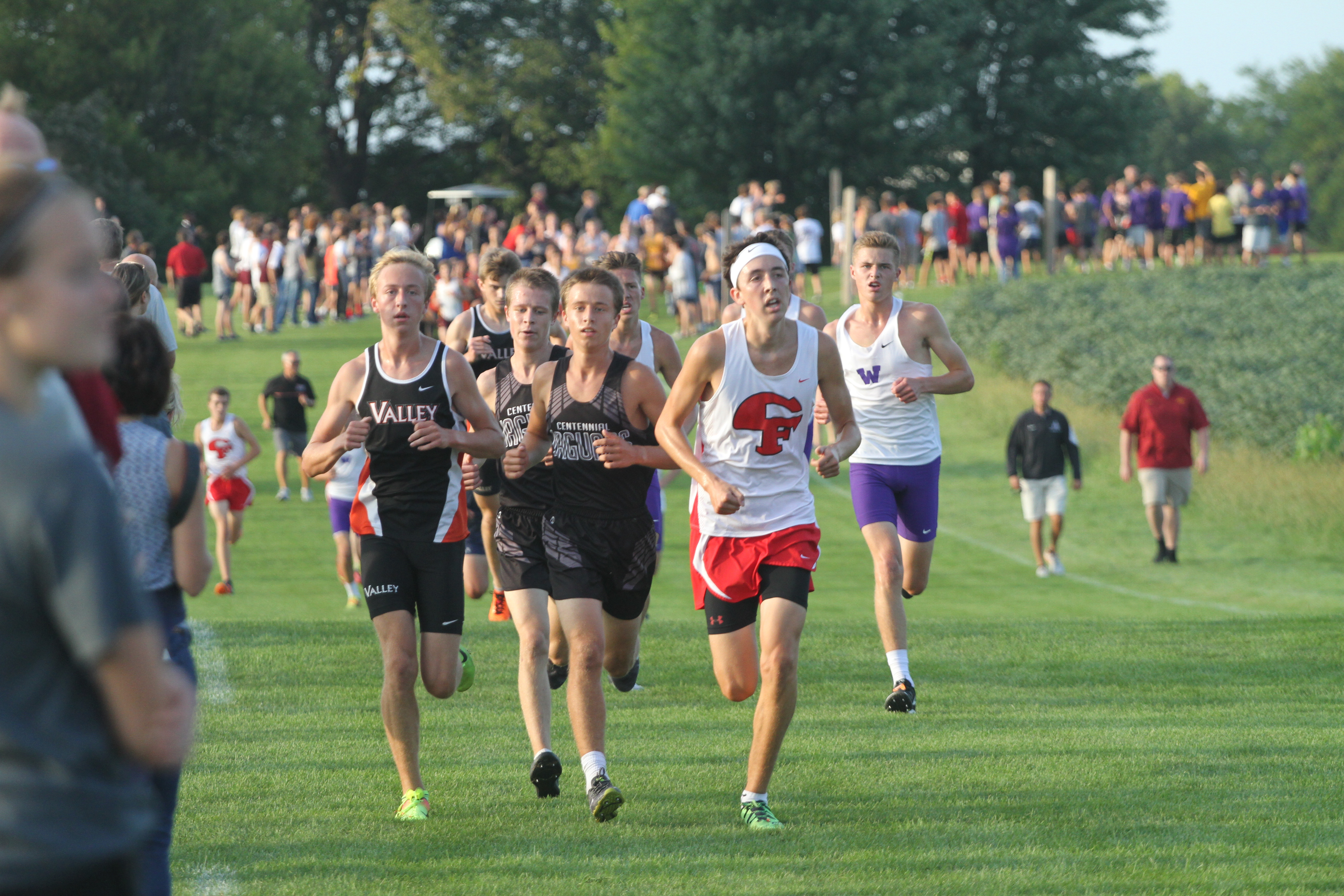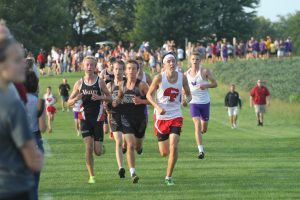 Ankeny Centennial's Gabe Vicker waited for the right time to make his move during the Ames Invitational on Thursday at the Iowa State cross country course.
When the sophomore took the lead late in the boys' race, nobody else could stay with him.
Vicker went on to win the 5k race in a time of 16 minutes 33 seconds. He defeated runner-up Moe Smith of Waukee by 9 seconds.
"We just formed a big pack, and Moe took it out pretty fast," said Vicker. "He was about 5 seconds ahead of everybody. We just wanted to see who would move first, and I just made a move on the back hill."
Vicker became Centennial's second consecutive individual champion at the Ames meet. Former teammate Camden Cox won last year's race.
"It feels great," Vicker said. "I knew Camden won this (race) a year ago, so one of my big goals was to win it, too, just to help the team."
Fifth-ranked Waukee won the team title for the second straight year, finishing with 40 points. No. 7 Centennial was second with 70 points.
"We're really trying not to focus on the rankings," said Vicker, who is 13th in the Class 4A individual rankings. "We're just trying to take it one race at a time and improve individually and as a team as a result of that."
Ankeny, meanwhile, placed eighth in the 11-team field. The No. 8 Hawks finished with 193 points.
Ankeny coach Jon Lindaman rested four of his varsity regulars, including defending state champion Tim Sindt.
"With some of our veteran runners training through this race, this meet was a great opportunity for some of our younger or inexperienced varsity runners to get some experience racing a high-level meet," Lindaman said.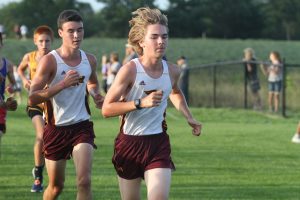 Sindt, the No. 1 runner in Class 4A, also sat out last year's Ames meet.
"I was disappointed (that Sindt didn't run)," Vicker said. "Tim's a great competitor, and it's amazing to see him run and even to lose to him. I think it would have made it a more exciting race and much more strategic."
Vicker's brother, Jonah, also ran with the leaders most of the way. He placed sixth in a time of 17:02.
Kade Christensen took 17th for the Jaguars in 17:43. Alex Patkin placed 22nd in 17:52, Connor Cunningham was 24th in 18:00, Ian Luke placed 27th in 18:04, and Nick Sash finished 54th in 18:58.
Aiden McCombs was Ankeny's top finisher. He placed 31st in 18:21.
Cole Johnson was 34th for the Hawks in 18:22. Drake Strnad took 38th in 18:29, Jaden Schuster was 44th in 18:41, Andrew Poock placed 46th in 18:42, Cole Buffington was 55th in 19:06, and Mitch Pevestorf finished 67th in 20:09.
"We have been training hard, and it was a really hard course, but I feel like our guys went out and competed hard," Lindaman said. "Now we have to keep getting better each time we race."
Centennial's Nate Jones won the 9/10 race in 18:05.