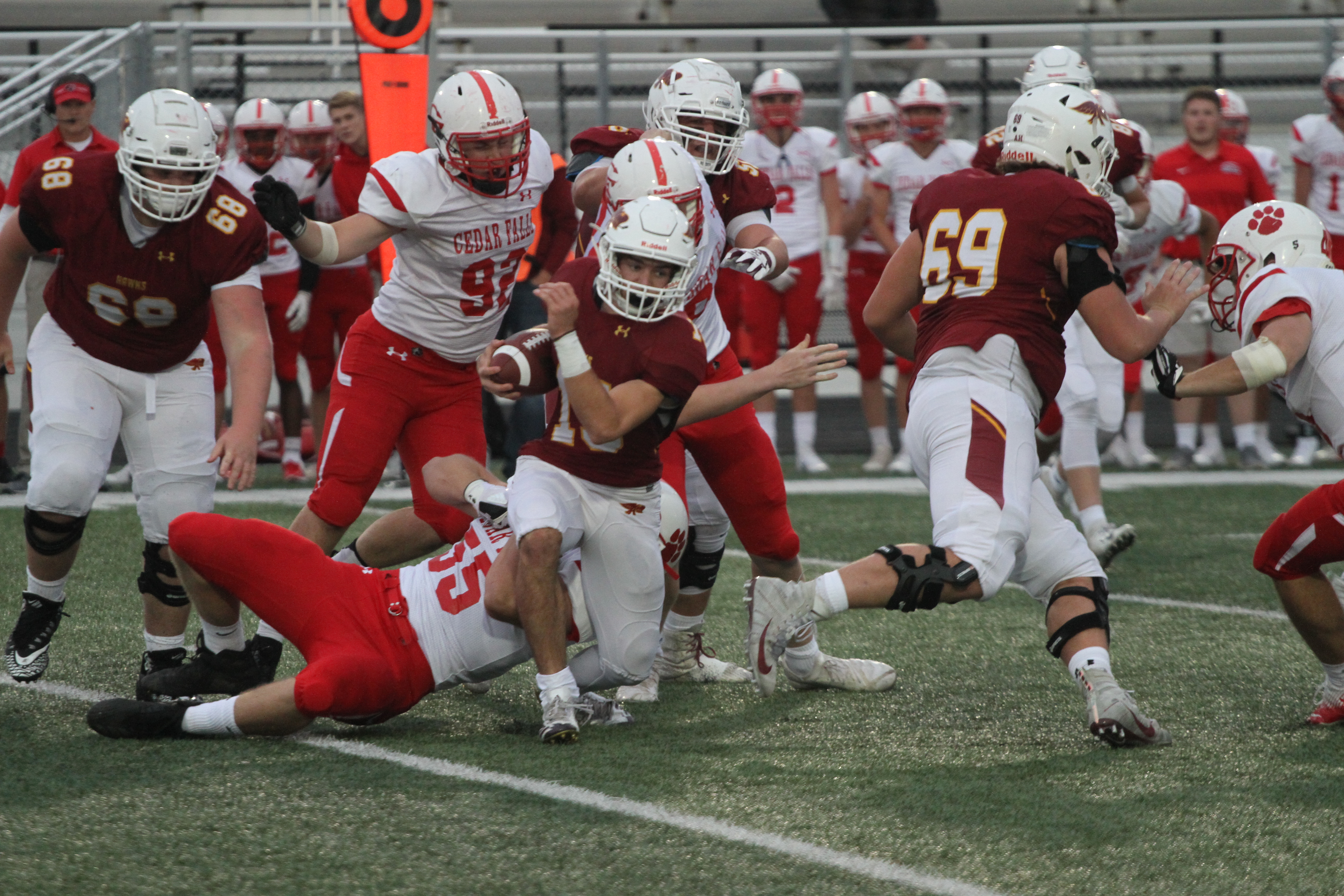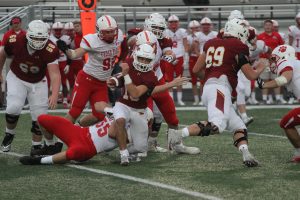 At halftime of Friday's game against visiting Cedar Falls, the Ankeny football team trotted off the field with a 7-0 lead and a growing confidence.
The next two quarters showed, however, that the Hawks still have a long way to go.
The fourth-ranked Tigers responded with 28 unanswered points in the second half to post a 28-7 victory, raising their record to 3-0 on the season. Ankeny, meanwhile, dropped to 0-3 with its third consecutive loss to a ranked opponent.
"Their kids kind of came alive," Ankeny coach Rick Nelson said of the Tigers. "They've got a good football team."
The game turned around after Cedar Falls linebacker Jack Campbell blocked a punt by Ankeny's Max Griffin early in the third quarter. The ball rolled out of bounds at the Hawks' 9-yard line, and Bo Grosse tied the score two plays later with a 3-yard touchdown run.
"Every play I just give it 100 percent," said Campbell, an Iowa recruit. "That's how my whole family has taught me to be my whole life."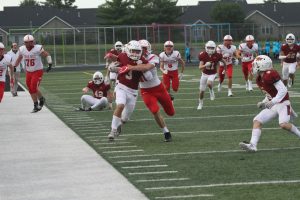 After forcing another punt, Cedar Falls drove 70 yards in 14 plays on its next possession before turning the ball over on downs at the Ankeny 13. But even though the Tigers failed to score, they had started to dominate the line of scrimmage.
Ankeny was again forced to punt after another three-and-out. The Hawks managed just 14 total yards in the third quarter.
"We came out at halftime and were hyped up," said Ankeny running back Cael Boyd. "We were looking to run the ball, pass the ball and drive it down the field. But things just didn't go our way."
Logan Wolf, a Northern Iowa recruit, then raced 44 yards on a reverse on the opening play of the fourth quarter. That set up the Tigers' go-ahead touchdown two plays later, a 5-yard run by Grosse with 10 minutes 57 seconds left.
Cedar Falls increased its lead to 21-7 on a 22-yard pass from Cael Loecher to Jackson Gilbert with 8:19 remaining. That touchdown followed a fumble recovery by the Tigers after a punt deflected off an Ankeny player.
"It was a good game, but it got a little ugly in the second half," Nelson said. "We had a punt blocked, and then another punt hit one of our kids in the head. So there's two touchdowns right there."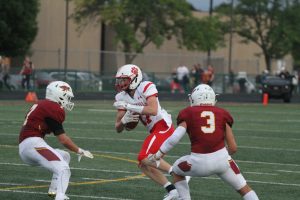 Wolf later caught a 15-yard pass from Loecher on fourth-and-2 for his sixth touchdown of the season. It came with 4:43 left to play.
Cedar Falls outgained Ankeny in the second half, 198 yards to 74, after being held to just 81 yards in the first half. Grosse rushed for 113 yards on 31 carries while filling in for injured 1,000-yard rusher Sam Gary.
The Hawks gained just 34 yards on their first five possessions of the second half before Boyd rushed for 40 yards on the last four plays of the game.
"We knew Ankeny was a very good team," Campbell said. "They're very underrated because they played two quality teams to start (the season). We knew coming into the game it was going to be a battle, and we got off to a slow start. But we got into the locker room at the half and we got a lot of leadership out of all the seniors, and then the coaches made some adjustments on defense. Their offense was trying to read and get to the outside and not really punch it up the middle like a traditional offense. It was more spread."
The Tigers allowed their first touchdown of the season in the first half. Ankeny drove 72 yards in 15 plays and took a 7-0 lead on a 2-yard run by Boyd with 7:11 left until halftime.
The Hawks put 315-pound defensive tackle Romello Gray at fullback on the last two plays of the drive. Gray paved the way for Boyd to reach the end zone.
"I have no clue (what that package is called), but it's working so far," Boyd said. "It's always fun to run behind (Gray)."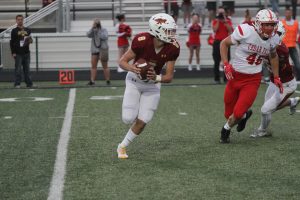 Quarterback Jase Bauer rushed for 34 yards on the drive, including an 11-yard scamper on third-and-10 in the red zone. He also threw four passes to Boyd for 23 yards on the drive.
"Our line was doing well, and I was doing a good job of reading the blocks," Boyd said. "I was hitting the holes and just seeing the field really well."
Ankeny had a chance to take the lead earlier in the game, but Bauer was picked off by Treyton Weimer at the Cedar Falls 16. It was one of several passes that was dropped or mishandled by the Hawks' receivers.
"We're just not catching the ball," Nelson said. "(Bauer) threw some nice balls, but we couldn't catch it. And we've got to help him out with a run game, because we don't have a run game right now."