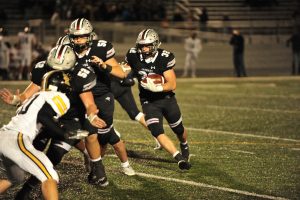 During the first five weeks of the high school football season, Ankeny Centennial defensive back Tyler Rodgers often exchanged text messages with Southeast Polk linebacker Zach Strickland.
The correspondence between the two friends came to an end, though, earlier this week.
"We played youth football together and he's still one of my great buddies, but it was strictly business this week," Rodgers said after the third-ranked Jaguars defeated Southeast Polk, 31-10, on Friday at Ankeny Stadium. "At the end of the day we're still friends. It's a great relationship."
Rodgers helped Centennial's defensive unit hold Southeast Polk scoreless in the second half as the Jaguars pulled away to remain one of four unbeaten teams in Class 4A. They are now 2-0 in District 2 and 6-0 overall, while the Rams' records dropped to 0-2 and 1-5.
The Jaguars avenged last year's 34-7 loss at Southeast Polk.
"That game left a bad taste in our mouths," Rodgers said. "We wanted to come out and redeem ourselves."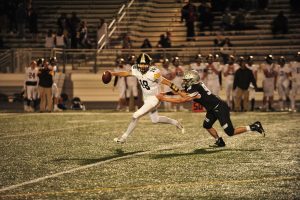 It wasn't easy, however, as Southeast Polk outplayed Centennial throughout most of the first half. The Rams opened the game with a 13-play drive that resulted in a field goal, then later drove 85 yards in 17 plays and took a 10-3 lead on a 13-yard keeper by quarterback Josiah Cole with 1 minute 29 seconds left in the second quarter.
"They thumped us a year ago, and we knew it was going to be a tough game," said Centennial co-head coach Ryan Pezzetti. "They've got a lot of those kids back, and they came out the first half and really gave us some fits. They possessed the ball on us."
Centennial desperately needed a big play before halftime. It took just 41 seconds for the Jaguars to tie the game.
Five plays later, quarterback Garret Severseike was chased out of the pocket on fourth-and-8, then threw a 35-yard strike to Dylan DeAngelo in the end zone.
"That play was huge," Severseike said. "Sometimes our basketball coach says MAP it–make a play. Sometimes, that's just what you've got to do. It worked out in our favor."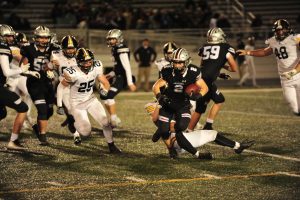 The score was tied at the half even though Southeast Polk had run 38 plays, 20 more than the Jaguars. The Rams also held a 181-143 edge in total offense, but the momentum had clearly swung in Centennial's favor.
"We just had to be tougher," Rodgers said. "We came out kind of soft, and they hit us in the mouth. The second half we did not want that to happen, so we tried to come out and punch them in the mouth, and that's what we did."
After Southeast Polk controlled the ball with its running game in the first half, the Jaguars did likewise in the second half. They took a 17-10 lead on a 1-yard sneak by Severseike with 1:13 left in the third quarter, then made it 24-10 on a 2-yard run by Gabe Godwin with 5:18 remaining in the game.
Centennial's scoring drives covered eight and 12 plays–all of them on the ground.
"Once we had some opportunities, we did make the most of them offensively," Pezzetti said.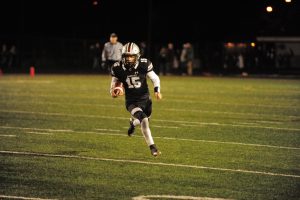 An interception by Keaton Gray on Southeast Polk's next possession sealed the victory. Avery Gates then broke loose for a 28-yard touchdown run with 3:01 left.
"The coaches have really been on me about defending the post," said Gray, who also serves as Centennial's backup quarterback. "They ran a post there and (Cole) just threw it up, and I made a play."
Godwin rushed for 112 yards on 16 carries. Gates ran 10 times for 89 yards, and Tyler Cahill added 74 yards on seven attempts.
Southeast Polk's Gavin Williams finished with 103 yards on 22 carries, but was kept in check in the second half. Williams is considered one of the state's top prospects in the Class of 2020.
"He's pretty good," Gray said of Williams. "I know he's got a lot of offers from Division I schools, but we played well. A lot of tackling drills this week to bring him down, and it was really good."