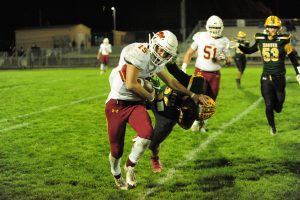 The field conditions at Des Moines Hoover's McGrane Stadium were less than ideal on Friday night.
They didn't seem to bother the Ankeny football team.
The visiting Hawks used a 29-point second quarter to build a 44-7 halftime lead and then cruised to a 51-14 victory over Hoover in a Class 4A District 1 game.
"Our kids played well," said Ankeny coach Rick Nelson. "The field was so muddy…it was hard to get any traction at all. One cut and that was it–you couldn't do anything. But the kids did a good job blocking, and our backs ran hard. I was happy for our kids."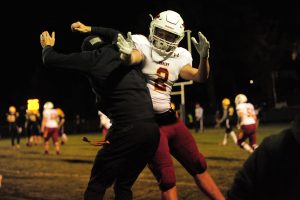 Ankeny held a 15-7 lead after the first quarter. The Hawks then erupted for four touchdowns in the second quarter.
Jase Bauer threw a scoring pass to fellow sophomore Brody Brecht. He then connected with Grant Moeller for a 36-yard touchdown to make it 29-7.
After Ray J Crawford scored from 1 yard out, Cael Boyd added another touchdown on a 14-yard run with 3:20 left until halftime.
The Hawks extended their lead to 51-7 on a 5-yard run by Crawford with 5:04 remaining in the third quarter.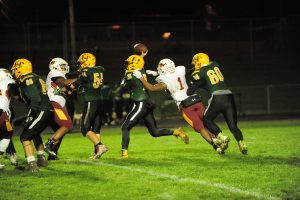 "We moved Ray J back to running back some of the time," Nelson said. "He and Boyd split the carries, and we played Boyd a little bit on defense, too. It worked out well."
The Hawks improved to 1-1 in district play and 2-4 overall. Hoover's records dropped to 0-2 and 0-5.
Ankeny will close out the regular season with games against Des Moines Lincoln, Sioux City North and Sioux City East. Nelson said he doesn't know if the Hawks would make the playoffs with a 5-4 record if they win out the rest of the way.
"We feel good about our strength of schedule," Nelson said. "I don't think Centennial is going to lose, Cedar Falls isn't going to lose, and Dowling (Catholic) isn't going to lose (again). We just need to win out, and that's all we can do."