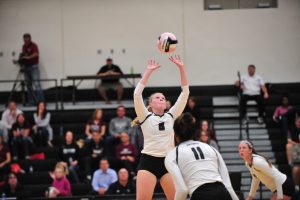 Don't be surprised if the Ankeny Centennial and Valley volleyball teams meet again later this season at the Class 5A state tournament.
The two squads have a habit of running into each other.
The third-ranked Tigers rallied from a one-set deficit to beat No. 2 Centennial, 24-26, 25-22, 15-10, in the championship match of the Urbandale Invitational on Saturday. The Jaguars (28-2) had won two previous meetings against Valley this season.
"Obviously, Valley is a very good team as well, and it really goes down to who wins those really long rally points more frequently," said Centennial senior Ari Winters, who led the Jaguars with 10 kills. "That was the difference for us, just getting the last play in those hard points. They also were for sure wanting to beat us badly from the previous two losses they had to us."
Devyn Robinson and Kenna Sauer each had nine kills for the Jaguars. Riley Morgan dished out 31 assists and had two aces, while Josie Magner added 11 digs.
Valley knocked off Centennial in the semifinals of last year's state tournament, ending the Jaguars' three-year reign as Class 5A champions. The Tigers (31-3) have now won 15 straight matches since losing to Centennial at the Metro Invitational on Sept. 8 at Southeast Polk.
"I thought overall we had a good day," said Centennial coach Jessica Rinehart. "The Valley match revealed a few things that we need to work on, and we're excited to get back to practice and work on them. The potential of this team continues to excite me, and I just want to keep finding ways to get better and even cleaner on our side of the net."
Centennial easily won all four of its matches during pool play, including a 21-4, 21-10 victory over Holy Trinity Catholic, the No. 3 team in Class 1A. The Jaguars also defeated No. 9 Waukee, 21-15, 21-11; No. 13 Southeast Polk, 21-14, 21-9; and Des Moines Lincoln, 21-7, 21-17.
Centennial then advanced to the championship bracket along with Valley and Western Christian (22-5), the No. 3 team in Class 2A. The Jaguars defeated Western Christian, 25-20, 25-21, in their other round-robin match.
Robinson had 10 kills and six blocks while hitting .714 in the win over Western Christian. Sauer added eight kills and 12 digs, while Calea Jones contributed four blocks.
"We took care of all of our pool play matches and then had a great battle with both Western and Valley," Rinehart said.
Centennial will now gear up for Tuesday's showdown at crosstown rival Ankeny. The No. 6 Hawkettes (23-10) have won seven consecutive matches.
The winner will clinch at least a share of the CIML Central Conference title.
"I feel very confident our team can bounce back, and we will keep working on the little things to take us to the next level," Winters said. "Tuesday is no doubt going to be a great match–every year it has been a good one and just an exciting atmosphere to play in. Playing at our level and staying calm under all the tension going on with the crowd and such will be key for Tuesday's match, which is going to be a super fun one!"