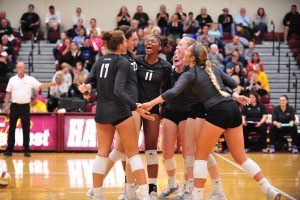 There was more at stake on Tuesday than the CIML Central Conference volleyball title.
The crosstown bragging rights were also on the line.
After posting a five-set victory at Ankeny last year, second-ranked Ankeny Centennial needed just three sets to defeat the No. 6 Hawkettes on their home court this season. The Jaguars rolled to a 25-20, 25-22, 25-13 triumph to clinch at least a share of the league crown.
"It felt really good to go out there and keep the town since we had won last year, too," said Centennial junior Devyn Robinson.
Kenna Sauer pounded 15 kills, Ari Winters chipped in eight kills and 10 digs, and Robinson added seven kills as Centennial improved to 4-0 in the conference and 29-2 overall. The loss snapped a seven-match winning streak for Ankeny, which dropped to 3-1 in the league and 23-11 overall.
"We knew coming in that they're always a good match," said Sauer. "We wanted to just play our game. We've been working really hard in practice, and we knew that with the atmosphere and everything it was going to be really tough, so we got it down."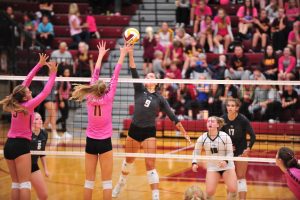 The Hawkettes jumped out to a lead in the first two sets before Centennial rallied. The Jaguars then dominated the third set to complete the sweep.
Centennial now owns a 4-2 record in the all-time series.
"We knew that they were the No. 2 team in the state, and that we were expected to lose," said Ankeny junior Isabelle Vacek. "I think we kind of got that in our heads a little bit. But we could have emphasized more on those leads and I think it was great that we had those leads, and we just had to stop their runs to keep those leads going."
Ankeny took a 5-1 lead in the first set before Centennial scored 17 of the next 23 points. Robinson had three of her kills during that stretch, helping the Jaguars build an 18-11 advantage.
"Our team is very strong," Robinson said. "We rally back whenever we're down, and we just pick each other up."
The Hawkettes pulled to within 22-19 before Centennial won three of the next four points, closing out the set on another kill by Robinson.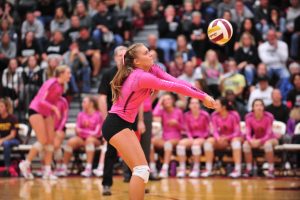 In the second set, Ankeny took a 9-4 lead behind a pair of kills by Malea Daugherty. The Hawkettes still led, 18-15, before Centennial went on a 9-1 run to take control.
Sauer had four kills during the Jaguars' rally.
"They have a lot of dynamic hitters all across the board and they were doing a lot of back-row attacks too, so it was multiple threats," Vacek said.
Ankeny tried to answer with a rally of its own, closing the gap to 24-22 on an ace by Phyona Schrader. But Schrader's next serve went into the net.
"We just didn't play consistently against them like we need to," said Ankeny coach Joe Morton. "Our serve was off a little bit, and our serve receive was just ok. Against a good team like that, we have to be spot on, and we just couldn't quite handle some of the pressures that they put on us."
Centennial was never threatened in the third set. The Jaguars jumped out to an 11-4 lead and cruised to the win.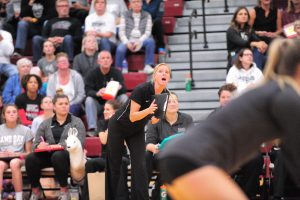 Josie Magner closed out the match with an ace. It was one of eight aces for Centennial, which served just .871 on the night (54-of-62).
"We were trying to be aggressive and serving them off the court," said senior setter Riley Morgan, who had three aces and also dished out 40 assists. "It just got a little out of hand, but we still got (the win). We made up for it with our great serve receive and our great hits."
Magner had nine digs in the win. Megan Lively contributed three blocks.
"I can trust when I'm having an off game that somebody else will step up, like Megan," Robinson said. "She had some really great kills, and so did Kenna."
The Jaguars were coming off a loss to No. 3 Valley at the Urbandale Invitational on Saturday.
"We have a lot of things to work on," Sauer said. "We think like the little things will bring us to the next level. We're going to get back at it in the gym, and hopefully we'll see (Valley) at state and we'll give them a better game there."