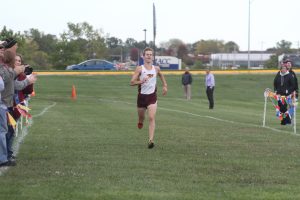 When the Fort Dodge Invitational cross country meet was cancelled earlier this week, Ankeny senior Tim Sindt thought maybe his pursuit of the state's all-time 5k record would have to be delayed for a little while.
He was wrong.
"We were a little disappointed, but we were glad (the meet) got moved to another fast course like this one and not some really hard course," Sindt said.
Ankeny Centennial offered to host the meet at DMACC on Thursday, giving Sindt an opportunity to break the record on his home course. And that's exactly what he did.
Sindt easily won the race in a time of 14 minutes 51.5 seconds, breaking the previous mark of 15:02 by more than 10 seconds. However, the course was reportedly a little short, which means the record may not be officially recognized.
"It might have been (short)," Sindt said. "I don't know; I haven't been out to measure it. It felt really long to me."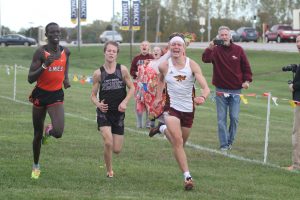 Regardless, it was a spectacular performance by the defending Class 4A state champion. He defeated runner-up Payton Marrs of Urbandale by almost a full minute.
"I really wanted to get out and give it my best," Sindt said. "The weather was really nice. It was a little breezy on the back side, but other than that it felt really good."
Centennial's Gabriel Vicker placed third in a time of 15:54. The sophomore didn't even know Sindt had broken the record until several minutes after the race.
"Wow, Tim's amazing," Vicker said when told that Sindt had eclipsed the 15-minute barrier. "It's an honor to get to run with him. He's been running great, and everyone is really excited for him."
Sindt's teammates were also happy for him.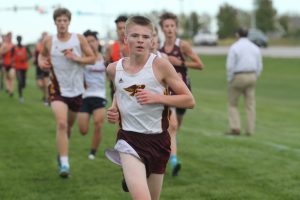 "Tim talked to me all through summer training, and that was his goal," said Joey Reichenbacker. "He set out to go get it, and I'm glad he did it. It's cool."
Sindt led fifth-ranked Ankeny to the team title. The Hawks finished with 47 points.
No. 15 Ames placed second with 77 points. No. 11 Centennial took third in the 10-team field with 90 points.
"It was a great meet," Vicker said. "There was a lot of tough competition, and I'm really happy with the race. All 10 of our top guys PR'd, and that's great."
Ankeny's Aiden McCombs placed fifth in 16:00. Jalen Elwell took sixth in 16:13, Reichenbacker was 12th in 16:27, Cael Cox placed 23rd in 16:46, Cole Johnson was 32nd in 17:00, and Jaden Schuster finished 44th in 17:17.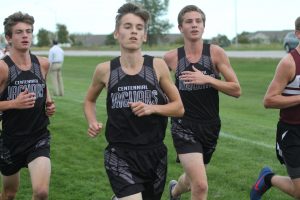 Cox, a sophomore, was the only non-senior among the Hawks' top seven finishers.
"Honestly, it was disappointing at first (when Fort Dodge got cancelled)," Reichenbacker said. "But then when they said we were running here, I was excited because it's our home course. It's our senior season, so it was nice to run on it again before we graduate."
Jonah Vicker placed eighth for the Jaguars in 16:13. Kade Christensen took 22nd in 16:46, Connor Cunningham was 27th in 16:50, Nate Jones placed 30th in 16:55, Ian Luke was 33rd in 17:02, and Alex Patkin finished 40th in 17:14.
Many of the runners were aided by Sindt's blistering pace.
"It definitely helps because everyone still wants to be up there at the front," Gabriel Vicker said. "When (Sindt) pushes the pace like that, it ends up helping everyone else get faster times."