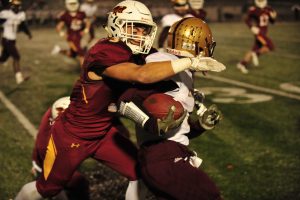 All the Ankeny football team can do is take care of its own business.
That's what the Hawks did on Friday night.
Ankeny rolled to a 47-0 victory over visiting Des Moines Lincoln for its third win in the last four weeks, keeping its playoff hopes alive. The Hawks are now 2-1 in Class 4A District 1 and 3-4 overall, while Lincoln's records dropped to 1-2 and 3-4.
Ankeny was 23rd in the Class 4A RPI rankings prior to Friday's game. Seven district champions will automatically qualify for the Class 4A playoffs along with nine at-large qualifiers.
"We made our own problems (with some early losses)," said Ankeny coach Rick Nelson. "We'll just have to see if we can finish it up strong, and we'll see what happens."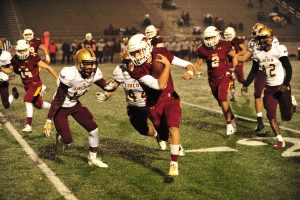 Ankeny will close out the regular season with two more winnable games. The Hawks will host Sioux City North (2-5) on Friday, then will travel to Sioux City East (4-3) on Oct. 19.
Ankeny defensive lineman Romello Gray is optimistic about his team's chances to earn a playoff berth.
"I think we'll make it because we are going to blow out (our last two opponents) and then we'll get in because of our (tough) schedule," said Gray, whose team has lost to top-10 foes Cedar Falls, Ankeny Centennial, Dowling Catholic and Johnston.
In Friday's game, the Hawks got off to a slow start offensively. The score was tied at 0-0 after the first quarter.
One Ankeny drive ended when quarterback Jase Bauer threw a costly interception.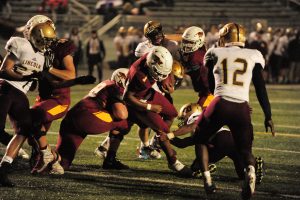 "It was a really great ball. It was a nice, tight spiral," Nelson joked. "I liked the way he threw it. It was just to the wrong guy."
Bauer settled down, however, and found a groove, completing nine straight passes during one stretch. He finished 10-of-13 for 160 yards, including a 38-yard touchdown to Grant Moeller.
Brody Brecht was his favorite target, racking up a season-high 78 yards on four catches.
"Jase is getting better. I think he's a lot more comfortable," Nelson said. "The defense that (Lincoln) played we really hadn't seen all year, and I think we had some problems in the first quarter. Then we got it ironed out, and we did well."
Ankeny erupted for 26 points in the second quarter, which included a safety and a field goal. The Hawks then added three more touchdowns in the second half.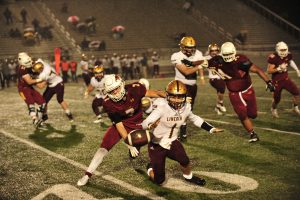 Cael Boyd led the ground game, rushing for a season-high 125 yards and three scores. Ray J Crawford added 71 yards and a pair of touchdowns.
"Boyd's running well, and we've started playing Ray J some at tailback now," Nelson said. "That was a good changeup, and it allows both guys to stay fresh."
Ankeny posted its second shutout of the season. The Hawks held Lincoln to just 65 total yards, including 4 in the first half.
Max Griffin made 6.5 tackles, including two solo stops.
"Max is playing really well. He had a great game," Nelson said. "Overall, the kids just played well. We were happy and proud of them."