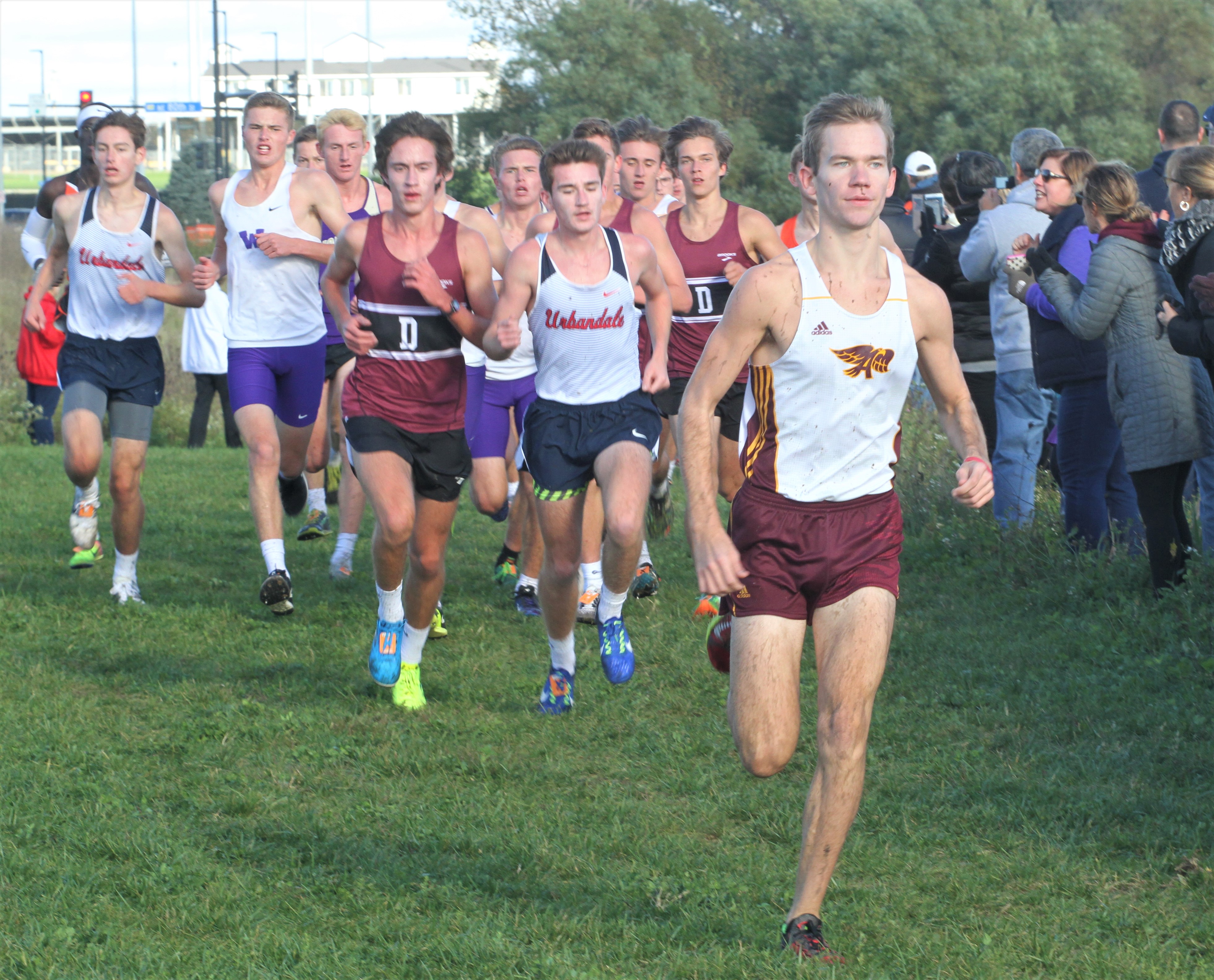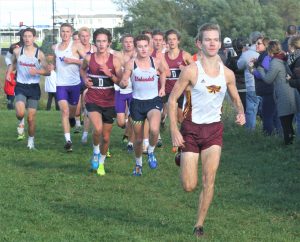 Both the Ankeny and Ankeny Centennial boys' cross country teams used Thursday's CIML Central Conference meet as a tune-up for next week's district meets.
The fifth-ranked Hawks placed third in the six-team field at Southeast Polk with 58 points. They were led by senior Tim Sindt, who pulled away from the field after the first mile to win the 5k race in a time of 16 minutes 2 seconds.
"We wanted to take it pretty easy and try to run with our team as a pack this race," said Sindt, who remained undefeated on the season. "We kind of wanted to do that at least the first mile and then I could break away. It was fun–it worked out pretty well."
Centennial, meanwhile, finished in sixth place with 145 points. The No. 11 Jaguars rested three of their top runners, including Gabriel and Jonah Vicker, who are both ranked among the top 30 individuals in Class 4A.
"We wanted to really work on our 4-7 (runners) and the next three guys again," said Centennial coach Chad Fickbohm. "They are learning how best to run as a tight pack. I think this race showed again we learned what we need to work on for next week."
Thursday's meet was moved from Ames to Southeast Polk due to wet conditions at the Iowa State cross country course. The Central Conference teams ran in the same race along with the six schools from the CIML Iowa Conference–separate league champions were crowned along with an overall winner.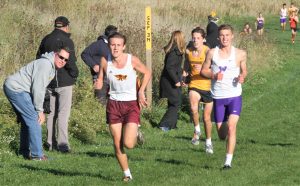 The Southeast Polk course has also been drenched by several days of rain.
"It was really soggy," said Sindt, whose jersey was splattered by mud afterwards. "I had a chance to look at the first two miles in warmup but I didn't check the hills, and on the first hill there was like a four-inch deep mud pit. I stepped right into it."
Top-ranked Dowling Catholic won the Central Conference title with 39 points, finishing 12 points ahead of No. 7 Johnston. The Maroons also claimed the overall CIML crown.
Sindt, the defending Class 4A state champion, won the individual title for the second straight year. He earned all-conference honors along with three of his teammates–Aiden McCombs, Joey Reichenbacker and Jalen Elwell.
McCombs placed eighth in a time of 16:49. Reichenbacker was 12th in 17:02, and Elwell finished 14th in 17:05.
Cael Cox was Ankeny's fifth scoring runner, placing 23rd in 17:30. Cole Johnson took 33rd for the Hawks in 18:04, and Jaden Schuster was 36th in 18:45.
"We had a great conference meet," said Ankeny coach Jon Lindaman. "Our guys really went out and competed with grit. Despite the wet conditions, we were very grateful Southeast Polk allowed us to race on their course. Our team goal was to race as one.  If we want to accomplish our goals and potentially podium at state, our guys will need to work together and pull each other along."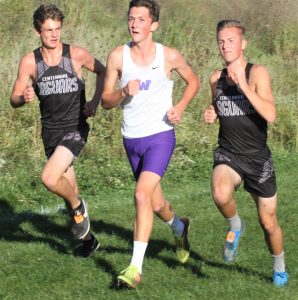 Kade Christensen led Centennial with a 26th-place finish. He posted a time of 17:34.
Connor Cunningham took 27th for the Jaguars in 17:35. Nate Jones placed 28th in 17:39, Ian Luke was 29th in 17:45, Tyler Schermerhorn placed 35th in 18:28, Nick Sash was 38th in 18:54, and Kade Van Meeteren finished 39th in 18:59.
Both Ankeny and Centennial will now prepare for Thursday's district meets. The Hawks are headed to Pickard Park in Indianola, while the Jaguars will compete in Marshalltown.
"I think Dowling and us are the top teams at our district," Sindt said. "It shouldn't be too challenging to (qualify for state)."
No. 14 Indianola is the only other ranked boys' team in the field.
"As a top-five team, this group has set themselves up very well, and it really did not matter where the state sent us for districts," Lindaman said. "We are just excited for the opportunity to go out and compete, and try to earn our third straight trip to the state meet. We go against Dowling, who is always a powerhouse, but aside from them we have a pretty clear path to the state meet if we do what we are capable of."
No. 3 Waukee and No. 9 Ames will be among the teams in the Marshalltown field. The Little Cyclones placed fourth in the Central Conference with 101 points.
"We know the Marshalltown course well, and we know what we have to do to meet part of our season goal–to get the team back to the state meet," Fickbohm said. "We know we are battling with Ames and Iowa City West to get there, and I know our team is up for the challenge. We know that these meets are about beating the people around you; we are focused on making that a reality next week."