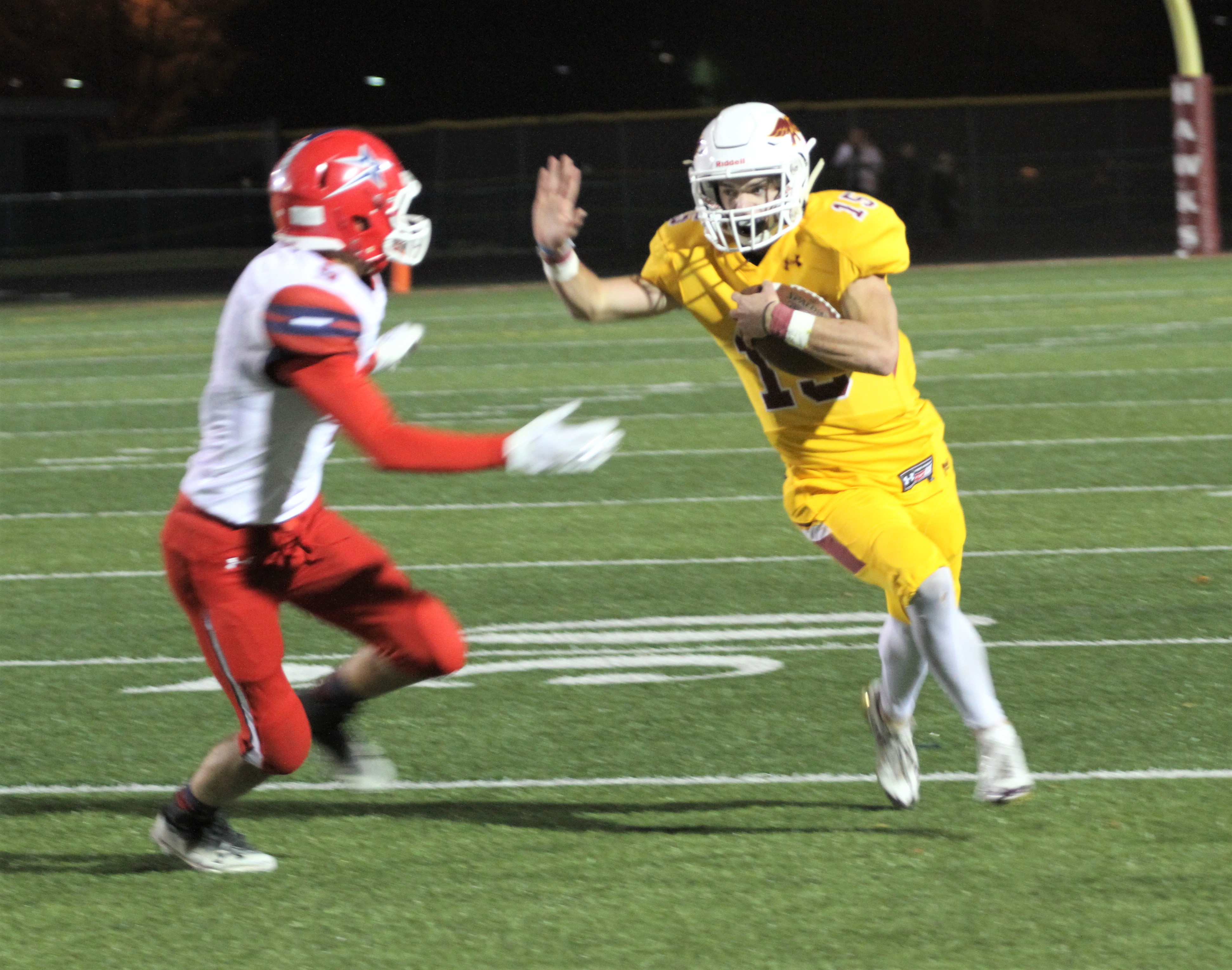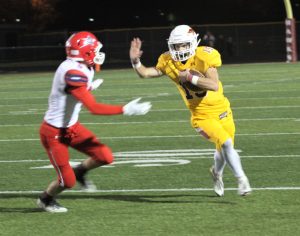 Ankeny's Conner Niffenegger missed the last six football games after suffering an ACL injury during the Hawks' season opener against Ankeny Centennial.
When Niffenegger returned to the field on Friday night against Sioux City North, it took him only 12 seconds to make a huge impact for the Hawks.
The 155-pound senior fielded a short kick on the opening kickoff, avoided a couple of tacklers and dashed 66 yards for a touchdown to spark Ankeny to a 62-7 victory over the visiting Stars.
"All I know was I saw teammates in front of me, and I had a lane," Niffenegger said. "I shot for the lane and broke through."
Quarterback Jase Bauer passed for four touchdowns and ran for another as Ankeny kept its playoff hopes alive. The Hawks improved to 3-1 in Class 4A District 1 and 4-4 overall, while North's records dropped to 1-3 and 2-6.
Ankeny will play at Sioux City East (3-1, 5-3) on Friday in a battle for second place in the district. It could also be a de facto playoff game, where the winner qualifies for the Class 4A postseason.
"I'm just hoping we can get a win, and they'll let us in," said Ankeny coach Rick Nelson, whose team entered this week No. 20 in the Iowa High School Athletic Association's RPI rankings, one spot behind the Black Raiders. "I think we can give some people some fits if we get in."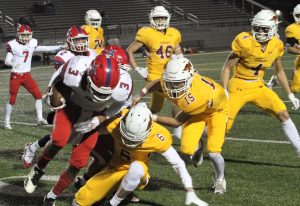 North responded to Niffenegger's touchdown with an 80-yard scoring drive. The Stars tied the game on a 25-yard pass from Matt Hagan to Trenton Frerichs, but it was all Ankeny the rest of the way.
The Hawks took the lead for good on a 44-yard swing pass from Bauer to Cael Boyd, who later scored again on a 4-yard run to give Ankeny a 27-7 lead with 1 minute 18 seconds left in the first quarter. Boyd rushed for 135 yards on 12 carries.
"Our team came together," said Ankeny defensive lineman Romello Gray. "That's all we needed to do."
Gray recovered a fumble on North's next possession. Bauer then fired a 25-yard touchdown pass to Brody Brecht on the next play.
"North has played so much man (defense) and had everyone on the line of scrimmage, but they didn't do that against us. I was kind of surprised," Nelson said. "We worked on man routes all week, so then we just went back to some of our regular stuff. Our protection was nice, which we haven't had all year, so it was kind of nice for (Bauer) to be able to sit in the pocket and not have to scramble too much."
Bauer threw a 5-yard scoring pass to Grant Moeller to give the Hawks a 41-7 halftime lead, then later connected with Brecht again on a 24-yard touchdown pass. He completed 11-of-22 passes for 163 yards and also scored on a 26-yard run.
North, which gave up 99 points in a loss to Council Bluffs Jefferson earlier this season, was unable to stop Ankeny's offense. The Stars even allowed a 1-yard touchdown run by the 315-pound Gray midway through the third quarter.
"That was crazy," Gray said. "We put (the play) in at practice, and the coaches said, 'Go ahead Mello. You got it.' I mean, there was nobody in the end zone but I still dove because I thought it was cool. It felt amazing."
Ankeny scored its final touchdown on a 47-yard fumble return by Reece Pitz midway through the fourth quarter. Pitz stripped the ball away from a North player and raced to the end zone.
"That's only my second touchdown ever," Pitz said. "It felt great."
The Hawks held North to its lowest point total of the season. Hagan has thrown 28 touchdown passes for the Stars, who were averaging 40 points per game.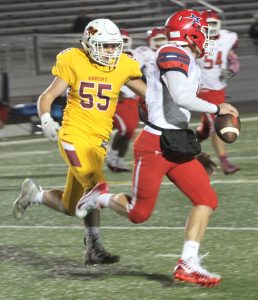 "I think we were just well prepared," Pitz said. "We had a hard week of practice, and the coaches really grinded us. North has got a lot of trick plays and an explosive wide receiver (in Devonta Cobbs), but we were just ready to go."
Max Griffin and Brecken Manus each made eight tackles to lead Ankeny's defensive effort. Nick Scherle and Mo Watson each had an interception.
"I was really proud of our defense," Nelson said. "North has scored a lot of points, so we were a little concerned. But the kids just played great."
The Hawks are optimistic that they'll get into the playoffs with one more victory.
"I think we can make some noise," Gray said.